Two weeks after her husband Dave's unexpected death, Sheryl Sandberg received a letter from an acquaintance. The woman had been a widow for several years and wanted to offer comforting words, but she had none. Time hadn't lessened her grief. The acquaintance wrote, "Try as I might, I can't come up with a single thing that I know will help you." The letter devastated Sandberg: "I felt the void closing in on me, the years stretching before me endless and empty."
Option B: Facing Adversity, Building Resilience and Finding Joy—co-authored with psychologist Adam Grant—is Sandberg's counter to that inconsolable widow. Part memoir, part self-help book, and part research paper, Option B combines Sandberg's raw account of her own journey with Grant's research on people who have rediscovered joy after adversity.
Valuable Practical Advice
The strength of this book is Sandberg's honesty and eloquence as she generously welcomes readers into her personal life, sharing her pain and the practices that accelerated her healing. She recommends self-compassion and self-confidence, which she developed by journaling her emotions and fears, naming her regrets, and recording three things she'd done well each day.
She suggests practical ways to help others who are grieving. Instead of asking, "How are you doing?" Sandberg suggests asking, "How are you doing today?" The second question shows genuine interest, inviting an honest response rather than a perfunctory "fine." It recognizes the natural ebb and flow of grief. Sandberg recommends asking others directly about their loss rather than avoiding the subject. She especially appreciated when people affirmed her capability in a time of tremendous self-doubt: "Empathy was nice, but encouragement was better."
But not all of Sandberg's advice may be applicable to everyone. As the billionaire chief operating officer of Facebook, with a tight-knit circle of family and friends, she has access to all the material and relational blessings this world offers. People with fewer resources might have a different path to healing.
Christian Suffering
While some of Sandberg's advice is helpful, she writes from a secular perspective. She believes death is the end, so we must maximize our happiness on this earth. "We all encounter hardships," she writes. "The question is: when these things happen, what do we do next?"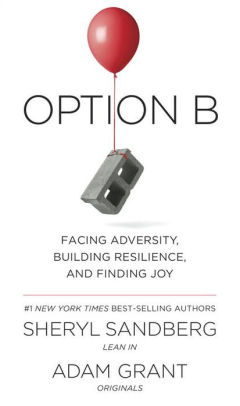 Sandberg and Grant's response is to accept our circumstances and make the most of life. They encourage people to feel their grief and use it to build resilience, leading to gratitude and joy. Compare that to John Piper's words: "Occasionally weep deeply about the life you hoped would be. Grieve the loss. Feel the pain. Then wash your face, trust God, and embrace the life he's given you."
Are Piper's words fundamentally different from those of Sandberg and Grant? On one level, it seems they're saying the same thing: acknowledge your pain, accept what happened, then embrace your life with gratitude and joy.
But on a deeper level, their messages are quite different. The pivotal difference is expressed at the end of Piper's quote: "trust God and embrace the life he's given you." For Piper, all our circumstances are God-ordained, and peace comes from trusting him. Joy doesn't come from reaching within ourselves to become more resilient and kind, but in glorifying God in our pain and finding him to be our treasure. Our joy is found in Jesus alone—not in coping well or accepting our lot or even becoming a better person.
Though suffering refines us and makes us more compassionate, character is not the ultimate goal for a Christian. As Joni Eareckson Tada says in A Spectacle of Glory,
Refined faith should never be an end in itself—it should all lead back to God himself. Stronger character isn't made muscular for its own sake, but for God's. A livelier hope isn't focused on "things getting better," but on God. It's all about glorifying him. . . . The Bible never calls us to keep our eyes on suffering—or even on suffering's benefits. Only on God, the One "from whom all things came," including suffering.
God brings everything into our lives, including suffering. Even though it may feel we're living our Option B, an option we wouldn't choose for ourselves, as Christians we know we're living God's Plan A. His wise plans for us can't be thwarted; he has given us the life we have, and he never makes a mistake.
Glorifying God
Option B is about human strength, courage, and perseverance in the face of adversity. It relies on the power of positive thinking and the resolve to move forward. It's focused on making the best of this life.
The Christian life is about dependence and weakness, not relying on ourselves, but leaning into God's strength. It's about the power of God and delighting in him. It's confident that the joys of heaven will make up for any suffering on earth.
While Option B offers helpful advice to the grieving, the relief it offers is temporal and unsustainable. The only rock-solid comfort in suffering comes through Jesus Christ, who will never fail or forsake us. Our ultimate goal in suffering is to glorify God and find our eternal joy in him. Option B simply can't take us there.