I remember speaking to a Central Asian evangelist who told me he had baptized over 10,000 people in the last year. I was surprised by that number. The logistical details alone overwhelmed my mind. But my first response was to ask, "How are all those young believers doing now?"
My new friend at first didn't seem to register what I'd asked, as he went on detailing the places he'd done these baptisms. I asked again, "Praise the Lord for so many new Christians! How are they doing spiritually now?" He politely said goodbye and left.
What makes me sad is the man's expectations. From the beginning, he'd assumed the way to really impress a white-skinned Westerner like me was to announce incredible numbers of conversions. He didn't expect me to ask any questions about the spiritual health of those he had baptized. It was as though he'd learned that baptisms were the finish line.
In Mission Affirmed, Elliot Clark seeks to reshape our motivation by considering the example of Paul the missionary. The desire for God's approval is what formed his ambition and directed his methods, and it should guide ours too. In these pages, we rediscover how pursuing God's praise can both motivate and regulate our gospel ministries. We also refocus―as missionaries, pastors, churches, and individuals―on what matters more than a mission accomplished: a mission God affirms.
Elliot Clark introduces his book Mission Affirmed: Recovering the Missionary Motivation of Paul with the now-infamous moment when President George W. Bush stood on the deck of a naval ship with an enormous "Mission Accomplished" banner behind him (21–22). Whatever your opinion of the Gulf War, that image has become symbolic of Western hubris in a way that perfectly encapsulates so much of the world of missions. Just as many wanted to believe the initial victory of toppling Saddam Hussein was the finish line, many Christians want to believe that a shock-and-awe assault on the kingdom of darkness, using Western money and Western-refined techniques, will finish the task.
Such techniques are appealing because they promise big, visible results, like thousands of baptisms and hundreds of churches if you just adopt these five simple steps. Set aside the question of whether these techniques can deliver what they promise—what about their own premise? Regardless of what they deliver, what are they derived from? Do they value what God values? Or what we assume God must value, since we value them so much?
Clark—who equips indigenous church leaders overseas and diaspora pastors within the U.S. with Training Leaders International—wants to set forth a different vision of missions driven by the same motivations that propelled the apostle Paul. Mission Affirmed views the missionary task through Paul's desire to receive God's commendation on the last day (26–31). After this vision is established, the remaining chapters pick up different aspects of the missionary task and examine them through this lens. The net effect is a sober, hopeful, humble, patient view of the missionary task that I can't commend enough.
Accountable and Affirmed Missions
Rather than review the content of the book (which is wise, biblical, and practical throughout), I want to present an apologetic for why Clark's appeal that we should seek God's approval is good and right.
First, it's biblical. Paul wasn't driven only by a desire for God's approval, but it was a major motivation. Clark lists seven places just in the Corinthian letters where Paul says he's striving to have reasons to boast or to receive a reward or commendation on the last day (27). You may feel the idea of gaining God's approval is dangerous and contrary to the good news that we're justified by faith alone. But Paul, John, and even Jesus speak of our works being celebrated or condemned on that day (e.g., 2 Cor. 1:14; Rev. 19:8; Matt. 25:31–46). Assurance and accountability are not enemies in the apostles' minds; neither should they be in ours.
Assurance and accountability are not enemies in the apostles' minds; neither should they be in ours.
Second, it'll help you understand how you should think about honor and shame. Missiologists have leveled entire forests worth of paper in discussing how to communicate the gospel into honor/shame cultures. Yet, despite the angst of Western missionaries trying to speak comprehensibly to Eastern cultures, it seems that the missions "market" is utterly defined by Western cultural values. Who gets financial support? Who gets invited to speak at churches and conferences? The guys who get results and get them fast. Revivalism is the most popular item in Western evangelicalism, and whatever cultural variety there may be in evangelists, there's constant pressure to conform to Western "two-day delivery" values (20).
Meanwhile, Clark's simple framing helps his readers think in biblical honor/shame categories applied not only to their speech but also their practice. You may think of honor as informed by what people think of you. You may think of shame as a bad, internally-driven emotion. But Clark elucidates that biblically we should seek what is honorable and avoid what is shameful in God's eyes (cf. 2 Cor 8:21). Such a concern paves a way to guard against cultural imperialism by grounding both our message and our motivation in the Bible. When our practice is shaped by what God values, we will be better protected against unbiblical values informing what we do and what we celebrate in missions.
Third, this emphasis contributes to a more holistic understanding of Paul that will strengthen your reading of the Bible. Clark doesn't propose that this desire to be a workman approved on the last day was Paul's only motivation. He was also motivated by a desire to pioneer in places where the gospel hadn't been proclaimed. Clark shows us Paul as a real-life, complex person, rather than a totem or rallying point for our own agendas. This perspective helps us read and apply Scripture with greater wisdom—something you should value even if you disagree with Clark's practical conclusions.
Fourth, if you aim to build with gold and silver instead of straw and stubble (1 Cor. 3:12–15), you'll more acutely feel your need for counsel and cooperation. In my own experience, the more I meditate on the reality that  my success cannot be proved by the number of baptisms or decisions made in the past month, but only by God's verdict on the Last Day, it is easier to invite advice, and harder to remain isolated. Clark envisions Christians across the world seeking interdependence between sending churches and believers on the field, in contrast to siloed ministry or the West-controlled ministry of past years that missionaries often fear repeating (104). Whatever the strategic cost, this vision seems eminently Christian.
Mission Affirmed is full of sound, practical wisdom on how God's approval should inform our posture in suffering (chap. 2), the way we send and go (chap. 3), how and with whom we cooperate (chap. 6), and more. Clark's humility is apparent, as is his desire to build up rather than tear down. The book is full of thoughtful exegesis and love for the Lord and the lost.
Clark helps us see Paul as a real-life, complex person, rather than a totem or rallying point for our own agendas.
But Clark's most important contribution is how he winsomely provides a biblical lens to examine your ministries—whether you're leading a church or a Bible study or simply sharing the gospel with your roommate. Whether you've moved across the globe or live next door to the house you grew up in, you should desire to serve the Lord in such a way that your work will be commended on the last day. In light of that reality, we can be joyful, knowing we're bought with the blood of the Lamb, and sober-minded, knowing we'll still give an account.
Giving an Account
Last month, the church I pastor had the privilege of conducting our first baptisms. I praise the Lord for our new brother and sister. I rejoice over their newfound faith. But at the same time, it's new.
I don't know the future, but I do know the road ahead won't be easy. Will they persevere? Will their faith prove genuine on the last day? Will they remain faithful to the Lord despite opposition from family and friends? Will they love the Lord even when it means losing their sense of home in this society?
Obviously, the final answer to those questions is out of my hands. But as their pastor, I'll give an account on that day. Not just for how I baptized them, but for how I shepherded them in the years that followed. Even as I put them down into the water, I took a deep breath. Because I know we're just getting started.
Get a FREE eBook to strengthen your family discipleship!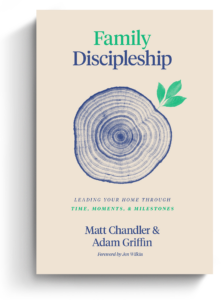 The back-to-school season is stressful for moms and dads. New rhythms of school, sports, and other extracurricular activities can quickly fill up a family's already busy calendar. Where do busy parents look for resources on discipling their family well? Aside from prioritizing church, what else can Christian parents do to instill healthy spiritual habits in their household?
Matt Chandler and Adam Griffin cover these questions and more in Family Discipleship: Leading Your Home through Time, Moments, and Milestones. And we're excited to offer this book to you for FREE as an eBook today.
Click on the link below to get instant access to your FREE Family Discipleship eBook now!