Learning about other reading habits can be fascinating. How do you choose the books you read? Do you just pick what seems interesting to you from the new release shelves? Wait for recommendations? Tony Reinke's new book, Lit!: A Christian Guide to Reading Books, gives us some counsel on choosing books and how to read them with a Christian worldview as our foundation. Reinke and I corresponded for an occasionally lighthearted tour through the purpose of his book, the effects of e-Readers, literary cage matches, and all other things reading.
******************************
There are some famous books on reading: How to Read a Book, by Mortimer Adler; How to Read and Why, by Harold Bloom; and most recently Alan Jacobs's The Pleasures of Reading in an Age of Distraction. How is Lit! different from these?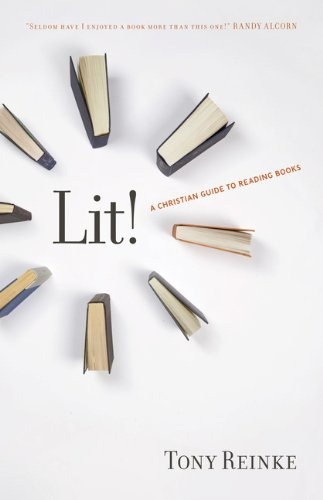 Well, my book is not famous, so right there it's unique.
Quite simply, I found it difficult to find a "theology" of books and reading. Too often Christian writers simply assume the theology. At the same time, most books on reading assume a fairly high level of literacy. So I began to see a need for a book that avoided both assumptions—one that was theological, and that also encouraged struggling readers with practical suggestions.
The topic of reading requires careful balance. Reading is never less than a discipline (Adler). But our reading should also aspire to be fun and pleasurable (Jacobs). And of course reading can be a search for a "difficult pleasure" (Bloom). Each of these points is important, but not often well balanced.
I can imagine some Christians fear reading secular books and even Christian books by authors they know they will disagree with. How would you counsel them?
This is a really old fear that pastors have addressed for many centuries. In his book A Christian's Portion, Puritan Richard Sibbes (1577–1635) encouraged believers to read broadly in the literature available. He wrote this: "We may read [a] heathen author. Truth comes from God, wheresoever we find it, and it is ours, it is the church's. . . . With a good conscience we may make use of any human author. I thought good to touch this, because some make a scruple of it" [Works 4:6]. Today, people still make a scruple of the idea that non-Christian books can benefit Christian readers. So one of my main goals in this book was to look more closely at how our forefathers in the faith approached non-Christian and pagan literature.
Of course we must be on our guard when reading non-Christian books. And that heightened concern we experience when reading a non-Christian book is what makes it possible for us to read and benefit from those books. T. S. Eliot once wrote, "So long as we are conscious of the gulf fixed between ourselves and the greater part of contemporary literature, we are more or less protected from being harmed by it, and are in a position to extract from it what good it has to offer us." I think that's an important point. When we experience a little unease when reading a book we are most safe. In this case, the author must really prove his or her point well to convince us. On the flip side, this is exactly why heresy is a greater danger. We are more likely to let our guard drop with so-called Christian books that teach falsehood.
For Christians who want to cultivate their imagination, can you list some books to get started with and give a sentence for each as to why they are good choices?
Four are worthy of a mention here:
These are four excellent imagination-awakening works that I have read. And as I explain in Lit! it was books like these that made it possible for me to cultivate my imagination so that I could begin to slow down and appreciate the images in the book of Revelation. If we are willing to discipline ourselves to read challenging literature we will sharpen and improve our biblical literacy.
Are e-Readers like the Kindle and iPad a good thing?
Yes and no.
Ebooks are a great thing. Without ebooks the research I do would be greatly restricted. Ebooks make it possible for me to search 4,000 books for particular themes and details in a second. Ebooks never go out of print. And ebooks are beautifully portable. All good things.
But your question is about ebook readers. I'm more suspicious of ebook readers, especially as they evolve from black-and-white book-wanna-be devices to full-color handheld Wii video game consoles. Let me explain.
A few weeks back I took my family to the local Barnes & Noble. When we walked in it was clear they were really pushing their e-reader, the Nook. And on the Nook display was a large advertisement for the video game Angry Birds, which apparently now comes standard on the Nook. So as you can imagine our family trip to the bookstore turned into three kids hogging the Nook display devices for an hour slinging birds into virtual structures that would never pass an OSHA inspection.
Now, in the interest of full disclosure, I enjoy that game myself and have cleared a great many levels with skill and often without using up my allotment of birds (ahem). But I don't want the game packaged with my books. I don't want an e-reader that plays video games or movies. The day that I can no longer separate my books from my video games is the day that Dostoevsky and Shakespeare and other great writers die to me. They cannot compete for my attention. I really must have physical separation from the distractions of entertainment if I ever hope to cultivate my literacy.
E-readers make the distractions to reading inseparable from books. That concerns me. So when it comes to reading for a sustained period of time (30 to 90 minutes), I pick up a printed book, grab a pen, and find a quiet reading chair separated from e-distractions.
How big of a sin is it to use a pen instead of a pencil to mark up books with?
If you're going to mark in your books, go varsity. Use a pen. Use a thick pen. Use a permanent marking pen. Use a pen that says: "Book, I own you and you are here to serve me as I see fit." So many Christians think of books as taskmasters. Most Christians have a stack of unfinished books in their house, maybe on a bookshelf somewhere. Those unfinished books are often a source of low-grade guilt. We've been conditioned to think that if we buy a book we must read it from cover-to-cover. That's not true, and I'm trying to loosen Christians from this misunderstanding and what is really slavery to books. Literacy cannot flourish like this.
Of course we must read Scripture, but all other books are optional. In fact, all those other books are nothing more than tools for us to use as we see fit. We use books when we need them. We can read books cover to cover if we wish. Or we can read one chapter, or one page. It's our call. For me, writing in my books is one direct way to remind myself of this point. By writing in my book I claim the book as a tool. I own it, it belongs to me, it was purchased to serve me, and its value to me as a tool far exceeds its used book resale value. I mark all sorts of things in my books, but fundamentally it is a claim of ownership. That claim is liberating to me as a reader.
What books are you reading right now?
Who'd win in a literary cage match:
Fyodor Dostoevsky or Charles Dickens?
Dostoevsky survived four years in a Siberian labor/prison camp. My money is on Fytin' Fyodor.
Dorothy Day or Flannery O'Connor?
Flannery trained with the peacocks. And like a peacock territorial fight, Flannery would circle a lot and maybe snap-bite at Day a few times. Flannery would certainly intimidate, but I cannot imagine there would be much blood on the mat at the end of the day. Day was a pacifist. Draw.
Mortimer Adler or Alan Jacobs?
Adler certainly seems more discipline-minded, but I'm thinking Jacobs could shake and duck offensive moves. This would probably be a tie in the end.
Jane Austen or P. G. Wodehouse?
Wodehouse was a sprinter by necessity, owing to the fact that he was so often late for work during his banking days and forced to dash along the city sidewalks to avoid salary penalties for tardiness. Wodehouse could outrun Austen, but with running out of the question this becomes a tough one. As Wodehouse himself wrote, "At the age of eleven or thereabouts women acquire a poise and an ability to handle difficult situations which a man, if he is lucky, manages to achieve somewhere in the later seventies." Advantage: Austen.
C. S. Lewis or G. K. Chesterton?
Chesterton weighed close to 300 pounds. Lewis weighed a little more than half that much I'd imagine. And although none of us would like to see it, I can see Chesterton getting Lewis on the mat. Finally he would summon his eagle powers to land a "Boom Drop." Game over.
What are a few books you would recommend for writers?
I own shelves of instructional books on every imaginable topic on the art and science of writing. But those books rarely inspire me to write. Here are three books I keep close when I write:
Notes From the Tilt-A-Whirl by N. D. Wilson. This is a masterpiece of prose beauty. Every time I read it I want to write something just like it. That's what I mean by inspiration. I don't have the skills to write a book like this, but reading it always motivates me to try. It encourages me to press on as a writer in ways that few other books do.
Artful Sentences: Syntax as Style by Virginia Tufte. This is a really outstanding compilation of quotes from the works of literary giants. Tufte adds exegesis to explain the tactics of the author and why certain sentences work so well.
Tribes by Seth Godin. Or really any of his books. I appreciate the simplicity of Godin's ideas and his clear writing style. He never talks down to his readers. He's also found a way to use abundant section headings to make fairly abrupt transitions in his flow, which saves him (and his readers) a lot of words. Godin readers may notice something of that in Lit!