On the shelf, Bonhoeffer's Seminary Vision: A Case for Costly Discipleship and Life Together looks like a tame textbook about Dietrich Bonhoeffer as theological educator. On the inside, though, Paul House has written a compelling critique of modern theological education and a case for pastoral training that's best described as "life together."
As House, professor of Old Testament at Beeson Divinity School, explains in the preface, Bonhoeffer's Seminary Vision comes from a melding of his appreciation for Bonhoeffer and his experience in the academy. Accordingly, he brings to the project many questions related to the current state of theological education. His book, therefore, is much more than another Bonhoeffer biography. It's a historical investigation for the sake of contemporary application.
From the outset, House's approach may be perceived as precarious. For historical purists, he runs the risk of bending data to fit his own concerns. For theological educators, his method of retrieval may seem obscure or unimportant compared with contemporary practices. Yet for those with ears to hear, his book sheds light on Bonhoeffer even as it cross-examines today's pedagogical methods.
Bonhoeffer as Theological Educator
After completing his second doctorate in 1930, Bonhoeffer began teaching theology at the University of Berlin in 1931. He was only 25. From then until 1940, he lectured on theology and trained aspiring pastors. Though banned from the University of Berlin in 1936, he spent half a decade (1935–40) teaching, counseling, and doing life with a few dozen students. It is this period of which House writes. He retells the story of the seminaries Bonhoeffer started and the backstory of his two classic works, Life Together and The Cost of Discipleship.
In the first two chapters House explains the conditions leading to Bonhoeffer's career in theological education. Chapter 1 gives a defense for studying this season of Bonhoeffer's life, one "biographers and scholars . . . rarely highlight" (21). Chapter 2 outlines Bonhoeffer's theological training, his biblical commitments over against church leaders compromising with Nazi Germany, and the formation of two schools—the first at Finkenwalde (and earlier at Zingst) from 1935–37; the second at Köslin and Gross-Schlonwitz and later at Sigurdshof from 1937–40.
In the next three chapters House relates Bonhoeffer's teaching to the books he wrote during these years. Never an aloof academic, Bonhoeffer engaged personally with his students—both in their studies and after they entered the ministry. This "incarnational" model of teaching forms the foundation of all House urges educators to consider.
He does this first with consideration of The Cost of Discipleship (ch. 3) and then Life Together (ch. 4). Then in chapter 5 House takes up the theme of endurance. He tells how Bonhoeffer and his seminaries suffered (each were ultimately shot down by the Gestapo). He highlights the weariness with which Bonhoeffer labored, the commitment to remain in war-torn Germany, and the way Scripture—especially Psalm 119—strengthened his soul. These chapters illuminate the provenance of Bonhoeffer's writings, but they also display the Christ-centered passion which enabled him to teach amid sparse provisions and governmental threat.
Chapter 6 concludes the book with "some possibilities for incarnational seminaries." This chapter applies all House has observed in Bonhoeffer's life and writing. It also encapsulates his own burden for reforming seminary education. He holds Bonhoeffer's seminaries as models from which modern educators can learn and selectively imitate. In discerning what is "transferable to our work today" (184), he answers a handful of objections and proceeds to make applications at a variety of levels (e.g., large seminaries, small seminaries, seminary enrichment programs, university theology departments, etc.). This is the most unique part of the book, and the one to which theological educators should give the most consideration.
House as Theological Reformer
Perhaps it's too much say that House is a theological reformer, but he calls for reformation in this book. He's concerned with the state of affairs in evangelical education, and rightly so. The ever-increasing online movement invites students to download information without developing relationally. Even with an increase in church-based training, Internet-only degrees abound. And still in their infancy, we don't yet know what kind of effect this training will have on the church universal.
This is the great benefit of reading Bonhoeffer's Seminary Vision. House makes us take stock of how we are training future pastors. By introducing Bonhoeffer's pedagogical methods, he gives an alternative approach to training—one that may be better suited for secular America.
As Jason Allen has rightly observed in his insightful "Whither Christian Higher Education?," 21st-century educators must hold fast to biblical truth, fight for religious liberty, and be willing to consider changing operational practices. As the president of Midwestern Seminary, he urges Christian schools to pursue "operational sustainability" without dependence on Pell Grants and federal student loans. Indeed, this is wise counsel, but is it enough to just address matters of finance?
House would not think so. In order to develop men for the difficulties of Christian ministry in a secular age, he offers a number of changes seminaries could make. In this review, I can only mention three gleaned from his reading of The Cost of Discipleship.
Three Changes to Seminary Education
First, instead of having an open enrollment, a standard practice today, seminaries should accept "committed students" (89–94). Such a practice would cause schools to shrink (or close), but that's the point. Following Bonhoeffer's model, the goal of seminary education shouldn't be size but strength. The world needs strong ministers and House is convinced smaller environs for education are necessary for that.
Second, committed students need "committed teachers," teachers who aren't looking to advance their careers but who are zealous for the glory of Christ, the growth of his church, and the good of the student (95–97). In my experience, these are the kind of professors I had, but I can imagine a sort of teacher who singularly prides himself on his academic achievement. It's this kind of teacher I'm tempted to become and must crucify for the greater advancement of the Great Commission.
Third, seminaries must aim to produce "committed shepherds," pastors grounded in the Word and willing to suffer for the sake of Christ (97–98). This is perhaps one of the most compelling aspects of Bonhoeffer's Seminary Vision, but one that is more than a little ironic. Most American seminaries are places of architectural and floral beauty. In these pleasant surroundings, students are prepared to go to war. But will that work? Should we be surprised that many seminarians stay at home or are unequipped to go to the places like those described in Nik Ripken's The Insanity of God? I don't say that to be sarcastic, but realistic. House calls for seminaries to train gospel warriors, but to do so may require further changes.
Call for Theological Reformation?
These three challenges illustrate the kind of force with which House writes. He is passionate about the gospel, the church, and its ministers. Thus, as he looks to Bonhoeffer, he sees a Christ-centered educator worthy of our consideration and faithful imitation.
It's my hope that his book gains a wide hearing among evangelical pastors, professors, and administrators. Academically, it fills a lacuna in Bonhoeffer scholarship. Practically, its retrieval of Bonhoeffer's pedagogical practices provides a comparative study in how theological education is conducted. But most importantly, I pray its story of Bonhoeffer, a brave pastor-theologian, may inspire a wave of new "incarnational seminaries."
Could it be that in an age when the future of American theological education is in question, we're actually on the precipice of a great theological reformation? If so, we'll need new models for training, and no model may be better than that of Dietrich Bonhoeffer, as captured in Bonhoeffer's Seminary Vision.
Get a FREE eBook to strengthen your family discipleship!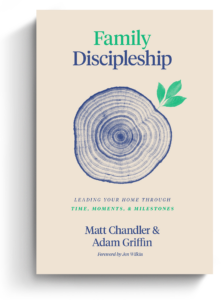 The back-to-school season is stressful for moms and dads. New rhythms of school, sports, and other extracurricular activities can quickly fill up a family's already busy calendar. Where do busy parents look for resources on discipling their family well? Aside from prioritizing church, what else can Christian parents do to instill healthy spiritual habits in their household?
Matt Chandler and Adam Griffin cover these questions and more in Family Discipleship: Leading Your Home through Time, Moments, and Milestones. And we're excited to offer this book to you for FREE as an eBook today.
Click on the link below to get instant access to your FREE Family Discipleship eBook now!