Stephen J. Nichols and Eric T. Brandt. Ancient Word, Changing Worlds: The Doctrine of Scripture in a Modern Age. Wheaton: Crossway, 2009. 176 pages.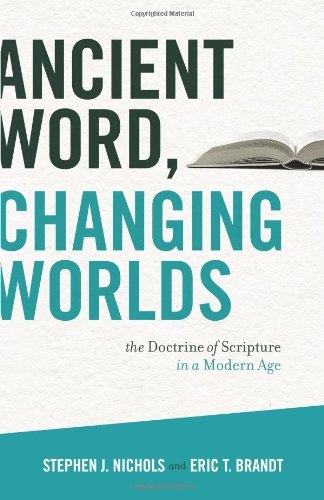 Many major controversies in modern theology are footnotes on the doctrine of Scripture. Orthodox Christianity embraced the Bible as a supernatural revelation from God, but this view has been challenged by the rise of science and naturalistic visions of life. This book tells the story of the Bible in the modern world through the lens of three important words: inspiration, inerrancy, and interpretation.
The format of the book is perhaps its unique feature. Chapters 1, 3, and 5 are devoted respectively to inspiration, inerrancy, and interpretation. Chapters 2, 4, and 6 are complementary chapters, in which the authors select a number of representative primary source texts on the topic discussed in the preceding chapter. There is nothing new here, but Nichols and Brandt give a succinct, compelling history of the trials and tribulations of Scripture in the modern age.
Given the vast material, the authors had to make judgment calls on what to include in the narrative. Inevitably, readers might wonder about a few omissions (e.g., no mention of John Woodbridge, Biblical Authority [Zondervan, 1982] when discussing the Rogers/McKim proposal in chap. 3—perhaps an oversight?). Other times, the judgment is apt, as when they note that battles over the Bible were never as agonizing for African-Americans, who naturally tended to submit reverently to Scripture as God's word (p. 72).
For the most part, this book strikes just the right balance in terms of detail, emphasis, and scope of discussion. There are helpful timelines throughout the text, a glossary, and three short appendices. Many younger evangelicals who are unwisely shedding the church doctrine of inerrancy should at least read this book. The well-written and very accessible prose also makes it ideal for college students and Sunday school or church small group settings.
---
Editors' note: This review was originally published in Themelios.