Claire and Eli. Altared: The True Story of a She, and a He, and How They Both Got Too Worked Up about We. Colorado Springs: WaterBrook Press, 2012. 256 pp. $14.99.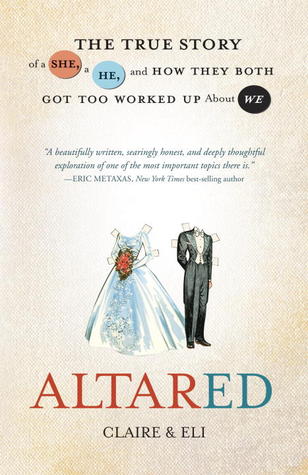 In the past year, my marriage and relationship shelf has seen a number of significant additions. Some of the most notable include Tim and Kathy Keller's The Meaning of Marriage, Gerald Heistand and Jay Thomas's Sex, Dating, and Relationships, and Justin Buzzard's Date Your Wife. The abundance of marriage titles appearing this year sets the stage for Altared: The True Story of a She, and a He, and How They Both Got Too Worked Up about We, by "Claire and Eli" (not their real names). The book speaks out against the plethora of marriage titles, sermons, and discussions by asking, "What would happen if we sought to know Christ's love before we pursued our relational goals?" (66)
Rather than discussing marriage as the end purpose of the book, Claire and Eli use it as a stepping stone to their thesis—pointing to "marriage-happy" (think trigger-happy) evangelicals as the cause for a lack of emphasis on discipleship in the church. Their questions lead readers to understand that an unhealthy emphasis on marriage can lead to idolatry.
As they offer glimpses into their own romantic story, the authors look to Scripture and church history to back up their experiences and claims. Their research leads them to a number of passages that have been seemingly underrepresented in the marriage/relationship discussion (e.g., Matt. 22; 1 Cor. 7), and they ultimately pose the following major questions: "Why are we all so marriage centric? Why aren't we better at loving our neighbors?" (207)
Helpful Questions in a Disgruntled Tone
The questions the authors raise are important and provide helpful guidance as Christians seek to appreciate marriage in relationship to higher Christian priorities. But I'm not convinced many church leaders actually disagree with them.
It appears as though Claire and Eli have set up a straw man preacher who places marriage on par with salvation. While their stories will resonate with many, and their encouragement toward discipleship is valid, I fear their logic will be lost in their disgruntled tone. At times it seems as though the authors are more interested in proving their point than understanding the redemptive-historical context of Scripture passages they quote.
The problem arises when their polemical and, at times, uncareful language is followed through to its logical conclusion. Claire and Eli create an unnecessary division between marriage and discipleship. While marriage can potentially distract believers from sanctification, I'm not convinced this couple's story exemplifies the norm rather than the exception. While marriage may not be what the Lord has for Claire and/or Eli, it becomes dangerous to prescribe such a cynical view to someone else who might be most sanctified by marriage. We are told in 1 Thessalonians 4:3 that the will of God is our sanctification. For some, as Claire and Eli point out, sanctification is best achieved through singleness. However, for others (if not most), marriage might be the most sanctifying avenue. And if, as Clare and Eli suggest, we aim to understand God's love fully before marriage, no one would ever get married, and the church would miss out on one of God's greatest blessings.
The warning Claire and Eli raise is worth raising. We shouldn't be seeking to fill our longing for union with Christ with the mere reflection of it (cf. Eph. 5:32). Their encouragement toward discipleship in response to the abundance of "marriage-happy" evangelicals can serve to bring us back to a more balanced discussion and understanding of marriage. That said, Altared seems to achieve this goal at the cost of creating a division where there need not be one. Sanctification is God's will for our lives, whether through the gift of singleness or the gift of marriage.