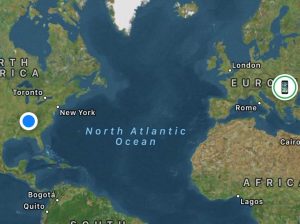 Last week, my family received news of a diagnosis that immediately changed our lives.
My mother-in-law, who lives in Romania, has been facing various health issues for quite some time. (For those who have read This Is Our Time, you'll be familiar with the story I tell in the introduction about her and my father-in-law's conversion to Christianity during the Communist era.) But last week, we received the news of aggressive tumors. The doctors recommended a surgery that would allow her to continue eating, while preparing the way for other forms of treatment.
Up until recently, Corina's mother was in fairly good health for her age (64), so it surprised us to see such a rapid decline (she lost 20 pounds in two weeks) and then, on top of that challenge, to receive such a devastating diagnosis.
For two days I was unable to pray. How strange it felt, as someone who is used to praying at specific times and off and on throughout the day, to be unable to spiritually breathe. It was as if the wind had been knocked out of me. No words could come. My inability to pray did not stem from anger toward God or faithlessness in his purposes, but from the shock that paralyzed my heart. I felt him, but I couldn't talk to him.
Then came the weekend of whirlwind plans. Corina flew out Monday and arrived Tuesday at the hospital in Romania, where she has been able to spend some time with her mother and walk with her through the surgery. I've been doing what I can to stay busy, keep things stable at home for the kids, and try not to miss my wife too much. All this while processing the tears, frustration, and grief of this season, and preparing myself for a last-minute trip to Romania, when called.
I share this with you to ask for your intercession on behalf of our family. One of the challenges of an international marriage (of which I've written before) is the distance from family members in need. There is no quick and easy way to see your loved ones, no decision without significant consideration and cost.
Through this time, I began reading a little book from my favorite Puritan writer, Thomas Watson, called All Things for Good. Watson calls Romans 8:28 the Christian's "cordial," hearty medicine for the suffering soul. He connects the pain of the present moment to the joy that comes from being assured of God's providence.
"To know that nothing hurts the godly, is a matter of comfort; but to be assured that ALL things which fall out shall co-operate for their good, that their crosses shall be turned into blessings, that showers of affliction water the withering root of their grace and make it flourish more; this may fill their hearts with joy till they run over."
This line ministered to me more than anything else in the book. Here, Watson is speaking of the times of trouble that the Lord leads us through:
"He is their strength in the time of trouble" (Psalm 37:39). God will be the strength of our hearts; he will join his forces with us. Either he will make his hand lighter, or our faith stronger."
God will not allow us to be overcome by our weakness. He is our strength. Either he will lighten the trial or strengthen our faith. In both cases, he is with us. Then I came across this reminder of what Christ does for us in those moments when life's trials throw us on our faces and make it nearly impossible to pray:
"When a Christian is weak, and can hardly pray for himself, Jesus Christ is praying for him; and he prays for three things: that the saints may be kept from sin, for his people's progress in holiness, and for their glorification."
As you pray for our family, please pray that we will have wisdom in the decisions we make, peace as we process what all this means for our future, and faith to take each day at a time. Pray that God will open our eyes to the treasures we need from his Word. As John Piper has written: "There are things to see in the Word of God that our eyes can only see through the lens of tears." I don't want to waste this season of suffering. I want God to plow the fields of my heart and plant seeds that will bear fruit in the future.
I want this trial to do two things: make us more dependent on Christ ("Faith can make use of the waters of affliction, to swim faster to Christ," Watson says) and make us more a resemblance of Christ ("Afflictions work for good, as they conform us to Christ. God's rod is a pencil to draw Christ's image more lively upon us.")
Please pray for us in the months ahead.