I went to bed last night heartsick and distressed over the shooting deaths of two New York Police Department officers. Officers Wenjian Liu and Rafael Ramos were sitting in their cruiser unsuspecting when an African-American gunman opened fire on them. The gunman made his way from his home in Baltimore, where he shot his ex-girlfriend earlier in the day, to the Bed-Stuy area of Brooklyn where the officers were on duty. After killing the officers the man fled into the subway where he took his own life. Judging from his social media account, he was a deeply troubled man bent on killing officers. His actions were more than cowardly or tragic; they were evil.
There is no biblical, logical or social justification for such violence and wickedness. None. This shooting must be seen for what it is: a heinous and evil act. The damage done is incalculable and irreparable.
Officer Wenjian Liu was a 7-year veteran of the NYPD. He was married two months and before the honeymoon was over his wife finds herself a grieving widow.
Officer Rafael Ramos served the NYPD for two years. He, too, leaves behind a wife and a 13-year old son. Ramos was also a faithful member of his local church. He was to the Christian more than a public servant. He was a brother in the Lord. His wife will mourn today and for a long while to come. His son will grow through his most formative years without the strong hand of his father to guide him. His church will worship this morning feeling the pain of this amputation from the body of Christ.
Getting Justice Right
The wicked and unjust action of a lone, disturbed shooter will result in incalculable loss. Those who protest in favor of the valuing and protection of life, if we would not be hypocrites, must protest just as loudly in support of faithful officers serving our communities. We must not champion a one-sided "justice," for that's just favoritism pretending to be righteous. It's merely a grab for power wielded unevenly.
Dr. King once spoke of the relationship between power and justice, saying, "Power at its best is love implementing the demands of justice, and justice at its best is power correcting everything that stands against love." That's what we want in all of this: power implementing justice, justice correcting everything against love. We must get this right or we will only perpetuate all that's wrong, all that's partial, all that's life and soul destroying.
We cannot let the acts of a lone and disturbed gunman define the protest, whether we find ourselves on the side of protests or against. If we allow this to define anyone, then we're misrepresenting ourselves or misrepresenting our neighbors. We're further entrenching our caricatures of self and others, and thereby further entrenching the divide we so badly need to cross if power will be used justly, and justice will correct everything against love for one another.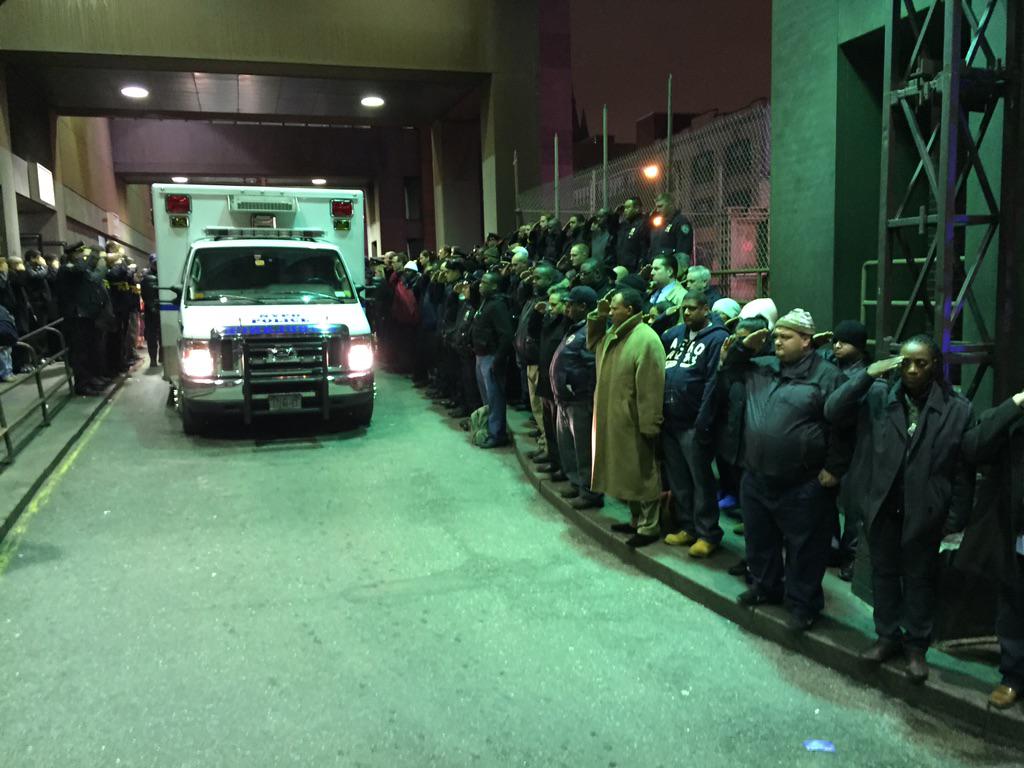 Compassion Requires Feeling and Action
Today is a time to mourn. But it's also a time to act appropriately. We cannot call for action in the cases of Garner, Brown, Rice, Crawford and others, then fail to call for action when officers are murdered. That won't do. Since the shooter took his life, there's perhaps the sense that there's nothing to do. But we cannot let that last cowardly act of the shooter rob us of the capacity to do more than speak. We've wanted more than talk when we've felt wronged. We must give more than talk now that officers have been wronged.
I don't have it all figured out. I'm still processing my own sense of grief—which seems to keep coming in waves death after death. But compassion is love with work clothes on. Compassion is the work love does or shows. So our posture has to include more than appropriate remarks of sadness and loss. We have to act.
Here are three things that ought to be done by moved observers, especially those like myself who believe in and have called for lawful protests.
1. Moratorium on protests.
This is not the day for debate. This is not the day for making political points. This is not the day to joust with those who have wanted an argument all along. This is a day for solemn reflection, for mourning. For everything there is a season. We have called for empathy in other cases. Let us be quick to show genuine empathy in this matter. That empathy requires a season of silence and mourning with those who now mourn.
2. Refine the message of the protests.
Perhaps in the quiet of mourning, it's a good time to reflect on the messages that have found their way into some demonstrations. Though the bulk of protests and protestors have been lawful and peaceful, there have been reprehensible comments, chants and actions in some of the demonstrations. If we value life, we cannot have mingled in our protests calls for anyone's death. Chants for the death of officers are sinful and wicked. They do not come from God who ordains authority and calls his people to respect and pray for those in authority. Protestors must not only distinguish themselves from this but also denounce it.
Though a part of the dynamism of the protests have been their organic, decentralized nature, that's also a significant weakness when it comes to a consistent, moral message. Organizers must stand against anything that fails the best ideal of protecting and honoring life. And those who take the other view of these matters must not misrepresent lawful protestors by spreading the wicked chants of some as if that's representative of the lawful. Spreading that message can be as contributory to a toxic environment as being undisciplined and careless as protestors.
3. Get training in non-violent civil protest.
I don't know what training, if any, has gone into these demonstrations. During the Civil Rights Movement, leaders provided a great deal of training in non-violent methods. Though the gunman doesn't represent those who call for peaceful protest and those who abhor violence, his method does require we examine and work harder on our method. As I've written earlier, an unjust method can destroy a just cause. So we can't let a knee-jerk defensiveness over wrong attempts to associate this shooter with any marches or an appropriate concern about distinguishing between the lawless and lawful overtake the opportunity to be more disciplined, more orderly, more lawful so that the righteousness of the cause isn't lost.
CONCLUSION
As a pastor, I'm well acquainted with moments like this, when words seem hollow and flat and grief seems to swell like a tsunami. I'm well acquainted with the powerlessness we feel when events outsize us. The temptation is to speak when we should listen, to hastily "fix" when what is broken cannot be replaced or easily repaired. Even Job's friends sat several days in silence. We all should do the same, and when we speak again we should try to speak a better word than Job's "comforters."
But right now, I want to mourn the lives of Officers Wenjian Liu and Rafael Ramos. They deserve our respect and our compassion. Today is a time to stand together and to mourn together. I pray that at some point we will be able to do that across all the divides that threaten us.