I always like to know a little something about an author before I sit down and open up his or her book. Today, I have the pleasure of sharing a sneak peek interview with a writer I always enjoy reading, Lydia Brownback, about her new book, Flourish: How the Love of Christ Frees Us from Self-Focus. The siren call of self sings loudly in our current cultural moment. Even as Christians, we easily fall prey to the false promises of self-focus, self-care, and self-love. This book faithfully turns our eyes away from ourselves and helps us focus on the love, mercy, greatness, and glory of Christ. It releases this week, and I highly encourage you to grab a copy and read it with a friend.
---
Can you tell us a little bit about yourself?
My vocation can be summarized in one word—books. Much, if not most, of my time is devoted to writing and editing. And all this involves God's Word. I love Bible teaching almost as much as I love Bible learning, and I am blessed with many opportunities for both.
When did you first start writing? What do you enjoy about it?
I began writing when I was about 8 years old. I've always known I wanted to write, and I am so thankful that God turned that dream into concrete reality. Time flies while I am writing, as is usually true when we're doing something we love, right? And I am most comfortable communicating through a keyboard.
Is writing ever difficult for you? How so?
Of course! Every writer lives for those hours when thoughts flow beautifully onto the page, but so often the reality is quite different. There are numerous frustrating times when getting out just one decent sentence takes 45 minutes. So for the most part, writing requires discipline, like pretty much everything else worth doing. It also requires time. But unless one is in the midst of raising small children or serving as a round-the-clock caregiver, time can typically be found somewhere during an average week. I am often told, "I plan to write when I finally have time," but the truth is, if we wait to have more time, it's likely we'll never write. It's amazing how much can get written in just a few hours each week.
What led you to write Flourish?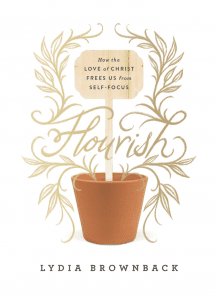 We can all recognize those secular remedies for life's problems that have become routine fare in evangelicalism—books, podcasts, articles, and so on. But what we don't see as easily is how much we are all being shaped by it. And by "shaped," I have in mind our understanding of Christian discipleship. So many of us have come to believe that our faith walk is synonymous with self-improvement. We've forgotten the words of Jesus, who taught that the call to faith is a call to die, not to improve. We mistakenly think that Jesus died on the cross to give us a better self-image and success in all we do in life. Then when things don't work out as we believe they will, our faith gets shaken, and some simply walk away from the faith altogether.
What's the central message you hope readers will take away from your book?
It's my desire that together we would all grow in our ability to discern good teaching from bad, sound doctrine from flimsy, and truth from error. Such equipping strengthens our faith because we come to know the real God and his overarching plan. The better we know him, the better prepared we are to recognize those faith-crushing misconceptions.
How has writing this book affected your own life?
The topics covered in Flourish affect all of us. Those topics include our tendency to love ourselves at the expense of others, to use God rather than serve him, and to pursue pleasure rather than holiness. I wrote the book not because I've figured it all out but because I share in the struggle. We're all in this together. As to how writing the book has changed me . . . I keep going back in my mind to the chapter "Free from Self-Indulgence." I have sought to identify what can sometimes feel like an irresistible pull to excess—to worship the idol of comfort. I mean, who among us doesn't crave a comfortable life? I certainly do. But life in Christ frees us. In Christ we are no longer compelled to bow down to the comfort god. Instead, as Scripture shows us, we can enjoy God's creation gifts and point to his goodness as we do.
For a sneak peak, here are some quotes from Flourish:
For the self-conscious:
"What do people think of me?" By means of our clothes, our weight, our gym routine, the interior of our home, the behavior of our children, and even how we birth our children, we are so easily driven by a craving for an acceptable answer to that question. But in Christ, we are called to ask a different question: What do people think of Christ? When we are driven by a concern for how people perceive him, we can live free from the bondage of what people think of us. One of the most amazing aspects of being united to Christ by faith is that he actually becomes our very identity, but not until we grasp this truth can we enjoy the freedom of self-forgetfulness.
For the self-indulgent:
"If we walk by the Spirit, if we are willing to forgo what we've come to rely on for comfort—and willing, for a time, to experience the discomfort that happens in the letting-go process—our cravings to indulge will diminish. The Spirit leads us out of ourselves so that we are no longer preoccupied with how we feel, what we want, and what we think we need, and as we grow, we begin to see that self-preoccupation is what imprisoned us all along."
For the victimized:
"Grasping the magnitude of sin—both ours and others'—is vital to getting unstuck from past trauma and flourishing as disciples. One way to strengthen our understanding of sin is to realize that Jesus himself was a victim of sin, and we are the ones who victimized him. All sin deserves death, and Christ experienced this in full on the cross, but the horrendous death he suffered was for our sin, not his own. If we miss this, we're likely to become bitter, angry, depressed, discouraged, or downright hopeless. We can flourish instead when we understand that Jesus 'did' victimhood for us. When he was scorned, mocked, and rejected by loved ones, he didn't grow bitter. When he faced the anguish of the cross, he didn't sink down in despair. When he grew weary from the endless demands on his time and energy, he didn't insist on personal space. When he saw people he loved suffer from the sins of others he loved, he didn't lash out. Instead he prayed. He sought his heavenly Father. He forgave. He healed. He loved. And he grieved."
Here's what others are saying:
"As someone who deals in words all day and every day, I'm always fascinated to see how they come and go, how they ebb and flow. Recent years have brought us countless articles, books, podcasts, and conferences based on the word flourish. 'Follow this program,' they say, or 'switch to this diet,' or 'become more mindful,' and 'you'll finally flourish in your life and in your relationships. Guaranteed!' In this book, Lydia Brownback looks for and finds what I'm convinced is the true key to human flourishing. Her solution is infinitely better because it is based on an infinitely better source—the enduring, infallible Word of God."
Tim Challies, blogger, Challies.com
"Lydia Brownback is an author to be trusted. She writes with lucid insight and biblical discernment. The result is a book that is truly helpful— a book that avoids contemporary fads and points the reader repeatedly to the sufficiency of Christ. She takes on common destructive states of mind that often hinder Christians from walking in the freedom that is theirs by grace. I suppose the highest recommendation I can give to this book is that it is one I will be encouraging the congregation I serve to read."
Todd Pruitt, Lead Pastor, Covenant Presbyterian Church, Harrisonburg, Virginia; Cohost, Mortification of Spin
"What if the pathway to true flourishing is not what our instincts assume? What if the siren calls of society and culture are misleading us? What if real flourishing makes foolish the wisdom of the world and turns today's prevailing solution on its head? What if self-focus leads to losing the life that really matters, and focusing outside ourselves leads to finding it? Lydia Brownback has a beat on the answer. There is a true flourishing, and it may not be what you think—and it is better than what we dream. This is no shallow guide to 'flourishing' when all in life is well. Brownback wants to get us ready to truly flourish—when all around our soul gives way."
David Mathis, Executive Editor, desiringGod.org; Pastor, Cities Church, Minneapolis/St. Paul, Minnesota; author, Habits of Grace
"In a world where seemingly every voice whispers, 'Think about yourself,' this book is an invitation to something better. With biblical clarity, Lydia Brownback exposes the pervasive lie of self-focus and points us to a more abundant life. Whether you find yourself shackled to the self-centered spirit of the age or mentoring someone else who is, Flourish will open the prison door and let in the warm light of Christ."
Megan Hill, author, Contentment and Praying Together; Editor, The Gospel Coalition
If you had an afternoon to do whatever you'd like, where would we find you?
Depending on the weather, either reading on the beach or baking in the kitchen.
---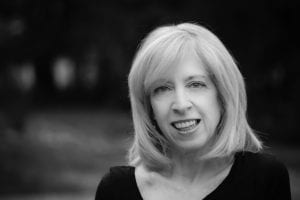 Lydia Brownback (MAR, Westminster Theological Seminary) is passionate about promoting biblical doctrine with a high view of God. She is the author of several books and a speaker at Christian conferences and events. Lydia holds a MAR in biblical studies from Westminster Theological Seminary (Philadelphia). More information about Lydia can be found at lydiabrownback.com.