I always like to know a little something about an author before I sit down and open up his or her book. Today, I interview Maggie Combs about her new book, Motherhood Without All the Rules, which provides gospel relief for worn-out moms. Isn't that something every mom needs? I loved hearing her hope behind this book and the wisdom in her advice, "I can't exhibit the fruit of the Spirit in relating to my children without being in the Spirit. I can't demonstrate the gospel to my children when I'm not living in it myself." 
---
Can you tell us a little bit about yourself? 
I'm first a wife and mom of three boys in kindergarten, first, and second grades. Our family lives next door to my parents on a hobby farm in the suburbs of Minneapolis, where we steward horses, beef cows, and fainting goats. In the midst of raising kids, I make time to write and recently became the content director for Well-Watered Women, an online ministry that creates resources and offers content that encourages women to dig deeply into God's Word.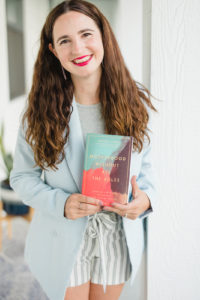 When did you first start writing? What do you enjoy about it? 
I've always loved to write, but I saw myself first and foremost as a teacher. This led me to pursue a degree to teach English to middle-school students. After having three kids in three years, I found my overactive brain was easily distracted by my phone as I did the physical work of mothering three little boys. To steward my time more wisely, I decided to combine my love of teaching with my love of words, and that gave birth to my first book, Unsupermommy.
I love how writing lets me connect with other women and with God. It keeps me accountable, reminding me to consider how God is using my circumstances to draw me near to him, even when I'd prefer to skim across the surface of life. I'm bad at learning lessons, but when I write down the lessons I am learning about God, they become cemented in my heart.
Is writing ever difficult for you? How so? 
I like to think of writing as a combination of creative inspiration and hard work. Usually the idea comes naturally, but translating that idea into an article or book that will connect with the needs of other women and bring them to the gospel is always a challenge.
What led you to write Motherhood Without All the Rules? 
I wrote my first book, Unsupermommy, on finding God in our weakness in the early years of motherhood. Once I had finally passed the survival stage of parenting, I found that I really wanted to grow as a mom. But I started trying to sanctify myself with my own teeth-grinding grit instead of relying on an active relationship with God. I had begun to adopt society's system of standards to live out godly motherhood instead of doing the hard and holy work of walking with God. No wonder it wasn't working.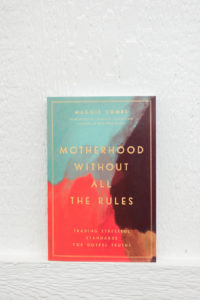 I can't exhibit the fruit of the Spirit in relating to my children without being in the Spirit. I can't demonstrate the gospel to my children when I'm not living in it myself. Motherhood Without All the Rules is my attempt to help moms like myself reorient our thinking around the gospel in the places that the world's thinking has subtly crept into our hearts.
What's the central message you hope readers will take away from your book? 
We don't grow as moms by controlling our circumstances, proving our own strength, or following all the rules. We only grow in godly motherhood through an intimate relationship with our triune God.
How has writing this book affected your own life? 
While writing this book, I was increasingly convicted about underlying sins that I had been failing to repent from. Instead, I would recognize the problem, then try to do better by my own power, continuing in bondage to sin. 
I've discovered that repentance is the beginning of the gospel in my heart. It is the process of correctly identifying my sin before a holy God and accepting the work of Christ to wash away my sin and free me from bondage to it. It brings connection to the Holy Spirit, who helps me walk in freedom. 
For a sneak peak, here are some quotes:  
"As the perfect parent, God knows so much more than we do about discipline. He perfectly understands the necessity of boundaries, truth, and withholding good things for better ones. Because He loves us, He allows discomfort for the goal of growth. He is not afraid to make hard decisions so we might mature in holiness. In God's kingdom, we don't deserve comfort and ease, and He is actually too kind to give them to us. When we are comfortable and capable, we rarely grow. In our discomfort, we discover the joy of completing a marathon of sacrifice and discipline instead of a vacation in the muck of our heart's earthly desires."
"What is particularly problematic about living for the kingdom of mom is that it gets the purpose of motherhood all wrong. God made you a mom not because He knew you would be awesome at it, but because motherhood is one of the ways God uses to teach you your need of Him and grow you in knowledge of Him. This purpose for motherhood transforms your motives from serving and glorifying yourself to knowing God through the good work He has given you to do. Godly motherhood is the fruit of God's work within you. Instead of starting with who you want to be and what you want to do, begin with who Christ is and the work He has already done." 
Here's what others are saying about Motherhood Without All the Rules: 
"Maggie Combs has thrown a lifeline to moms everywhere. With wisdom and vulnerability, she tackles some of the most popular, but unhelpful, clichés offered to moms today—and shows, instead, how to trade those "stressful standards" for the truth, help, and freedom of the gospel. Motherhood Without All the Rules: Trading Stressful Standards for Gospel Truths will encourage you, challenge you, help you, remind you, instruct you, and, most of all, point you to Jesus."
Courtney Doctor, Coordinator of Women's Initiatives, The Gospel Coalition
"As mothers, we so easily lose track of the simple gospel meant to fuel and sustain us. That's why I'm grateful for this resource! Maggie addresses the cultural messages in which we swim these days, pulling down false narratives and erecting beautiful God-oriented truths in their place. Read and let your heart be settled."
Christine Hoover, author of With All Your Heart and Messy Beautiful Friendship
"In Motherhood Without All the Rules, Maggie offers moms tangible gospel hope through sharing her experiences and struggles in motherhood and pointing moms to Jesus. She reminds us that the pressure is off to be the perfect mama, because we have the perfect Heavenly Father guiding us and providing for us. Instead of living for the kingdom of ourselves where we are the 'queens', Maggie offers us another kingdom to live for—the kingdom of God ruled by our good and gracious King. This book is for all moms, and I guarantee, after reading these pages, you'll be refreshed and reminded of God's great grace and the freedom he freely gives."
Gretchen Saffles, Founder of Well-Watered Women
"Tired of spinning your wheels? In Motherhood Without All the Rules, Maggie Combs helps moms unhitch from burdensome motherhood maxims and mantras and paves the way forward with grace-fueled obedience. With the help of Maggie's disarming personal anecdotes, poignant observations, powerful biblical teaching, and practical action steps you'll learn how to recognize and let go of (sometimes sneaky or subconscious) stressful standards and embrace the freedom and joy Christ offers to you in motherhood."
Abbey Wedgeworth, author of Held: 31 Biblical Reflections on God's Comfort and Care in the Sorrow of Miscarriage 
If you had an afternoon to do whatever you'd like, where would we find you? 
In the winter, I'd be curled up in a slant of sunlight with my Kindle. In the summer, I'd be at our cabin, surrounded by my large family, talking and laughing as we play in the lake together.
---
Maggie Combs is the author of Motherhood Without All the Rules: Trading Stressful Standards for Gospel Truths. When motherhood overwhelmed her, God drew her closer to him through writing her first book, Unsupermommy. It is her joy to disciple women in her local church, through her writing, and as content director for Well-Watered Women. Find more gospel hope to unburden your soul at www.maggiecombs.com or on Instagram and Facebook.