I always like to know a little something about an author before I sit down to open up his or her book. Today, I'm excited to interview my friend Courtney Reissig about her new Bible study, Promises Kept: 5 Old Testament Covenants and How Christ Fulfilled Them. I love Bible studies that help us study the Old Testament, while making connections to the New Testament. If you're looking for a Bible study to use for this spring or summer, be sure to take a look at this one! Promises Kept releases March 7th and you can pre-order here today.
---
Can you tell us a little bit about yourself?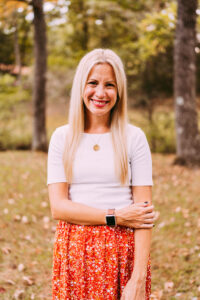 I've been married to Daniel for nearly 14 years and we have 4 boys: Luke and Zach (who are twins), Seth, and Ben. I'm a writer and Bible teacher, but the majority of my time is spent serving my local church in Little Rock, AR (Immanuel Baptist Church) as the Discipleship Content Director. I love thinking about discipleship and education in the local church and how we can make disciples who love God's word and love to make him known.  
When did you first start writing?  What do you enjoy about it?
I've been writing for as long as I can remember. English was my favorite subject in school, and I naturally gravitated towards anything that let me use my words. But I first came to see that writing was something I could do when my freshman English teacher told me I was a good writer. At the time I was majoring in elementary education, but after that class I switched to English and never looked back. I process life through writing, so writing is where I feel like I'm able to clarify and express what I think and feel. But I also love writing because it helps me formulate what I think about something. I really enjoy the challenge of communicating complex ideas in ways that are enjoyable to read and stir people to love God.   
Is writing ever difficult for you? How so?
Ever since I had my first kids, the challenge of time has made writing especially difficult. I simply don't have enough time in the day to write like I want to. Now that I work full time, I do a lot of writing for my church, but not as much for other outlets. So again, time is the great challenge. I'm a finite being, so my limitations regularly make writing difficult for me. I suppose I will get to a different season of life and will find new challenges to writing, but right now, time is my greatest struggle.
What led you to write Promises Kept: 5 Old Testament Covenants and How Christ Fulfilled Them?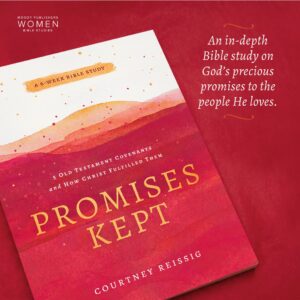 I've always loved the Old Testament, so when I started thinking about a Bible study it made sense to write about the Old Testament. But I first learned how the whole Bible fit together when I was in seminary. I remember being blown away by the ways that the promise of a Messiah was fulfilled in the New Testament. I wanted to give women tangible ways to read their Old Testament and see how it was part of the larger story God is writing of redeeming a people for himself. I think women sometimes shy away from the Old Testament because they don't know how to make sense of it. My hope for this study is that it would remove some of the barriers to understanding what God is doing in the covenants in the Old Testament. 
What's the central message you hope readers will take away from your book?
My hope is that women will walk away from this study first with literacy tools for studying the Bible for themselves. But I also hope they will walk away with an understanding of how the Old Testament covenants are building on one another and find their fulfillment in Christ.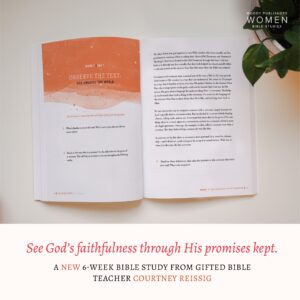 How has writing this book affected your own life?
I've been really struck by how patient God is with fulfilling his promises. The Old Testament spans so many centuries, and yet God's promise was never lost. He kept carrying it forward, through struggle, exile, rebellion, and calling his people back. God plays the long game with his promises, and he doesn't keep time like we do. When I look at how long it took for him to fulfill these promises, I'm reminded that he is a God who is always working, even when it feels like he isn't. It encourages me to trust him even in the years of waiting for him to act. And what's even more encouraging, is that I live on the other side of the New Covenant, so the greatest promise he made (to send the Messiah) has already been fulfilled. How much more can I trust him for every other thing I'm waiting for resolution on? 
For a sneak peek, here are some quotes: 
"The Bible is one big story, but that is easy for us to forget because it is filled with so many different books and genres. There are different characters. Stories within the story. It is hard for us to see how Leviticus has anything to do with 1 Samuel. I mean, does it? This study is designed to help you see how the story unfolds, so you have some hooks to hang your understanding of the Bible on. It's also designed to help you see how you are deeply connected to this one story. If you're trusting in Christ, it is your story too."
"Christ is the perfect and better Adam. He is the man who followed God's word without fail. He is the God-man who can deal with our sin once and for all. The story ends with tragedy, but hope breaks through. Redemption is on the horizon."
"What the Law could not do, Jesus did once and for all (Rom. 8:3-4). If we only had the Mosaic Covenant, we would be crushed under its expectations. But it was never meant to crush us. It was meant to lift our gaze and stir our longings for the Messiah who could keep the law perfectly. There are two types of people–law keepers and law benders. But the Bible tells us they are the same. The ones who think they keep the law are fooling themselves. The ones who don't even try are killing themselves." 
Here's what others are saying:
"Promises Kept walks you through the big picture of God's redemptive story in a way that will lead your heart to worship as you stand in awe of his faithfulness."
–Ruth Chou Simons, Wall Street Journal bestselling author, artist, and founder of gracelaced.com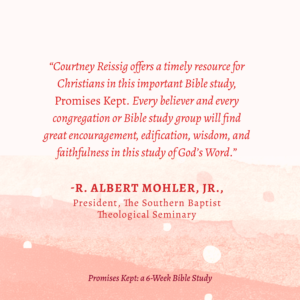 "Jesus's life and teachings are constantly calling back to the Law and the prophets in the most subtle and breath-taking ways, but we will miss all that is happening before our very eyes unless we have teachers to guide us. Thankfully, Courtney Reissig is just such a guide, illuminating the beauty and the depths of God's Word in both accessible and practical ways. This is a wonderful resource!"
–Sharon Hodde Miller, Author of The Cost of Control: Why We Crave It, The Anxiety It Gives Us, And The Real Power God Provides
If you had an afternoon to do whatever you'd like, where would we find you?
Taking a nap! But in all seriousness, I love a long run on spring or fall day in Little Rock. And then I'd also like to sit and read uninterrupted after the run. 
---
Courtney is a writer and Bible teacher living in Little Rock, AR. She is the author of numerous books and bible studies, including Teach Me to Feel: Worshiping Through the Psalms in Every Season of Life and Promises Kept, 5 Old Testament Covenants and How Christ Fulfilled Them.. Courtney and her husband are the proud parents of four sons and together they serve at Immanuel Baptist Church in Little Rock, AR where she is also the Discipleship Content Director. You can find more of her writing at her website:. www.courtneyreissig.com or follow her on Instagram.