I always like to know a little something about an author before I sit down and open up his or her book. Today, I'm excited to interview Christine Hoover about her new book, Searching for Spring: How God Makes All Things Beautiful in Time. I've enjoyed Christine's other books, and after reading this sneak peek, I'm especially looking forward to this one. It releases today and comes just in time for spring!
---
Can you tell us a little bit about yourself?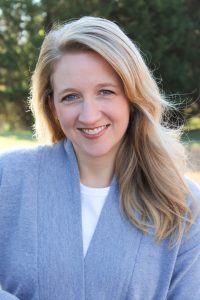 I am married to Kyle, who is the lead pastor of a church we started in 2008 in Charlottesville, Virginia. We have three sons together, one of whom is well into teenage-hood and one who is preparing to join him, so we've entered into fun and daunting new territory as parents.
I'm passionate about words, people, and the gospel, so I feel right in my sweet spot of ministry when I'm able to combine those passions in any sort of way, such as through writing, Bible teaching, leadership, or discipleship. I especially love when I'm able to use my gifts within our local church, Charlottesville Community Church.
When did you first start writing? What do you enjoy about it?
I've always enjoyed writing, but it was not until my early 30s that I actually began to acknowledge to myself not only a love of a writing but also a compulsion to do it. However, desire alone does not a good writer make. Once I finally gave myself permission to use spare moments for writing, I spent years writing words I hope no one ever sees. I discovered almost immediately, however, the joy in writing. When I think about and write truths about God, about our humanity, and about how those fit together, it feels as if I'm worshiping God, as if I'm made to serve him in this way. Writing is my offering to God, a return to him of what he's given me.
Is writing ever difficult for you? How so?
Oh yes, absolutely! I think of writing as a form of wrestling. Wrestling with images and truth and insecurities; trying, in the midst of all those things, to get words on a page that may or may not mean something to someone beyond myself. I try not to panic or think too much about the process, but rather simply get words out and evaluate or edit later. Otherwise, I'd spend all my writing hours in the fetal position on the carpet, crying hot tears, searching the classifieds for mindless work, and trying every which way to slip from under the weight of any deadline I'm under.
I've embraced how much of writing involves waiting. Waiting for the precise word to pop in my head. Waiting for the story I must tell. Waiting for the puzzle pieces to fall together in a clear picture. Waiting for the message or the imagery that makes my heart pump hard, affirming I'm on the right track. Waiting on God when I much prefer plowing ahead with my own rants and careless words. It's certainly not passive waiting; I'm thinking constantly, attempting to hold thoughts in my head until I can stop the car at a red light and spill them into my Notes app, catching stray thoughts in the margin of my prayer journal, and, yes, sitting down to stare at the computer when I'm not sure where I plan to go with my words. Waiting is active business. Like wrestling, it will make you sweat.
What led you to write Searching for Spring?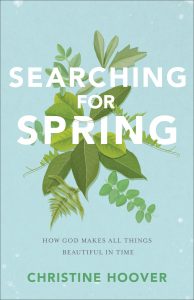 When we look around at our world (and, if we dare, into our own hearts), we can so easily despair at what we find: broken relationships, difficult obstacles, and excruciating pain. So when we read verses like Ecclesiastes 3:11, which says, "God makes everything beautiful in its time," we wonder how and when this will come true. Can God truly make all things beautiful? And, if so, can he do it in our lives?
These are big-picture questions we all at some point ask. The idea for this book was birthed out of conversations I had with a friend about her own difficult circumstances. Her questions and doubts forced me to "try on" my beliefs about God and his character within her trial and find out if they held up. I needed to know what true hope I could offer her and, in turn, myself.
I discovered that this life is a type of winter. There are some things that will remain unfixed for a time. One is what we've known all along: "In this world we will have trouble." We don't want to accept that, even though they are Jesus's words. We have trouble acknowledging we can't and won't avoid the harsh cold in this world and within our own hearts.
And so, searching for spring is really an analogy for our search for God's redemptive work, where suffering and death become fruitful life. Using Ecclesiastes 3 and the changing seasons as a framework, I invite readers to join me in my own treasure hunt for beauty in both familiar and unexpected places. I wrote this book for my friend and for everyone else who is in the midst of suffering, who finds their faith withering, or who is questioning whether God is at work—or even present—as they wait for something in their lives to become beautiful.
What's the central message you hope readers will take away from your book?
God's work is redemption, and everything he's doing is hurtling us toward that end. The difficulty, of course, comes in waiting for that end. I hope that readers come away from Searching for Spring having learned to trace the pattern God's laid out for us in Scripture on how to wait by faith.
This is the pattern: look back and then look forward.
In the Old Testament, God repetitively required his people to build altars, to recall to their children stories of his acts, and to celebrate feasts that marked his miracles. Over and over, he said to them, "Look back. Remember." They were to remember how God made freedom from slavery and provision from lack. Why? So they'd trust him in their present circumstances, their present winter.
Later in the Old Testament, God's refrain through the prophets then became, "Look forward." They were to look forward to a perfect deliverer and forever rescuer, when God would make beauty from their ashes. Why were they to look forward? So that they might trust him with those ashes in their present state.
In the New Testament, the same pattern emerges. After the Gospels, the writers continually point back to the death and resurrection of Christ and then forward to his future coming, all so that we'd look at the past with gratefulness and awe, the future with faith, and the present with eyes wide open to hope.
In our waiting, we lace our tears with joy instead of despair when we do what all of God's people since God's people were have done in their own winters: we follow the pattern. We look back. And we look forward.
That's what I most want readers to know and remember and practice.
Here's what others are saying:
"Too often, the ugliness of sin and the brokenness of our world cause us to lose sight of the beauty of our God. Searching for Spring reminds us of this beauty, of the wonders of God's creation, and Christ's promise to make all things new. Read and wonder as Christine Hoover teaches us to see the beauty and hope ever-present amid the pain."
— Russell Moore, president, The Ethics and Religious Liberty Commission
"Of all the things that can scuttle our faith, forgetting the goodness and beauty of God must top the list. In Searching for Spring, Hoover calls us to encounter a God whose heart beats with goodness and beauty–a God who persists and insists on 'making all things beautiful in their time.' This is a book that you will want to read slowly, allowing its hope-filled message to saturate the corners of your weary, doubting soul."
— Hannah Anderson, author of Humble Roots: How Humility Grounds and Nourishes Your Soul
---
Christine Hoover is a pastor's wife, mom of three, and the author of several books, including The Church Planting Wife and Messy Beautiful Friendship. Through her blog, Grace Covers Me, she enjoys encouraging others to apply gospel truths to their honest thoughts, especially in the areas of grace, community, ministry, and friendship. Her work has appeared on The Gospel Coalition, Desiring God, and For The Church. Christine and her family live in Charlottesville, Virginia.