I always like to know a little something about an author before I sit down and open up his or her book. Today, I interview Bible teacher and author Caroline Saunders about her new book, Better Than Life: How to Study the Bible and Like It. This study guide is such a needed resource to help teenagers know how to study and love God's Word. I've been looking for a resource exactly like this one, and it just released this month!
---
Can you tell us a little bit about yourself?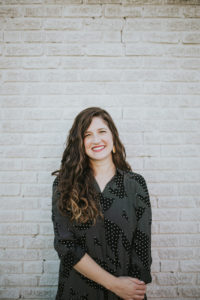 I'm a delighted follower of Jesus, and I try to take him seriously and take myself un-seriously. I married the guy I started dating at 16 years old. Early on, Luke shared with me his desire to do ministry, but I didn't think it'd work out—because I thought pastors were supposed to love to wear ties and always drove the speed limit. 
As it turns out, tie-love is not a prerequisite for the pastorate, and we've been in local church ministry for 13 years now. We have three kids, and it's my joy to spend my days with them! On the side, I write, teach, and teach writing.
When did you first start writing? What do you enjoy about it?
I've been writing for as long as I can remember. When I was in the third grade, I wrote and illustrated a book called Danny Dumptruck and the Bully for a school assignment, and I genuinely believed it would change the world. 
In the climactic scene, Danny finally has the ear of his bully (Billy the Bulldozer, naturally), and appeals to him with, "Do you want peace in America?" The earnest, over-the-top dialogue and the bully's resulting transformation are hilarious to me now, but at the time I was convinced it would stir the souls of my readers. In many ways, I'm the same as third-grade Caroline—I still hope my words will be used by God to change hearts and bring peace!
I love writing because it helps me slow down and process the world around me. Sometimes I'm processing an embarrassing moment or a funny thing my kids did, and I sit at my laptop enjoying laughs I might've missed. 
Other times, I'm processing a sin God revealed, a wound I didn't realize I'd endured, or a concept that pricked my heart as I read my Bible. Writing is my opportunity to be still and remember who God is and how he is at work in the actual fabric of my life. Then, when appropriate, writing gives me the opportunity to serve by inviting others into those places of laughter, conviction, healing, and learning.
Is writing ever difficult for you? How so?
Is there anything worse than being trapped in an inspiration desert under a looming deadline? Moments like this force me to depend on the Lord, to adjust my prayers to align with Psalm 138, asking God to exalt above all things his name and his Word. It's easier to accept my own lacking words when I remember God's Word lacks nothing, will never return void, and is my very life.
What led you to write Better Than Life: How to Study the Bible and Like It?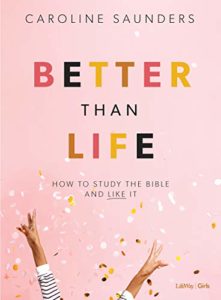 When it comes to training up the next generation, it's easy to urge young girls to read their Bibles without equipping them to do so. Other times, we're faithful to equip them, but we do it dryly, perhaps inadvertently putting stumbling blocks in their way. 
In my mind, failing to offer both clear equipping and also genuine delight seems fundamentally at odds with our commissioning to make disciples by teaching them (Matt. 28:19–20) and at odds with the beauty of the gospel.
Better Than Life is my attempt to offer girls both equipping and excitement for the Bible! At a birthday party, I never hand out the cake forks with a frown. I hand them out excitedly because I know the fork is the tool for feasting, and I'm eager for our party guests to feast. That's my same posture in this study. I'm offering girls a "fork" to help them taste and see that the Lord is good and that his Word is sweeter than honey.
What's the central message you hope readers will take away from your book?
In the study, girls learn and practice a tried-and-true Bible-reading recipe that I've tried to make accessible and memorable. My hope is that a year after participants complete the study (or 30 years later!), they will open their Bibles and think, I know what to do, and I know it'll be worth doing, because this Word is my very life.
How has writing this book affected your own life?
I wrote the manuscript in an unexpected season of transition that made me cling to God's Word in a new way, further convincing me of its life-giving nature and of any resource that will help others approach it. 
The experience prompted me to marvel over the way God sows and reaps, producing fruit in a current season from a previous season's planting. What a joy—during a time when I struggled to remember what I ate for lunch—to experience the fruit from that months-ago deep dive into Psalm 63 and the years of inviting women over to learn to study the Bible! 
I prayerfully hope Better Than Life will equip girls today to persevere in tomorrow's foggy, fraught seasons.
For a sneak peek, here are some quotes:
"When I learned how to study the Bible, I found that I truly liked to study the Bible . . . structure led to delight, and I have not been the same since."
"Here's a fun fact: the Latin root of the word 'study' is 'zeal,' and zeal means 'eagerness and ardent interest in pursuit of something.' The words 'eagerness' and 'ardent' here imply a warm enthusiasm—as in 'I want to know this! I want to do this!' Who would've thought that the word 'study' contains ingredients less like the stuff you'd find in a classroom and more like the stuff you'd find at a pep rally?"
"Part of our work as Christ-followers is to protect our appetite for Him by putting to death lesser cravings and daily yielding our hunger pangs to Him, knowing that only He can satisfy."
Here are some endorsements:
"If you're intimidated by the thought of chipping away at a book as long and robust as the Bible in order to live in light of its truths, this is the study for you! Through winsome instruction and memorable methodology, Caroline Saunders encourages young women to feast on God's Word and delight in its truths. Better Than Life is exactly the resource I want to use with girls I mentor as well as my own daughters someday!"
— Hunter Beless, Founder and Executive Director of Journeywomen
"Better Than Life by Caroline Saunders is so much more than a Bible study and a set of Bible study tools. It is a mindset that will help girls learn how to delight in God and His word, setting them up for a lifetime of studying Scripture with confidence and understanding."
— Ben Trueblood, Director of Student Ministry for LifeWay Christian Resources
"If I could think of one resource my middle school and high school self needed, it would be this Bible study. Through creative writing, easy-to-remember phrases, and relatable stories, Caroline meets girls right where they are with valuable teaching on how to study the Bible and be transformed by its truth!"
— Gretchen Saffles, Founder of Well-Watered Women
If you had an afternoon to do whatever you'd like, where would we find you?
I'd love to go to a magically uncrowded amusement park in great weather with family and friends, and ride roller coasters and eat lots of food without one interfering with the other. Wouldn't that be fun?
---
Caroline Saunders is a writer, pastor's wife, and mother of three who loves serving women and girls through writing, through her church, and through a parachurch women's ministry she started with her best friends called Story & Soul. Her LifeWay Girls study Better Than Life: How to Study the Bible and Like It released fall 2020. Find her writing and resources at WriterCaroline.com and on Instagram @writercaroline.