I always like to know a little something about an author before I sit down and open up his or her book. Today, I have the pleasure of sharing a sneak peek interview with my friend and fellow TGC editor Megan Hill, about her new book, Contentment: Seeing God's Goodness. It's a 31-day devotion that overflows with wisdom, truth, and practical applications. These daily readings refocus our gaze off of ourselves (or our neighbor's cute new coat) and onto the goodness and faithfulness of our God. It's a needed and helpful book, and it comes out this Friday, September 28. I highly recommend it. (Seriously, go get it.)
---
Can you tell us a little bit about yourself and your writing?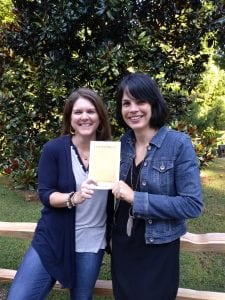 I live in Massachusetts with my husband and four kids. I'm a pastor's wife and a writer; I also edit for The Gospel Coalition. My first book, Praying Together, was an encouragement to practice corporate prayer—praying with others in our homes and communities and churches. This book, Contentment, is a bit different. It's a 31-day devotional, designed to be used by people who want to cultivate contentment in their lives.
When did you first start writing? What do you enjoy about it?
As a pre-teen, I used to write notes to my parents and leave them on their bedside tables for them to find. I'd write to them about things I found difficult to discuss face-to-face. Writing those notes helped me to formulate my thoughts more clearly and allowed me to talk about them in the way I wanted—not stumbling over myself.
I also write out my prayers during my personal Bible study. Again, writing out the things I am bringing to the Lord gives me clarity—what am I actually asking God to do, and is it biblical?
In the same way, writing articles and books is a way for me to think deeply about ideas and theological truths and then attempt to communicate them in a way that clear and helpful to others.
Is writing ever difficult for you? How so?
Yes, writing is difficult for me! Especially because I write primarily about what the Scripture teaches, I feel an immense burden to be precise with my language. A misplaced word or a sloppy phrase can turn a sentence with good intentions into heresy. For that reason, I'm an incredibly slow writer, and I always run everything by several people who are better theologians than I am. But, hopefully, that means that the things I publish are as true as I can make them.
I have been interested in the subject of contentment for many years. Puritan Jeremiah Burrough's The Rare Jewel of Christian Contentment made a big impression on me when I was a college student. He has several sections that I "preach" to myself often! Later, I taught two different book studies on The Envy of Eve, which continued to remind me of the importance of contentment at a time when my children were all very young and my life seemed to be limited in some ways. Writing this book, then, was just an opportunity to build on the work of others.
What's the central message you hope readers will take away from your book?
The subtitle of the book is "Seeing God's Goodness," and that's intentional. It's only when we look away from ourselves and our own circumstances that we can lay our eyes—and our hearts—on what truly satisfies: God and his good purposes. When we are totally taken up with God, we have no room for discontent. I hope that people will come to this book looking for help for themselves and turn the last page finding that their vision for God and his glory has been expanded.
How has writing this book affected your own life?
When you write a book, you end up reading it at least five or six times in its entirety. Between writing, revising, editing, and correcting page proofs, I'm sure I have read this book more than anyone else ever will!
With Contentment, it seemed that each re-read coincided with a particular set of challenging circumstances in my personal life. One time, I was reading the manuscript at the same time as I was preparing my house to welcome another family for a month. Every speck of dust and streaky window was an opportunity for anxiety—but reading each Bible text reminded me to trust in God's goodness and not my own decorating chops. Another time, the edits arrived just when we had received some difficult news from our extended family. And, again, the words of Scripture were just what I needed to remind me to trust in the Lord.
I worked on this book through a leaking roof, fresh parenting challenges, an extended trip out of the country, preparations for a new school year, and notification that one of my writing projects had been unexpectedly cancelled. With each circumstance, I had to remind myself of the truth I wrote: "The secret of contentment is not in having 'enough' money (or status or relationships or education). Rather, the secret of contentment is placing our ultimate hope in something secure: The Lord will never leave us or forsake us; he is our help, so there is no reason to fear."
For a sneak peak, here are some quotes from Contentment:
The good news of the gospel is not simply that Christ tells us how to be content but also that Christ is powerfully at work in us to bring us to contentment.
How can we be content when the roof is still leaking and the kids still need new backpacks? How can we pray for the spread of the gospel when the cancer is spreading deep in our own bones? Jesus tells us two precious truths: God knows exactly what we need, and God has the power to satisfy every righteous desire.
Biblical thanksgiving is not merely false cheer slapped on the surface of otherwise bad circumstances. Biblical thanksgiving is our acknowledgment that God is accomplishing his eternal purposes, even when we cannot clearly see what he is doing.
Here's what others are saying about Contentment:
Those of us who continually study contentment do so because we, like many others, have not fully "learned to be content in any and every circumstance" with the apostle Paul. Armed with the sword of the Spirit—the Word of God—Megan Hill has given us a wise and beautifully written daily devotional to help us attain this important Christian virtue. Its practical insights and applications, its simplicity and depth, its conviction and comfort will make this a daily devotional that I will return to often in my ongoing struggle for the great gain of godliness with contentment.
— William Barcley, Senior Pastor, Sovereign Grace Presbyterian Church, Charlotte, North Carolina; Author, The Secret of Contentment
Our hearts are often prone to discontent. We want what others have and think that our lives would be better if only that one thing would change (and that one thing sometimes varies from week to week). Megan Hill's new devotional helps readers to see the source of discontent and paints a picture of biblical contentment rooted in the gospel. Contentment: Seeing God's Goodness helps those who are longing to shed the weight of discontent by pointing them to the soul-satisfying contentment found in Jesus Christ.
— Christina Fox, Counselor; Author, A Heart Set Free
Megan Hill exposes the lie that seduces so many of us, demonstrating that a change in our circumstances will not improve our lives. With clear, practical, biblical reflection, Hill leads us to the greener pastures of Christian contentment. But she doesn't simply tell us to "stop our complaining"; she tells us to embrace Christ, the suffering yet contented Savior. I am glad for this resource that teaches us to live his life of holy, surrendered desire.
— Jen Pollock Michel, Author, Teach Us to Want and Keeping Place
"Be content." "Pursue contentment." "Repent of discontent." We've all heard the exhortations and rebukes. We all agree with them. "But how?" we cry. How do we get there? Megan Hill comes to the rescue with a practical daily devotional full of how-to's and why-to's. But, more importantly, she shows that the remedy for discontent lies ultimately not within the "how" and "why" of a daily technique but in the "who" of a daily relationship with Jesus Christ.
— David Murray, Professor of Old Testament and Practical Theology, Puritan Reformed Theological Seminary; Author, The Happy Christianand Christians Get Depressed Too
If you had an afternoon to do whatever you'd like, where would we find you?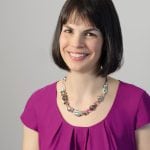 After my childhood in Connecticut, these last few years in Massachusetts have been a fun chance to discover and re-discover interesting spots in New England. On a free afternoon, my husband and I will typically pack up the baby and head out for a historic house, an unexplored museum, or an old cemetery with noteworthy graves. And, of course, we'll have lunch and maybe—if I'm lucky!—ice cream at a roadside farm stand.