During the Christmas season, I often find myself rushing here and there, trying so hard to enjoy everything, that I can end up missing the most important thing: spending time with Jesus. And, yet, that's exactly why he came as Immanuel—God is with us. So, I'm always on the hunt for ways to focus my heart on what's truly important during Advent.
This year, I'm using a new study from Amy Gannett called Grafted In: An Advent Study on the Family Tree of Christ. I noticed it on her new website, along with some other great items. So, I thought I'd ask her to share a little bit more with us about the study and why she wrote it.
In addition to this study, if you're a podcast listener, I'd also recommend listening to Jen Wilkin, J. T. English, and Kyle Worley discuss Matthew's genealogy on the Knowing Faith Podcast. It would be a great way to begin a study on Jesus's family tree.
---
Can you tell us a little bit about yourself?
I'm the wife and ministry partner of a wise and wonderful husband, Austin. Together we are working toward church planting in North Carolina the next few years, and we currently call eastern North Carolina home.
I'm also a Bible teacher and writer with a particular passion for in-depth Bible study. After studying biblical exposition and women's ministry at Moody Bible Institute and getting my master of divinity (and meeting Austin) at Gordon-Conwell Theological Seminary, I set out to create studies and tools that would encourage believers to grow in biblical literacy. I teach Bible study and teaching workshops (called Take Root Seminars) and keep a blog that focuses on practical theology and daily Bible study.
When did you first start writing? What do you enjoy about it?
I am something of a chronic student-teacher. I've always enjoyed the classroom or a good book, but what excites me most about learning something new is sharing it with others. In my early 20s, writing became a way for me to process what I was studying in my theology and Bible classes. In seminary, I started to write regularly on my blog about theology, discipleship, and Bible study. I haven't stopped since!
What led you to write Grafted In: An Advent Study of the Family Tree of Christ?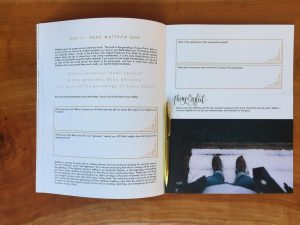 Something I love most about studying the Bible is identifying themes that run all the way from Genesis to Revelation. One of these themes is God's constant and faithful intentionality to bring outsiders into his family. I wanted to write a study that would trace this theme, uniquely, in the family line of Christ, and remind us that through Jesus, many who were outside the family of God—including us—have been grafted into his family tree.
What do you hope people will gain by focusing on the genealogy of Jesus during the season of Advent?
I hope that we will be reminded of our God's character—particularly his kindness and power. The study highlights members of Christ's family tree. Some are characters we are familiar with—Abraham, David, Mary and Joseph—but others are a bit unexpected (and even unsavory). We don't talk much about Judah and Tamar, Rahab, Jesse, or Bathsheba, but each and every story proclaims God's grace in bringing those who are outside the family of God in.
As Gentiles, we were once outside of the family of God, too. But in Christ, as Paul says in Romans 11, we have been "grafted in" to God's family tree. I hope that through this genealogical study we will see God's lavish grace in making us his sons and daughters. In Christ, God didn't just add us to the "nice list," but welcomed us into the very family of God.
How has writing this devotional affected your faith and changed how you celebrate Christmas?
Personally, it has been a sort of detox for me. During the holiday season (Advent in particular) it is easy for me to focus on myself—on what the Word says to me, how God views me, and what he has done for me. But studying the genealogy has helped me shift my focus. As I have studied the many members of the family tree of Christ I have seen how each and every story points directly to the power and kindness of God. Throughout the study we'll ask fewer questions about what these stories mean to us, and more questions about what these narratives teach us about God. And, by his grace, we will see that every line of the genealogy proclaims God's character—his steadfastness, authority, love, and generosity. This is the light in which I want to observe Advent!
The last day of the study looks at our inclusion in the family tree of Christ. And I think it is appropriate that it is both last and also not the primary focus of the study. It has been personally helpful to me to situate my inclusion in God's family within the metanarrative of God's invitation to the nations. It gives me perspective and keeps God's character, rather than myself, at the forefront of the Advent season.
I really enjoy how you made the devotional beautiful to look at, as well as full of important truths. Tell me a little bit about why you chose this format.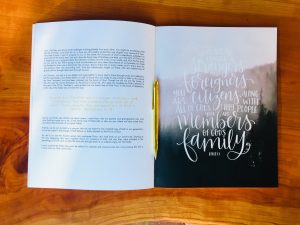 I designed the study this way in part because wanted the study to visually reflect the beauty of Matthew 1. Matthew one is packed with rich truths that point us to the glory and beauty of our God, and I wanted the study to embody and celebrate that.
I also designed the study this way because I wanted it to invite the reader into God's Word and to make the study feel accessible. At times, there is a false dichotomy between studies that are beautifully designed and studies that dig deeply into God's Word. While writing the content for this study I was aware that it could potentially be intimidating for some, particularly on the days we do some work with the original Greek. I hoped that the design would serve as an invitation, reminding us that God's Word is for us and our study.
How can we get a copy of Grafted In?
The study is available both in print and in digital formats, and both can be purchased through www.amygannett.com/study. For small groups wanting to do this study together, a free five-week group guide can be found on my Facebook page.
Can you tell us about a few of the other items you have on your new website?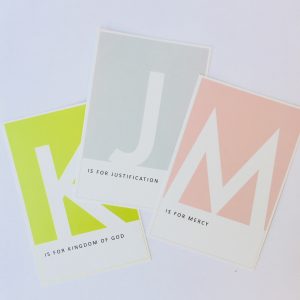 My new website is the new home to my same old blog, as well a few new projects like the Advent devotional. You'll find a few art prints that correlate with the study, and (my personal favorite) a new line of discipleship tools for kids, called Tiny Theologians. The first product in this line is a set of theology ABC cards that teach kids the basics of the faith and how they are rooted in God's Word.
In addition to the print devotionals, my website will offer digital Bible studies for believers wanting to grow in biblical literacy and study the Bible on a daily basis. This is a great option for those who want to be students of the Word but don't necessarily want to write in a workbook every day. The first study in this monthly subscription will be Grafted In, starting December 1, and in January we'll be studying the book of Jonah (which I'm personally excited about!).
My new website also has information on Take Root Seminars. These are one-day training workshops on how to study and teach the Bible. Women's ministries or churches can find out information on how to host a seminar or browse recommended resources for equipping believers with biblical literacy skills.
If you had an afternoon to do whatever you'd like, where would we find you?
Austin and I are both introverts, so on any given free afternoon you would find he and I enjoying a good pour-over coffee and talking about anything and everything. We just really like hanging out together, whether that is reading on the couch, hiking with our golden retriever, or watching a good show (right now, we can't get enough of Stranger Things).
---