Here is a list of the new and notable resources releasing from Crossway this month:
Frank Thielman's short biblical theology of new creation
Gerald Bray's short systematic theology of the attributes of God
Mike Reeves's new books (a full version and an abridged one for groups and giveaway) on the joy of fearing the Lord
Paul Tripp's 40-day devotional for Lent
Lydia Brownback's second volume—this one on 1–2 Peter—in her Flourish Bible Study series
Sharon Betters and Susan Hunt's working on aging with grace in an age of anti-aging
Jani Ortlund's book for ministry wives
The ESV Preaching Bible, Verse-by-Verse Edition.
The New Creation and the Storyline of Scripture
The Bible begins with the story of one perfectly good God creating a perfectly good universe. Forming two perfectly good human beings in his own image—Adam and Eve—was the crown jewel of his creative expression. Through humanity's sin, however, God's creation fell into a fallen state—yet he promised to bring restoration. In this book, Frank Thielman traces the theme of the new creation through the Bible, beginning in Genesis and ending in Revelation. He shows us that at every turn, God invites his people to be a "kingdom of priests" (Exodus 19:6), exemplifying the new creation to a needy and watching world until the return of Jesus.
"Well-known author Frank Thielman succinctly unfolds the central plot of the whole Bible. He does not just retell the story; he explains it. And he does not merely explain it; he applies it so we can see the Bible's point right now: 'This is the great hope of the follower of Jesus in the midst of life's many present difficulties.' To grasp that hope, read this book! It is a delightful, deeply biblical, clear, and compelling narration and proclamation of God's antidote to our world's painfully visible breakdown. There's a new world order taking shape. This book equips and invites the reader to join in right now."
—Robert W. Yarbrough, Professor of New Testament, Covenant Theological Seminary
---
The Attributes of God: An Introduction
God is the Creator of all things. As Creator, he is unique and cannot be compared to any of his creatures. Throughout history, the church has recognized the importance of studying and understanding God's attributes. In this addition to the Short Studies in Systematic Theology series, theologian Gerald Bray examines the attributes of God, presenting their biblical foundations, systematic-theological structure, and practical relevance for the church today. Bray separates the attributes into two categories: God's relational attributes (which focus on how he interacts with his creation) and his essential attributes (which describe his essence and relation to time). As Christians better understand the attributes of God they will see, delight in, and apply what Scripture reveals concerning who God is and what he is like.
"Recently, evangelical theologians have shown a renewed and welcome interest in the biblical, classical doctrine of God; but for lay people the debates often seem weighed down by technical jargon and historical obscurity. The result is that the practical importance of this theological renaissance for praise, prayer, and everyday life is often missed. In this context, Gerald Bray's helpful summary of the nature of God's attributes is a welcome addition to the growing body of literature, offering clear exposition and practical application in the tradition of forebears such as Stephen Charnock. In addition, a helpful appendix lets the reader situate contemporary theological discussion against the backdrop of catholic debates from the early church up until today."
—Carl R. Trueman, Professor of Biblical and Religious Studies, Grove City College
---
Rejoice and Tremble: The Surprising Good News of the Fear of the Lord
Fear is one of the strongest human emotions, and it is one that often baffles Christians. When they turn to the Bible, the picture seems equally confusing: Is fear a good thing or a bad thing? While God commands his people to fear him, they are also told to fight fear. Michael Reeves brings clarity where there is confusion as he encourages readers to rejoice in the strange paradox that the gospel both frees them from sinful fear and leads them to godly fear. This book argues from Scripture that godly fear is the opposite of being afraid of God or his punishment, as if he were a tyrant. Instead, it is the intensity of the saints' love for, delight in, and enjoyment of all that God is. Rejoice and Tremble examines what it looks like when a believer is filled with a right and healthy fear of God, and how this fear is the means by which the people of God exhibit to the world the divine qualities of holiness, blessedness, happiness, wholeness, and beauty as they point to Christ Jesus.
"Modern people often view the fear of God with disdainful suspicion, but Michael Reeves shows us that godly fear is really nothing other than love for God as God. Reeves also helps us to see that the greatest factor in promoting the fear of God is knowing his grace in Christ. As John Bunyan said, 'There is nothing in heaven or earth that can so awe the heart as the grace of God.' This wonderful book not only teaches but sings, leading us to 'rejoice with trembling' (Ps. 2:11)."
—Joel R. Beeke, President and Professor of Systematic Theology and Homiletics, Puritan Reformed Theological Seminary; author, Reformed Preaching; coauthor, Reformed Systematic Theology
---
What Does It Mean to Fear the Lord?
The Bible says that a wise person fears God and keeps his commandments. But what does it actually mean to rightly fear God while also trusting him? In What Does It Mean to Fear the Lord?, Michael Reeves calls Christians to see God as the object of their fear—a fear marked not by anxiety but by enjoyment of God. In Scripture, God's people are commanded to put off sinful fears and instead cultivate a healthy and happy fear of their awesome God. As believers learn to truly fear the Lord, they will take part in the pivotal role the church plays in exhibiting to the world his divine qualities of holiness, blessedness, happiness, wholeness, and beauty.
"Ours is a day of great fears—fear of financial collapse, fear of terrorist attacks, fear of climatic disasters, fear of a deadly pandemic—all kinds of fears, except the most important of all: the reverential fear of God. How needed then is this marvelous study of a much-neglected theme, one that is central to the Scriptures and vital to human flourishing."
—Michael A. G. Haykin, Chair and Professor of Church History, The Southern Baptist Theological Seminary
---
Journey to the Cross: A 40-Day Lenten Devotional
Lent is one of the most significant times of the yearly Christian calendar. It is often associated with solemn observation and preparation—mourning past and present sin and letting go of the worldly things that keep the heart from experiencing God more fully. In this 40-daily Lenten devotional, best-selling author Paul David Tripp invites readers to set aside time from the busyness of their lives to focus on the suffering and sacrifice of Jesus. Each short reading encourages believers to abide in the abundant joy found in Christ as they encounter the Savior more fully and follow him more faithfully.
"Paul Tripp has once again led us past feel-good platitudes and into focused, Christward reflection. Through tension and tenderness, lament and thanksgiving, the Lenten season will transform us when it leads us to the cross of Christ."
—Ruth Chou Simons, Founder, GraceLaced Co.; author, GraceLaced and Beholding and Becoming; coauthor, Foundations
---
1–2 Peter: Living Hope in a Hard World
When the apostle Peter wrote his letters, the young church was facing intensifying persecution, and Peter encouraged believers to persevere through hardship. This 10-week study explores the theme of suffering in Peter's letters, displaying how God uses hope, humility, and holiness to prepare believers for their final home in heaven.
The Flourish Bible Study series is designed to equip women—from baby believers to seasoned saints—to study God's word. Bible study teacher Lydia Brownback guides women chapter by chapter through multiple books of the Bible, helping them come away with a deeper understanding of God's word, its context in redemptive history, and how it uniquely reveals God and his gospel.
"The brilliant and beautiful mix of sound teaching, helpful charts, lists, sidebars, and appealing graphics—as well as insightful questions that get the reader into the text of Scripture—make these studies that women will want to invest time in and will look back on as time well spent."
—Nancy Guthrie, Bible teacher; author, Even Better than Eden: Nine Ways the Bible's Story Changes Everything about Your Story
---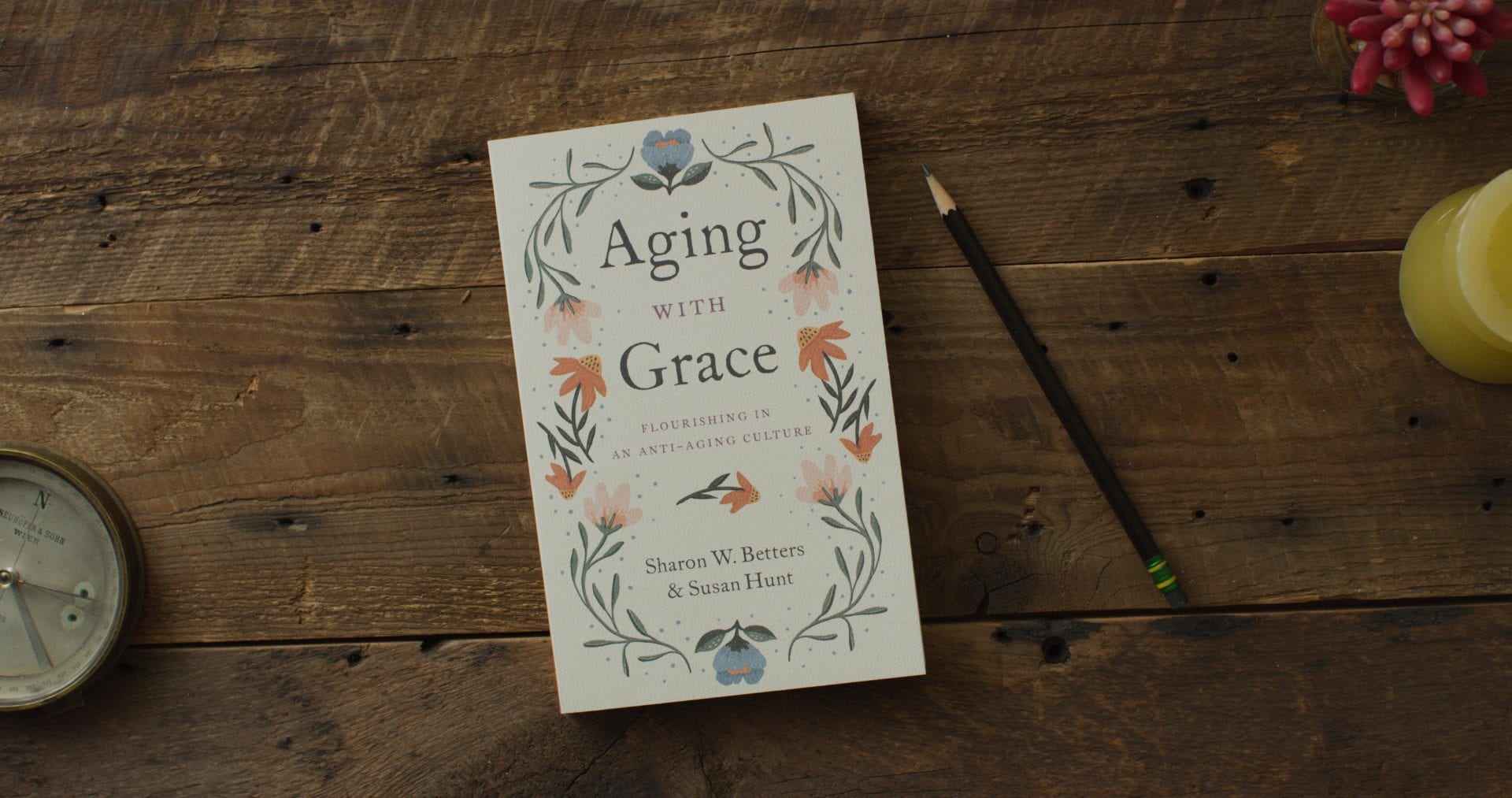 Aging with Grace: Flourishing in an Anti-Aging Culture
There are many blessings that come with age: retirement, grandchildren, travel, and life experience. Today's culture, however, marginalizes old age, often portraying it as burdensome and hopeless. Many older women can feel like an encumbrance rather than a blessing to their friends and family members. In response to these struggles, Sharon Betters and Susan Hunt encourage women to find hope through both real-life and biblical accounts of women who rediscovered gospel-rooted joy later in life. In each chapter, readers will be encouraged as they experience afresh a gospel that is big enough, good enough, and powerful enough to make every season of life significant and glorious.
"My childhood dream was to one day become a 'godly old lady.' At the time, that goal didn't seem particularly daunting. Now that I'm in my sixties, it sometimes feels like climbing Mount Everest. Always a few steps ahead of me, Susan Hunt has encouraged and inspired me to press on in my journey. She has also been a spiritual 'grandmother' to the True Woman ministry since it launched. She has given us all a vision of flourishing in old age, for the glory of God and the good of his people. In this book, Susan and Sharon Betters have teamed together to provide perspective, wisdom, and hope for women coming behind them. They call us to keep our eyes on Christ—the prize—and to persevere to the summit, dependent on his grace every step of the way."
—Nancy DeMoss Wolgemuth, author; Founder, Revive Our Hearts and True Woman
---
Help! I'm Married to My Pastor: Encouragement for Ministry Wives and Those Who Love Them
A woman marries a man, not his ministry, but all too often her husband's calling infringes upon many aspects of their life together. What if ministry life isn't what they bargained for? What happens when their children aren't perfect? How do they deal with church gossip, or even slander? As a pastor's wife of almost 50 years, Jani Ortlund addresses these questions along with many others as she offers encouragement and guidance to ministry wives, reminding them that God works out his delightfully good purposes in and through their sacrifice.
"While being a pastor's wife is not an office in the church, it comes with hidden expectations and undefined responsibilities. While knowing intimately the integrity of the man behind the pulpit holds enormous blessings, living in the constant, unyielding spotlight can weary the soul. A pastor's wife must learn how to feed on the word of God, turn the other cheek, cling to Christ, embrace the means of grace, protect her children from criticism and callings that they did not choose, and support a husband whose calling demands he lay down his life again and again. And all of this is done in the public eye. A pastor's wife needs a trustworthy friend, and she will find that friend in Jani Ortlund's book. Jani's wisdom has been refined by almost fifty years of being the wife of her pastor. Her writing style is simple, straightforward, and sane. Practical, poignant, and personal, this book is—like Jani—wise and tender and most of all, faithful to the call of Christ to join in the 'fellowship of His sufferings' (Phil. 3:10 NKJV). I love this book."
—Rosaria Butterfield, Former Professor of English, Syracuse University; author, The Gospel Comes with a House Key
---
ESV Preaching Bible, Verse-by-Verse Edition
The ESV Preaching Bible, Verse-by-Verse Edition builds upon the foundational features of the ESV Preaching Bible with a new verse-by-verse format. The primary vision behind this edition was to create a Bible specifically tailored to the task of preaching. To that end, this edition maintains a preacher-friendly layout with each verse on its own line to ensure ease in public and personal reading. This elegant Bible features a highly readable type, enlarged and bolded verse numbers, extra-wide margins, high-quality paper, a durable smyth-sewn binding, and a premium goatskin cover guaranteed to last a lifetime.