Imagine if we gathered together all of the believers throughout history for a massive family photo. Whom would we see? What kinds of people would be there?
We may be surprised. 
Dotting the horizon of this picture, we'd find people with unflattering stories. Some are known as the chief of sinners, the sinful woman, the thief on the cross, and the prostitute. We'd find weak people unable to give God anything. We'd even find those who wore the uniform of opposition to God. Here in the portrait of grace, we'd find a multitude of misfits. It would be quite the picture. 
If this were your family photo, would you hang it on the wall or hide it in the attic? 
If we zoom in further, we will find Jesus there, shoulder to shoulder with sinners like me and you. He wouldn't throw this picture away; he'd hang it on his mantle. We are his family. And Jesus is not ashamed of his family.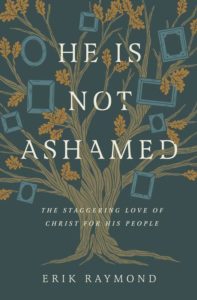 I wrote He Is Not Ashamed: The Staggering Love of Christ for His People because I think the reality of Christ's gracious love is simultaneously the most important and the most difficult truth to believe. For 25 years as a Christian, I've struggled to remember this and have been delighted to rediscover it repeatedly. 
The book is divided up into eight chapters, looking at different types of people of whom Jesus is not ashamed. I'm hoping that as readers spend time peering into the narratives, they'll see a reflection of themselves people in their spiritual family tree that they favor. 
Here are the chapters:
Chapter 1: He Is Not Ashamed of Those with Embarrassing Stories
Chapter 2: He Is Not Ashamed of Those Who Opposed Him
Chapter 3: He Is Not Ashamed of Those Who Are Overlooked
Chapter 4: He Is Not Ashamed of Those Who Were Far from God
Chapter 5: He Is Not Ashamed of Those Who Have Nothing
Chapter 6: He Is Not Ashamed of Those Who Are Weak
Chapter 7: He Is Not Ashamed of Those Who Still Sin
Chapter 8: Whom Jesus Is Ashamed of?
I pray this book would help us look through Jesus's eyes to see how he sees people. And as we do, we might be stirred to love him more, rest in his acceptance, and look at his sheep the way he does. I also hope that this peerless love of Jesus might be attractive to unbelievers who yearn to be truly known and truly loved simultaneously. 
The book releases today. Join me in praying that it might be used, in some small way, to lift peoples' chins to behold the glory of God on the face of Christ. 
See this article on 9Marks for a more detailed review of the book.
See this video below highlighting the truth that Jesus is not ashamed of those with an embarrassing past.