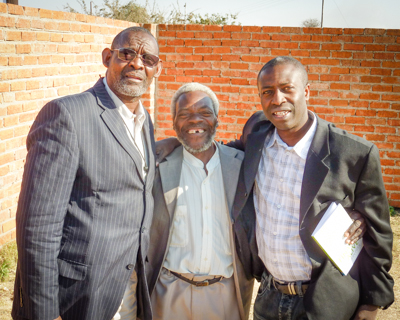 Tope Koleoso serves as pastor of Jubilee Church in Enfield, a suburb of London, England. He travels to Africa frequently to minister to the body of Christ there. We first met in 2008 at a Desiring God conference in Minneapolis. I also had the great privilege of visiting his church in 2010. Since then he has been Packing Hope, partnering with us by bringing resources to Zimbabwe, Nigeria, and South Africa.—Bill Walsh
My friend Peter is pastor of an evangelical church in rural Bulawayo, in the nation of Zimbabwe. I have immense respect for Peter, who I've known for more than a decade. He serves more than a hundred pastors of churches further from the city. Many of those pastors are poor; none have attended a Bible college. Peter is full of wisdom, yet humble and self-effacing. He pastors his own flock and others like a father.
Because of donations from church friends in the West, Peter has been able to visit churches and conferences in the USA and UK. But for every 'Peter', there are hundreds with no such support. This made me wonder: What if we took a conference to those pastors?
And so I travelled to Zimbabwe—with far too much luggage! A fellow elder from Jubilee Church in London accompanied me. We found the church building heaving with smiling faces eager to greet us. The people there marvelled that I, a fellow African by birth, would be their main conference speaker, while my companion, a white man, would serve alongside me, helping with practical details. We had not planned to make any kind of 'statement.' But in God's wisdom, this helped some to realise that, in Christ, "there is neither Greek nor Jew," male nor female, black nor white (Colossians 3:11).
Our worship times with these pastors were instructive for us. They have so little, but rejoice in the God who gave them everything they do have.  I went to teach, but I learned much.
Packing Hope for Zimbabwe
Thanks to TGC International Outreach, we were able to give these pastors each a free copy of John Piper's Finally Alive. That simple book explains the gospel so clearly. (It's no wonder that my friend Adrian Warnock calls it "possibly the most important book John Piper has ever written.") Several hundred beaming faces showed much joy and appreciation.
As I preached and mingled with hundreds of brothers who will probably never be known in the West, I realised that helping them in their ministry is one of the highest privileges I could have. I knew it should not be my last visit.
Now we have a model for our missions in Africa. We combine a gathering of pastors hosted by friends in a given nation where I preach. And we hand out copies of good books with sound doctrine.
With each visit to Africa I am blessed by the faith, joy, and gratitude on display. How could those of us more fortunate not want to share all the wonderful blessings God has given us? Our motto as a church is: It's all about Jesus. And Jesus' last words to us were to "go into all the world."
Ways to Serve
Our church in England benefits from our connections with African Christians. There is a real excitement in the opportunity to serve, whether it is giving toys to African children, sending clothes, or raising funds to build an orphanage. We work in just a few places, through people we know. This stops the desperate need of a continent from paralysing us. We may not be able to do much, but we can do this! Who knows how many will rejoice in heaven as a result of all our efforts?
Africa does not lack churches; it lacks good doctrine. To counter the error of the prosperity gospel there, people need Christ-centred teaching and resources. A book in the hand is possibly worth more than the conference, because they are well read and passed around to others.
Kingdom Collaboration
We work with ministries like The Gospel Coalition-International Outreach on a mission for the cause of Christ. TGC-IO freely provides us with books. Jubilee Church distributes the books. The recipients are grateful to God, and the Kingdom mission continues into their villages.
Perhaps God's intention is that one ministry does not do it all, but that many ministries serve together with one mission.
For the ministry of this service is not only supplying the needs of the saints but is also overflowing in many thanksgivings to God.—Corinthians 9:12