And you were dead in the trespasses and sins in which you once walked, following the course of this world, following the prince of the power of the air, the spirit that is now at work in the sons of disobedience—among whom we all once lived in the passions of our flesh, carrying out the desires of the body and the mind, and were by nature children of wrath, like the rest of mankind. But God. . . — Ephesians 2:1–4a
Bernie Carbo hit one of the most famous home runs in the most storied game in baseball history, yet, after the game and for years thereafter, he had little recollection of playing in the final four innings of the classic contest.
His three-run homer came late in the evening of October 21, 1975, in what is now denoted in baseball's archives simply as "Game Six." His historic hit came with Carbo's Boston Red Sox in dire straits, four outs from losing the World Series to the Cincinnati Reds. With one swing, Carbo tied the game 6-6 and set the stage for perhaps the most dramatic ending in World Series history when Carlton Fisk homered off the left field foul pole at Fenway Park in 12th inning, sending the series to a decisive seventh game.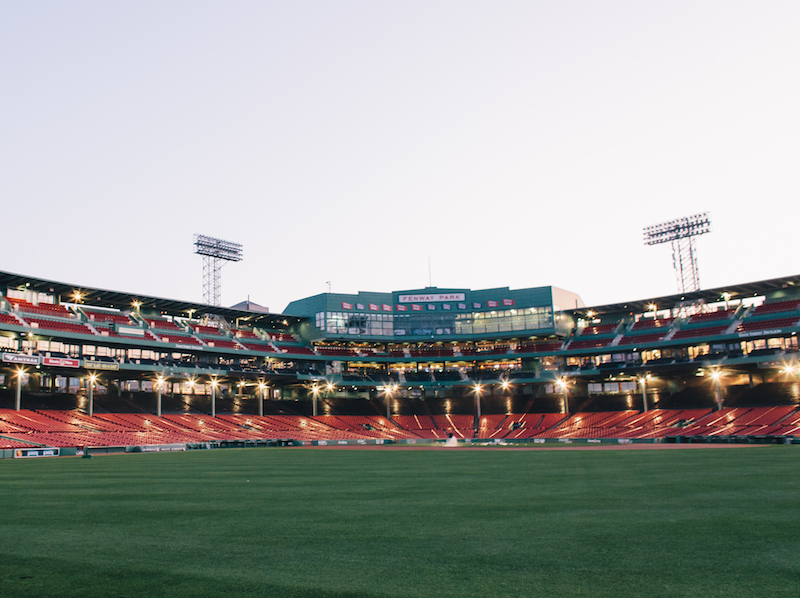 In a haze from several days of drinking and binging on a catalog of hallucinogenic drugs—just another week the the life of Bernie Carbo back then—the hero recalled little after his homer. Carbo entered the game in the eighth inning as a pinch-hitter, made a game-saving catch in left field in the ninth, and batted a second time (he struck out) after his homer, but doesn't remember those final four innings.
"I remember going to bat and taking an awful swing to barely stay alive with two strikes," he said. "I remember hitting the homer and rounding the bases—yelling at Pete Rose, 'Pete, don't you wish you were that strong?' as I rounded third'—but I don't remember anything after that. I had to go back and watch the video years later to see my second at-bat and a catch I made, which, if I had missed it, would have probably cost us the game. Fifteen minutes after being a hero, I was nearly a goat."
Rose, his one-time teammate, once called Carbo the wildest player he'd ever met, and with good reason.
"I probably smoked two joints, drank about three or four beers, got to the ballpark, took some amphetamines, took a pain pill, drank a cup of coffee, chewed some tobacco, had a cigarette, and got up to the plate and hit." Carbo told me. "I played every game high. I was addicted to anything you could possibly be addicted to. I played the outfield sometimes where it looked like the stars were falling from the sky."
Little did Carbo know the God whose existence he denied would decades later use that homer as a platform upon which he would stand to preach the gospel of Jesus Christ. Like the apostle Paul, Carbo was no friend of Jesus for many, many years.
"Back then I didn't worry about offending God, because I didn't believe there was a God," Carbo said in his autobiography. "I was an atheist. Sad to admit, I liked feeling numb. I just did what felt good or at least what would stop me from feeling bad. . . . I was guideless because I was godless."
Better than Bench?
Forty-one years after that classic World Series, Carbo understands that a sovereign God has scripted his life. As literature, Carbo's story is a tragedy, a classic tale of what might have been. Selected at age 17 in the first round of the 1965 draft by the Cincinnati Reds—ahead of Hall of Fame catcher Johnny Bench—Carbo seemed destined for Cooperstown. In 1970, his rookie season, Carbo blasted 21 homers and helped Cincinnati to its first of four World Series appearances in six years. The Sporting News named him National League rookie of the year. To outside observers, Bernie Carbo was living the high life, and indeed, he was. He developed a reputation for being something of a flaky player—once placing a stuffed gorilla next to his locker named "Mighty Joe Young" and deferring postgame interviews to the ape. His flakiness and addiction drove management crazy.
Imprisoned by substance abuse, the uber-gifted Carbo peaked in his first year. By the 1972 season, Carbo's lifestyle wore thin in Cincinnati, and he was traded to St. Louis, where he spent parts of two seasons. From there, he moved on to Boston, where he played part-time and partied full-time for two seasons. In the late-'70s, he bounced around like a rubber ball, serving brief stints with Milwaukee, Cleveland, and Pittsburgh, quickly burning bridges at each stop. He returned to the scene of his shining moment, Boston, for 17 games in 1978.
By 1980, his rising star had flamed out and fallen. Carbo was out of baseball. Without baseball, there was no tether, and substance abuse threatened to drag Carbo into hell. Along the way there were two broken marriages. His mother committed suicide, and his father also died. Life had never been easy for Carbo. In his 2013 autobiography, Saving Bernie Carbo, Bernie describes his father as "an abusive alcoholic." The budding baseball star had seen his mother attempt suicide at least once. By 16, he was binge drinking to escape his stressful family life.
Carbo's life is a luminous illustration of Ephesians 2: the first three verses describe a sinner's imprisonment to the world, the flesh, and the Devil. Then breathtaking gospel light arrives in two words: "But God . . ." For Bernie Carbo, grace was coming, but nothing in the early years of his post-baseball career portended such a breakthrough.
But God
His low point came in 1991, when at the age of 44 Carbo fell into a slough of utter despair. Sick and tired of being sick and tired, Carbo decided suicide was the solution. At Christmas, Carbo resolved to drink one last beer and smoke one last joint. He would pull the car into the garage and leave the motor running for a quick, painless death.
"I would simply go to sleep and then rest in peace," he said. "I had no sense of what I would be facing in a godless eternity."
But providence had another plan.
With the car running in his garage and Carbo seconds from returning to it, the phone rang. It was former Red Sox teammate Bill Lee. Carbo confessed his despair, and Lee talked him out of suicide. Several retired baseball players, including Hall of Fame pitcher Fergie Jenkins, intervened and teamed with BAT—Baseball Assistance Team, an organization that helps needy former Major League players. They kept him alive.
"Today, I know this was God's plan," he said. "Bill calling me minutes before my death, completely out of the blue. It didn't make any sense that he would do this at Christmas time. God wanted me to know his Son. I was in the grave, but I was pulled out by the only power that could possibly save me, almighty God."
Though he resisted drug rehab at first, Carbo sought help to break his addiction. As he was being admitted to rehab, Carbo suffered a panic attack that doctors initially feared was a heart attack. At Tampa University Hospital, he wound up in a bed next to a Baptist pastor, who shared the gospel with Carbo and gave him a Bible. Carbo was by no means a Christian at this point, but he was desperate, and the tentacles of his atheism were losing their grip on his heart.
God's Word and his Spirit conspired to push back the darkness.
"There were 500 beds in that hospital, and I wound up beside a Baptist preacher who was committed to sharing the gospel with me," he wrote in Saving Bernie Carbo. "He handed me a Bible and said, 'Meditate on it, read it, chew on it. Never be without it.' God was at work. His Word was at work."
Back in rehab, Carbo soon learned a Christian counselor had been assigned to his case. He began to study his new Bible with the counselor. God worked in his heart. Soon, Carbo was converted to Christ, and for the first time since his teen years, he began to break free from drugs and alcohol as the grace of God transformed his affections.
"As I read the Bible, it seemed like it was written for me," Carbo said. "I now know it was written for all sinners, which is everyone. I felt alive and had more energy to do things than I had in many, many years. God had graced me with a second chance at life."
Proclaiming the God He Once Denied
Though there was a painful relapse 14 months after he came to Christ, Carbo's post-conversion life has been far better than his baseball career and the lost decade that followed. Living in Lakeland, Florida, he plugged into a local church and in 1994, met and married his wife, Tammy, a strong follower of Christ. He managed an independent league team in Pensacola, Florida, from 2003 to 2005. In 2004, he was inducted into the Boston Red Sox Hall of Fame.
In 1993, Carbo and a fellow Christian baseball player founded the Diamond Club Ministry, an evangelistic outreach through which he hosts baseball camps and travels across the country proclaiming the good news of Jesus Christ and warning youth against the destructiveness of drug and alcohol abuse. In 2006, he left baseball for full-time ministry and today lives with Tammy in Dauphin Island, Alabama. They have a son, Chris, who lives in Washington state and is a captain in the U.S. Army. Carbo also has three grown daughters from his first marriage.
That home run in the fall of 1975 and has far transcended its original value.
"That home run was valuable for a much more important reason," he said. "That one home run his 41 years ago opens doors to prisons, churches, youth, groups, and many other places to preach the gospel of Jesus Christ. It has given me the opportunity for the last two decades to meet with thousands of people across the United States and in other countries to preach the gospel through my ministry.
"Nothing that I have ever done in baseball or anywhere else is as important to me. Studying God's Word and preaching the gospel has changed my heart. God has used his gospel to change my whole life. . . . I threw away my career. If I knew Jesus Christ as my Savior at 17, I would have been one heck of a ballplayer, a near Hall of Famer. Instead, I wanted to die. But God had a better plan, and for that I am deeply humbled and grateful, that he would save a wretch like me."