Vibhu Sharma reached the top of the corporate ladder in the worst way possible.
He was second-in-command of finances at the enormous Zurich Insurance Group when he got the call that his boss, the $40 billion market cap company's group chief financial officer, had committed suicide.
Sharma stepped in on an interim basis for nine months, then moved to London to run the company's UK business, working with CEO Martin Senn until Senn left the company about two and a half years later.
Six months later, Senn killed himself.
The two deaths left the company "stunned and deeply shaken," and left everyone with questions about the long hours, economic pressure, and weighty decisions faced by senior executives.
For Sharma, the events were pivotal in a different way: For the first time, he saw the futility of work without faith. And ever since, he has shared his Christian faith in the office.
"You're in ministry every day, whether you do that in a church setting or in a work setting," he said. "The location shouldn't matter."
Work Ethic
Sharma learned his work ethic from his parents. The Indian immigrants to Texas owned a grocery store, and Sharma ran the cash register, took inventory, stocked shelves, and swept the floor. Later they started an electronics store, and he did home delivery and installation.
"I grew up working," he said. "For me, working was normal."
He also grew up nominally Hindu, but his parents sent him to a Jesuit high school. ("In India, some of the best schools are Catholic schools," he explained.)
Christianity didn't make a lot of sense to Sharma, but his parents' many gods weren't any more credible. So the teenager attended mass every week during high school. On weekends during college at Southern Methodist University, he would sneak out of the house to attend a local Catholic Church.
Those services, and his religion classes, prepared him for his wife (a strong Protestant) and for his conversion to Christianity in his early 20s.
They also laid the groundwork for him to think about faith and work. In order to graduate from high school, each student needed to volunteer 100 hours for a charity. (Sharma worked at the Dallas hospital where President John F. Kennedy was taken after he was assassinated.)
"The concept of servant leadership was very important and instilled in all of us," Sharma said. But while his Catholic high school taught him how to be a servant leader, he hadn't yet learned why.
Falling in Love
Sharma is bright, skipping a grade and graduating from high school at 16 and college at 20. He garnered seven job offers after college, and all that made him "a little bit arrogant."
He picked one of the big eight accounting firms—KPMG—for his first job, and on his first day met Julia Stark.
It wasn't love at first sight.
Who is this guy who's falling asleep? Julia thought. Sure of his abilities, Sharma hadn't given himself any space between his six-week trip to Europe and his first day. He slept through orientation.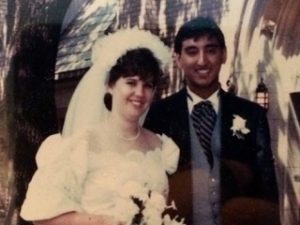 Julia and Sharma were in the same batch of new employees, and KPMG built community among them with lunches, happy hours, and ball games. A few months in, the pair began dating. ("I just liked her," he said. "We hit it off.")
Within a month, he knew he wanted to marry her. But for Julia, a strong Missouri Synod Lutheran and a Baylor graduate, Sharma threw up every red flag there was.
He was an Indian from Texas; she was a German-descended Midwesterner from Kansas City. He was willing to go to church with her, but wasn't yet a Christian. When he did profess his faith and get baptized a few months later, his parents were furious enough to disown him.
"Red flags every which way," Sharma says. "Julia's telling her parents, 'I like this guy with a weird name. He's a vegetarian. His family disowned him and kicked him out of the house.'"
Sharma married Julia two years after they met. His parents and most of his relatives didn't come; in fact, they're still estranged. To get away from the tension, the pair moved to Minneapolis.
"I worked a lot," Sharma said. He would spend the next 17 years at KPMG, earning his way up to partner one 60-hour week at a time.
At the same time, "I still went to church," he said. He and Julia found a Presbyterian church (their compromise between his Catholic background and her Lutheran one). Later, they'd attend John Piper's Bethlehem Baptist Church, and were so moved by his description of baptism by immersion that they all did it together as a family.
"I didn't think about faith and work together back then—I just looked at faith as something and work as something separate," he said.
That wouldn't change until Zurich.
Switzerland and Suicide
In 2008, Sharma began working for Zurich Insurance Group as the chief financial officer of North America. Four years later, he was promoted nearly all the way to the top. But to do it, he had to move to Switzerland.
By this time, Sharma's three kids were in college. So he and Julia packed up and headed for Europe.
"I was the No. 2 finance officer globally," he said. The pressure was real: "This was a $40 billion market cap company with 60,000 employees."
While in Minneapolis on vacation, Sharma got the call: his direct boss, the company's Group CFO, had killed himself.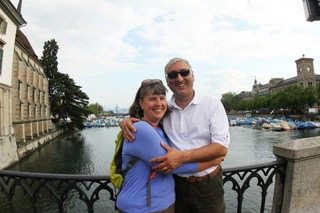 Pierre Wauthier left a suicide note blaming his death on the company's chairman for making his work environment unbearable. (The chairman was cleared in an internal investigation, but resigned anyway.)
Sharma was asked to step in as Group CFO on an interim basis, "and for me that's where my faith came through," he said. Switzerland is a "very secular society," and "you didn't bring your faith to the office."
But in times of crisis, people need comfort. And Sharma had the depth of faith to offer it.
"It's in how you comfort people, how you lead people with a sense of calm and purpose," he said. He didn't issue memos or form letters, but instead called and visited his employees. He tried to answer their questions about why God would allow suffering, tried to help them see the brokenness of a sinful world and the hope of a Savior.
The person he was able to share his faith with most often wasn't his employee; it was his boss.
The CEO of the company at the time was Martin Senn, "who considered himself to be a Christian," Sharma said. "For the Swiss, even to be a Christian is pretty unique. Most are not [believers at all]."
The suicide had ripped open the separation between work conversations and larger meaning-of-life, where-is-God questions. And in the midst of pain and trauma, the accounting still had to get done.
After Wauthier's death, Sharma and Senn talked about job stress, family, and faith. They processed the suicide, consulted on how to lead the company, and thought together about life, death, and God.
"Did God allow this?" Senn would ask Sharma. Or "Where's Pierre? Heaven or hell?"
The suicide had ripped open the separation between work conversations and larger meaning-of-life, where-is-God questions. And in the midst of pain and trauma, the accounting still had to get done. So Sharma could see, for the first time, how faith and work weave together.
"The Lord prepared me to say the words and do the work," Sharma said. "He gave me the words and the knowledge. It was probably the busiest seven months of my life. Investors and employees were wondering what was going on."
Sharma kept the finances in order, and the company made it through. Then he moved to England, where he saw a different way of integrating faith and work.
England
Like Switzerland, England is largely secular. But the Church of England is still woven throughout the fabric of social life.
"For example, there was an old church—300 to 400 years old—in the center of the business community in London," he said. Every Tuesday and Thursday, over the lunch hour, St. Helen's Church offered lunch, "a few songs, and a mini-sermon on a topic." (They still do.)
Between 200 and 300 people would show up to the conservative Anglican church.
"That's where I saw for the first time someone doing a faith outreach to the business community," Sharma said. "A lot of [professional] people aren't going to church, especially when you look at Millennials. For them, work and life jumbles together."
Since that's true, "why not pray about how the Lord can use us at work?"
Omaha
He was still thinking about that when he and Julia moved back to Minneapolis. Back at Bethlehem, they went to a Sunday school class based off materials from Redeemer Presbyterian Church's Center for Faith and Work.
"That was really important as I was looking at what I was going to do next," he said.
He started as CFO at Mutual of Omaha this summer. The Fortune 500 insurance and financial services company employs about 5,500 people and brought in nearly $8 billion in 2016.
Sharma connected right away with two other Christian executives who also like to think about faith and work. Together, they'd like to start a men's Bible study in the Omaha professional community.
"I don't believe you can be two different people—you are the same person at work and away from work," Sharma said. "I don't think you should be bashful about your faith. It's what you believe and how you operate."
Sharma's faith influences the integrity of his decisions and guides the way he deals with employees. It emboldens him to share that he went to church over the weekend or to a Bible study on a weeknight.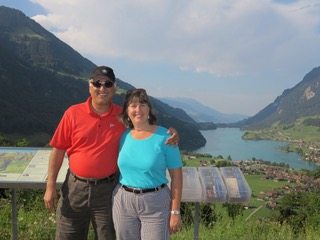 "I hope I can encourage others who might be afraid to talk about it," he said. "I hope my example can be one people can look at and, even though I'm not very good at this one, I hope I can use it to witness."
Sharma's new perspective on faith in the marketplace also changed the way he saw the work itself.
"In the earlier days, I was working to get ahead, to get the title and the money," he said. "Today it's about the people, about what I'm doing and how that integrates with life."
In Mutual's case, the work provides life insurance after a loved one has passed away.
"How can we get that for people so they can pay the funeral bills or provide for those left behind?" he said. "I help support that. I make sure financially we can do it, so that when somebody has bought a $15,000 life insurance policy to cover the funeral and pay some bills, we can make sure it's as smooth and easy as possible to get the money as soon as possible, because they have so many other things going on."
Forty percent of Mutual's business is supplementing Medicare, Sharma said. "We're working with seniors 65 and older, so when they go to the doctor or the hospital or get drugs, they have coverage. My job is to make sure that financially, we have the wherewithal to do that. The last thing you want is someone going through a traumatic issue and [the company] having to say, 'We're not in business anymore—you're out of luck.' Or 'We don't have the money today. Call again tomorrow.'"
Sharma also does what he can to shape the company's culture. Mutual says it's "a financially strong, family-oriented company . . . with solid, unflinching values." It touts its integrity, responsibility to meet commitments, and commitment to the good of its customers.
But a company culture is only as good as its people. "I can't change the culture," Sharma said, "but I can contribute to a culture that would support that mission and vision of helping our customers protect what they care about and achieve their financial goals."
Second Suicide
Months before Sharma left England, his former CEO, Martin Senn, killed himself.
Coming less than three years after Wauthier's suicide, Senn's death lit up the media with speculation about the pressure senior executives face. Six months before his suicide, Senn left Zurich Insurance Group after the company suffered through flagging profits, payouts of about $275 million after an explosion at a Chinese port, and a failed attempt to take over rival RSA Insurance Group.
One trouble with separating faith from work is that it opens the door for work to become one's ultimate purpose.
One trouble with separating faith from work is that it opens the door for work to become one's ultimate purpose.
"Work, world, people, culture, and material things will always disappoint," Sharma said. "God won't disappoint!"
God created work, and not as a punishment to be endured before you can get to the fun stuff—or to the meaningful stuff.
"You'll hear the term 'work-life balance' a lot, and I hate that term," Sharma said. Because life—and ministry—doesn't start when you clock out or log off.
"Think of it as: work is ministry," he said. "We get hung up on location. But you're looking to minister to both the saved and the unsaved. And you'll find a lot more of the unsaved outside of church."