When we read the story of Jesus and the paralytic lowered through the roof (Mark 2:1–12), we usually focus on the loving persistence of the paralytic's friends or on Jesus's "which is easier" question and subsequent miracle.
But this story also teaches us something serious about ourselves: We're often less like the paralytic's friends and more like the paralytic himself.
Here are four ways that can be the case, and four ways Jesus helps us.
​1. If it's "too crowded" near Jesus, we don't feel like bothering.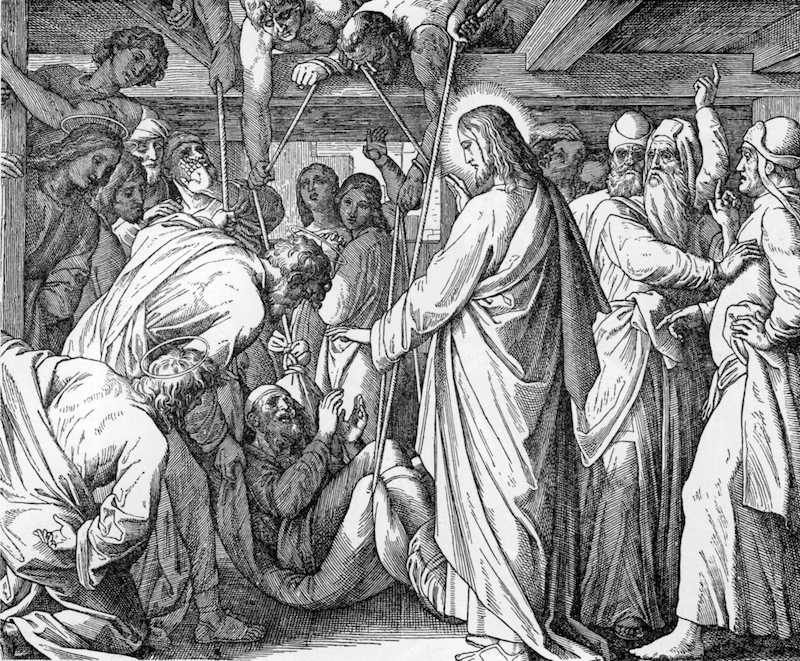 Maybe you're too distracted by your to-do list to pick up your Bible one morning. Or too numb to care about someone's prayer or counsel. Or too preoccupied with your own shortcomings to lead your family in worship. If there's a barrier in the way, we sometimes don't bother to go to Jesus.
When this happens, it's often because we realize no one is impressed by our effort, so we turn to cheap alternatives. We let the joy of Christian service and devotion get steamrolled by distraction or pride. But in Christ, we're both called and equipped to walk by the Spirit, freed from the lazy inclinations of the flesh (Gal. 5:16–18; Rom 7:6).
2. Many of our best moments with Jesus happen because of our friends.
The paralytic's friends do what the paralytic can't do himself. Nothing will stop them. They'll patch the roof themselves if it comes to it. "Just get him to Jesus and we'll sort it out later," they say.
We can all think of friends who have helped us see our sinful patterns, who kept inviting us to church during a season of absence, and who consistently helped us process things we were too scared to by ourselves. The best times of spiritual growth in our lives often happen thanks to stubborn friends.
That's why we have the local church, which is full of brothers and sisters who are born for adversity (Prov. 17:17). Jesus has given us to one another to share our burdens, even when we'd rather ignore or gripe about them (Gal. 6:2). Sometimes we are the burden that our friends are carrying, and they're taking us to Jesus.
3. We begrudge our friends as they're taking us to Jesus.
I'm guessing the paralytic was embarrassed and frustrated. It was commonly believed at the time that disability meant you were guilty of serious sin or cursed by God (John 9:1–3). It's a flawed idea (see Ps. 146:8; Lev. 19:14; Jer. 30:17), but it was popular. So on top of the physical misery, the paralytic almost certainly endured financial poverty, social rejection, and religious contempt.
Perhaps he was eager to get to Jesus. Or perhaps he was disillusioned and embittered and wanted to be left alone. Some of the time, in the moments our stubborn friends are hauling us to Jesus, we begrudge them because we're embarrassed. Maybe we roll our eyes at a platitude meant to comfort. Maybe we resent feeling compelled to pray with someone. Maybe we doubt it's worth their time, much less our own. When our friends take us to Jesus, sometimes we resent it.
In moments like this, our souls are as stone-like as they can be this side of regeneration (Ezek. 36:26). We're suspended between the grace of God and the abyss of apathy. Shame or anger over our own weaknesses is a vicious trap. But Jesus meets us in our darkest places to heal our damaged hearts and restore his salvation joy (Col. 3:8–10; Ps. 51:8).
4. We still carry our mat around.
After he's been forgiven and healed, Jesus tells the man to pick up his mat and go home (Mark 2:11). Perhaps Jesus knew the mat would be a token of authenticity and proof of God's power. In this sense, we all carry a "mat"—a testimony of our conversion, physical or emotional scars, memories of suffering we've endured. These "mats" reflect our Savior's love and power.
But sometimes we don't carry our mat that way. Sometimes we carry it because we suspect we might need it again. We wonder if God's work in us will actually last. We're secretly planning to lay on it out of habit. Whatever the case, here's the good news: Jesus not only heals us, he also lifts our burdens when we're exhausted and afraid of change (Matt. 11:28–29). We can trust him to powerfully and safely care for us in our weakness, relieving our doubts and fears (Ps. 55:22; Phil. 4:5–6). We are freed to go forth with nothing but the wonderful yoke we bear in service to our Savior (Matt. 11:29–30; Rom. 6:22).
Redeemed Paralytics
The paralytic in Mark 2 isn't just an object lesson. He was a seriously broken person who was forgiven and healed by his Maker. Jesus doesn't merely "use" opportunities to fix us as a pedestal to exalt himself. He does more. He patiently waits to revive our deadest parts, all while shouldering cosmic burdens.
No matter how spiritually mature or disciplined we might be, we're all paralytics at times. Grumpy, helpless, reluctant, embarrassed. But Jesus delights to serve us anyway. He redeemed us, and he is sending us home at last. And he patiently and persistently invites us to let our paralysis be made perfect in himself (2 Cor. 12:9).
Jesus joyfully anticipates us as he's trying to focus and teach in a hot, smelly room full of devotees, paparazzi, and skeptics. He patiently waits to revive the deadest parts of us while he shoulders cosmic burdens. He lovingly serves us after dirt and roofing debris fall down on him and we come limp and uninvited through the ceiling.
Come to him, and let him fill you with his strength.