In the early 1500s God raised up William Tyndale, a passionate and gifted young scholar who learned Latin, Greek, and Hebrew in order to translate the Scriptures into English. Tyndale wanted to bring his nation a Bible they could read and a God they could know, but he faced two challenges. First, Bible translation was illegal, the equivalent to heresy. Second, Tyndale didn't have the financial means to focus his time exclusively on such a massive project.
It was a London businessman whose generosity bailed him out and so changed the course of the English-speaking world. When Humphrey Monmouth met Tyndale and heard about his ambition, Monmouth took a risk to provide for him, protect him, and partner with him. For six months he housed Tyndale and enabled him to work diligently on the translation. And when it was done, Monmouth leveraged his business connections with other merchants to use their ships to smuggle the contraband Bibles throughout England. Both men paid a high price for this endeavor. Monmouth ended up in prison. Tyndale ended up dead. But together they lit a flame that still burns in our generation.
Within two years of their deaths, the King of England ordered that every parish church should receive its own copy of the English Bible. Within 75 years, King James authorized an updated English translation, of which 80 percent to 90 percent was directly carried over from Tyndale's translation. For the next 450 years the King James Bible became the most influential book in the English-speaking world. And even today any English Bible you or I or any of the more than 600 million English speakers pick up is unashamedly built on Tyndale's foundation. History remembers Tyndale, but it has largely forgotten that the catalyst behind this massive movement of God was a generous businessman.
More Than Philanthropists
Men like Monmouth are more than philanthropists. They are "gospel patrons." The word patron occurs only once in the Bible, in Romans 16:2. It's a reference to Phoebe, the apostle Paul's patron. But throughout Scripture there are many examples of gospel patrons, although they are generally found in the verses we read right over on our way to the "good stuff."
For example, how did Jesus and his disciples fund their three years of preaching and ministry tours after they left behind their fishing nets and carpenter's belts for public ministry? They did not have a miracle meal of fishes and loaves for every lunch. Luke 8:1-3 records that three well-connected and generous women—Mary, Joanna, and Susanna—came alongside Jesus' ministry and generously provided for him.
Soon afterward [Jesus] went on through cities and villages, proclaiming and bringing the good news of the kingdom of God. And the twelve were with him, and also some women who had been healed of evil spirits and infirmities: Mary, called Magdalene, from whom seven demons had gone out, and Joanna, the wife of Chuza, Herod's household manager, and Susanna, and many others, who provided for them out of their means.
Generosity and Progress
But is patronage a relic from a bygone era? Absolutely not! In the book Operation World, Jason Mandryk says "Generosity, evangelistic vitality, and ability to dream big are major factors in the surge of gospel progress" in the United States. Generosity and gospel progress go hand in hand.
Consider the early years of Mars Hill Church in Seattle. In one of his sermons pastor Mark Driscoll shared how the generosity of a few gospel patrons changed everything for the future of their church and ministry:
This guy named Brad showed up at the church, and he and his wife were very sweet and very godly, and I'll never forget the day they sat me down and said, "We believe in what God is doing, and so we want to help pay for the renovation of this little church building."
At that same time a couple showed up and they said, "You know, we love what God's doing here, and we love church planters and we love young pastors and we love Jesus, and we think God's got big things for Mars Hill." And they also started being very, very, very generous.
And it was at that time that a few very generous people made a difference. Had they not, to be honest with you, I don't think Mars Hill would've made it. I think we would've probably just ceased to exist. But because of the generosity of a few people, that morning service went from forty to eight hundred. That was the absolute game-changer in the history of Mars Hill.
We don't often get to hear these kinds of stories, but gospel patrons have done more to spread the good news of Jesus Christ than any of us know.
A year ago I crossed paths with Don Carson and shared some of my research with him. His response shocked me. Without blinking he said, "Behind The Gospel Coalition there are gospel patrons. I could tell you who they are right now, but I want to honor their desire to remain anonymous." Without them, this platform that provides gospel-centered content every day simply would not exist.
There are more stories that could be told from history, from Scripture, and even from today. But there are also many stories still to be written by God. As much as we need to raise up and equip the next generation of gospel preachers and missionaries, we also need to call forth those who will partner with them, the next generation of gospel patrons. They may not be the guy on a stage with a mic or the long-term missionary overseas, but they too have a vital part to play in God's work. The calling of a gospel patron has a long and beautiful history, filled with gripping stories of those rare men and women whose generosity changed the world.
Get a FREE eBook to strengthen your family discipleship!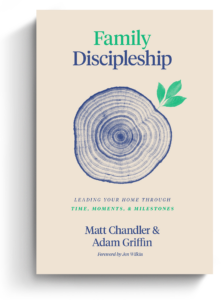 The back-to-school season is stressful for moms and dads. New rhythms of school, sports, and other extracurricular activities can quickly fill up a family's already busy calendar. Where do busy parents look for resources on discipling their family well? Aside from prioritizing church, what else can Christian parents do to instill healthy spiritual habits in their household?
Matt Chandler and Adam Griffin cover these questions and more in Family Discipleship: Leading Your Home through Time, Moments, and Milestones. And we're excited to offer this book to you for FREE as an eBook today.
Click on the link below to get instant access to your FREE Family Discipleship eBook now!