In just four hours, Islamic extremists set fire to 60 evangelical church buildings in the Republic of Niger. The following day, in two hours, another 10 were burned.
This West African country may never be the same since those two days in January. The attacks on Niger's churches came as a further reaction to the violence in Paris days earlier, after a cartoon depiction of the prophet Muhammad appeared in a French satirical magazine.
But the churches were not destroyed.
Seven Months Later
This August, I (Monroe) was privileged to spend a week in Niger, along with Carl Palmer (a former pastor and now an associate with Global Training Network) and Jeff Minard (director of William Carey Library). Our trip was facilitated by the prayers and support of East-West Ministries International, which serves the persecuted church in hard-to-reach places.
Our time training 200 pastors from across Niger—one of the poorest nations of the world—was part of an eighth-consecutive annual meeting of evangelical pastors there. It proved to be the largest gathering of evangelical pastors in the country's history.
Niger's nearly 18 million people are predominantly Muslim—more than 96 percent. The number of Christians here is estimated at 66,000—one-third of 1 percent of the population. The group of pastors we trained represented most of the country's born-again believers.
The event, hosted by Samaritan's Purse, was funded by a well-known organization that ministers to the persecuted church around the world. It was conducted in Niger's official language of French, along with Hausa and English. The former French colony has between eight and 20 indigenous languages, depending on how they're counted. We conducted a small-group training course in both French and English and then observed discussions in two more local languages.
Every pastor who lost a church building attended. Their churches continue to meet in homes, business offices, and outdoors. They report a significant increase in church attendance since the January devastation.
Attendees loved the participatory style of learning; they said it's the best way for Africans to learn. All of these men—starved for fellowship, affirmation, and encouragement—said it was the best week of their lives.
Conference Surprises
The conference attendees have no internet service and no resources to afford books or travel. Financial assistance enabled many who came from a distance. It's common for these men to stay in their hometowns year-round, without the fellowship of other pastors. One was thrilled to reconnect with a pastor friend he hadn't seen in 25 years.
Upon arrival at the conference, a middle-aged man named Elie expressed great uncertainty about his call to be a pastor. By week's end, he'd realized God's clear call.
One of our mid-week sessions was interrupted by four Tuareg men dressed in their traditional desert garb. After they came in and sat among us, we learned they were evangelists who plant churches among nomads near the Algerian border. One of them, a pastor named Ali, has led more than 300 Fulani nomads to Christ and planted itinerant churches among them.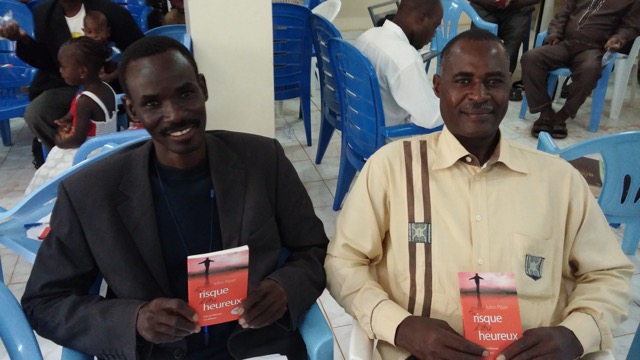 My team had carried three boxes of Christian books—the customs limit for Niger. We supplied each pastor with a French translation of John Piper's The Dangerous Duty of Delight, which helps believers understand that pursuing happiness in Christ changes our attitudes toward everything. These books, printed as a Packing Hope project for theological famine relief, were provided without cost to us through TGC International Outreach. We also gave the men copies of a colorful children's book in French, published by www.childrenministries.org, that makes Scripture memory easy and instructive.
Holy Fire 
The pastors displayed grace, gratitude, and joy at the gathering. They also expressed appreciation to everyone who prayed for them (see the video below). The men said the event energized them to stay the course and keep planting new churches.
By September, four of the burned church structures had been rebuilt. The unholy fires intended to destroy the church in Niger have instead fueled a holy fire in the hearts of pastors. These servants of God, unconcerned about their personal safety, want to make a difference for Christ.
Praise the Lord! May this fire never be extinguished. May this country never be the same.
Thank You from Niger Pastors from The Gospel Coalition on Vimeo.