If you ever want to get folks lathered up, raising the issue of gender roles in the church and in the home is sure to do the trick.
The Evangelical Free Church of America (EFCA) recently devoted its annual theology conference to "Understanding the Complementarian Position: Considering Implications and Exploring Practices in the Home and the Local Church." EFCA president William Hamel delivered the opening remarks while the six plenary sessions were split between Bob Yarbrough, professor of New Testament at Covenant Theological Seminary, and D. A. Carson, research professor of New Testament at Trinity Evangelical Divinity School.
In his opening lecture, "The Cultural and Ecclesiological Landscape," Yarbrough offered five theses concerning the climate in which believers now live and minister:
We're hurting.
The "complementarian" term needs a redo.
Redo would mean blessed repentance and the good works and better practices that the gospel received would bring.
We live in a time of dizzying and sometimes intimidating negative change.
The crises and evils of our time can be overstated.
The most substantive portion of Yarbrough's lecture was doubtless his explication of the third thesis. Here he enumerated seven common abuses committed in the name of complementarianism.
1. 'Complementarian' has too often meant 'You can't.'
"[God] assigns us to serve him best in the sweet spot of the personhood he saw fit to confer on us. It's not about 'You can't,' but about where and how Scripture says we all best will. We're not so much talking about restrictions as how God designed his grace and love proclaimed in the gospel to flourish. . . . There's a difference between well-advised limits and odious restrictions."
2. 'Complementarian' has too often meant catering primarily to men.
"Women generally read more than men, tend to be more linguistically apt than men, and a lot of preaching frankly undershoots women's literary, intellectual, and even theological levels."
3. 'Complementarian' has been a cover for the oppression of women.
"Men have escaped confrontation and church discipline while women are left vulnerable and exposed."
4. 'Complementarian' has been wed with Americanism.
5. 'Complementarian' has not always been robustly biblical enough to repel licentiousness.
6. 'Complementarian' has been used to justify juvenile and boorish behavior.  
"[True] complementarianism encourages a delightful synergy of cooperation, of mutual respect, of . . . promotion of women and their God-given interests and skills and responsibilities." Too often, however, the term "produces suspicion, defensiveness, exclusion, or indifference."
7. 'Complementarian' has been used to justify male aggression, laziness, and refusal to love and serve in marriages.
"A feature of our cultural and ecclesial landscape is warped, bastard expressions of male malfeasance garbed as complementarian. These expressions are smug and an accessory to evil. . . . Women must deeply feel that male leaders are on their side, making decisions with their concerns on the table."
We must lovingly stress that Scripture repeatedly grounds gender roles not in first-century Palestinian culture but in creation (e.g., Eph. 5:31; 1 Cor. 11:8-9; 14:34; 1 Tim. 2:13-14). As Yarbrough observes, "Jesus didn't address the gender issue as a trajectory needing to be altered, or as a social convention, but as something created and maintained by God."
Our Lord and his inspired apostles were culturally situated, yes, but they weren't culturally bound. Many assume that cultural rootedness automatically amounts to cultural relativity; the two, however, are simply not the same.
Followers of King Jesus must remain finally tethered "not to a political conviction or to social habit or to hermeneutical whimsy, but to divine mandate." And for those who embrace the King's word as their supreme authority, the divine mandate is clear. In these talks, Carson and Yarbrough have offered careful reflection on a contentious and critical issue.
Here are the rest of the plenary talks from the conference:
Hermeneutics: A Biblical Framework (Yarbrough)
Creation and Re-Creation: Male and Female in the Image of God, the Fall, and Redemption (Carson)
Family: Husbands and Wives, Love and Submission, Christ and the Church (Carson)
Church: Teaching/Authority in Context of 1 Timothy 2 (Carson) [Q&A transcript excerpt]
Leadership in the Local Church and a Theology of Pastoral Care (Yarbrough)
Panel Discussion: Equal in Essence and Dignity, Distinction in Roles: The Home
Panel Discussion: Full Use of Gifts within God's Ordained Structure: The Church
Get a FREE eBook to strengthen your family discipleship!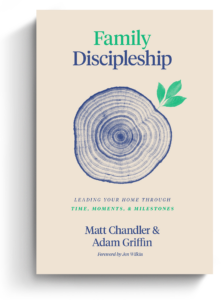 The back-to-school season is stressful for moms and dads. New rhythms of school, sports, and other extracurricular activities can quickly fill up a family's already busy calendar. Where do busy parents look for resources on discipling their family well? Aside from prioritizing church, what else can Christian parents do to instill healthy spiritual habits in their household?
Matt Chandler and Adam Griffin cover these questions and more in Family Discipleship: Leading Your Home through Time, Moments, and Milestones. And we're excited to offer this book to you for FREE as an eBook today.
Click on the link below to get instant access to your FREE Family Discipleship eBook now!