I pay pretty close attention to how you read this site. I want to know what you want, what interests you, what excites you. That doesn't mean The Gospel Coalition's editors and bloggers will publish just anything that grabs your attention. In that case every article would include a cat video, Tim Tebow picture, and Love Wins review. But we do want to be responsive to the way you seek encouragement and exhortation to serve Jesus Christ with faithfulness and love.
Reading this list is like looking in the mirror. These 10-plus articles reflect your passions, your desires, and your fears. What do they say about us? How well do they explain the year of our Lord, 2011? Do our priorities match God's priorities? That's a question we want to continue asking ourselves as writers, so together we can love God and our neighbors with renewed zeal in 2012.
10.) What Does It Look Like to Receive the New Testament for the First Time? by Justin Taylor
If you love the gospel, this video featuring the Kimyal Tribe in West Papua, Indonesia, will make your heart skip a beat.
9.) Twitter Slander by Justin Taylor
Seminary presidents should not jokingly liken Acts 29 pastors to porn-watching Osama bin Laden. The year 2011 introduced us to several controversies either originating in Twitter or stoked by this growing social media platform.
8.) It Was Not Wicked for the Lord to Take Our Son by Lisa Blanco
Perhaps no pain compares to losing your child. Blanco, a young mother, offered a faith-filled, biblical perspective on this heart-wrenching experience.
7.) Grieving, Rejoicing that Osama bin Laden Is Dead by Christopher Morgan
Bin Laden's death has topped many lists recalling the top stories of 2011. Professor Morgan watched night-time scenes of celebration across American and reflected the next morning on a Christian response to the terrorist's demise.
6.) Why Youth Stay in Church When They Grow Up by Jon Nielson
During our time together at College Church in Wheaton, Illinois, I came to know Nielson as an exemplary pastor for high school students. His insight, rooted in experience and God's Word, helps pastors and parents align their priorities in youth ministry.
5.) Pray for Sayed Musa: Afghan Christian Set to Be Hanged within Days? by Justin Taylor
Mercifully this story did not end with the Musa's martyrdom. But a similar case in Iran later this year reminds us that in many dark corners of the world, Christians understand the full weight of Jesus' words in John 15:20: "'A servant is not greater than his master.' If they persecuted me, they will also persecute you."
4.) Dude, Where's Your Bride? by Kevin DeYoung
DeYoung admonished single men, "Stop looking for play dates and-unless God is calling you to greater service through singleness-start looking for a wife." Tens of thousands of women responded: Amen!
3.) Beware Romantic Pornography by Betsy Hart
Who knew Sleepless in Seattle still keeps Christians up at night? Love them or hate them, romantic comedies have profoundly shaped our expectations for relationships.
2.) Parenting 001 by Kevin DeYoung
Love Jesus, love your kids. DeYoung wants to simplify parenting. Apparently he's not the only one who's tried the parenting theories and returned to basics.
1.) Rob Bell: Universalist? by Justin Taylor
Half this list would have been occupied by the ubiquitous, bespectacled Rob Bell. But that would have been a boring, so I've included several articles in this same slot. We may never see another publishing phenomenon like Love Wins, with CNN, The New York Times, USA Today, and many other outlets looking in on a largely blog-based debate over theology. Several others articles continued to shape the conversation over historic doctrine, before and after the book was published.
Get a FREE eBook to strengthen your family discipleship!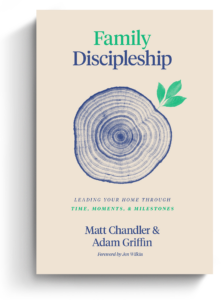 The back-to-school season is stressful for moms and dads. New rhythms of school, sports, and other extracurricular activities can quickly fill up a family's already busy calendar. Where do busy parents look for resources on discipling their family well? Aside from prioritizing church, what else can Christian parents do to instill healthy spiritual habits in their household?
Matt Chandler and Adam Griffin cover these questions and more in Family Discipleship: Leading Your Home through Time, Moments, and Milestones. And we're excited to offer this book to you for FREE as an eBook today.
Click on the link below to get instant access to your FREE Family Discipleship eBook now!