Eschatology helps us understand why we struggle and gives us a certain hope as we wait for Jesus and the new creation. In the first article of this series, I introduced two biblical and practical categories: restlessness and patience. These postures of heart are not optional add-ons for the Christian; they're essential if we are to persevere as Christian believers in this world as we wait for the world to come.
In a sobering plea, Paul tells Timothy to come quickly, "for Demas, because he loved this present age, has deserted me and has gone to Thessalonica" (my translation of 2 Timothy 4:10). Because Demas loved this present age rather than the age to come, he didn't last in gospel life and gospel ministry. Demas stands in stark contrast to Paul himself, because Paul lasted. He says, "I have fought the good fight, I have finished the race, I have kept the faith" (2 Timothy 4:7). It was focusing on his eternal future that sustained Paul: "Now there is in store for me the crown of righteousness, which the Lord, the righteous Judge, will award to me on that day—-and not only to me, but also to all who have longed for his appearing" (2 Timothy 4:8). Paul was anticipating the crown of righteousness he would receive at the return of Jesus.
Those restless for the last day persevere to the end. Church history has proved this over and over again: the greatest Christians have been those most in love with the future new creation. Richard Baxter testified that as he grew older, he meditated more frequently upon the "heavenly blessedness," and that he preferred to "read, hear, or meditate on God and heaven" more than any other subject. Restless Christians are the ones who persevere.
At the same time, Christians wait patiently for the new creation. If we're not patient, recognizing that this world is not our home and that difficulties are inevitable this side of eternity, we won't last when troubles come. Living with a false assurance that health and wealth are our right in this world, we'll grow disillusioned when we experience sickness and poverty instead. J.C. Ryle understood this clearly. He said,
We are all too much disposed to think a time may come when we shall have a season of repose and not be harassed with these vexations and disappointments. Almost every one supposes he is tried more than his neighbors; but let us not be deceived—-this earth is not our rest; it is a place for working, not for sleeping. Here is the reason that so many run well for a time, and seem to have the love of Christ in their hearts, and yet, when persecution or affliction ariseth for the word's sake, they are offended. They had not counted the cost; they had reckoned on the reward without the labor.
As Christians, we live in the "meantime" between the first and second comings of Jesus, content with dissatisfaction. A proper blend of restlessness and patience keeps us persevering in our pilgrimage through this life to a better world. But sustaining a biblical restlessness and patience is no easy task. Given the challenges we face, what resources help us live leaning forward toward the new creation?
Two Grounds of Christian Restlessness and Patience
Our hearts simultaneously move in two directions as we contemplate the desirability of our eternal future with God and come to an assured conviction that what we're waiting for is really, really good—-in fact, way better than anything we're currently experiencing. We become very restless. And we become very patient. A passion for the new creation produces both feelings simultaneously.
I proposed to my future wife, Emma, on October 21, 2005. By that time, I was certain that if she agreed to marry me, our wedding would be the entrance into a great marriage, and that life with her would be much better than life without her. What effect did this conviction have upon me? It made me willing to wait patiently for our wedding on April 13, 2006. I didn't tire of the wait and cancel the engagement. If necessary I would have waited far longer than I actually did.
I must say, however, that my belief that marriage to Emma was going to be wonderful simultaneously created a dissatisfaction with my single life. I was restless for my married future. Some things that formerly satisfied me as a single guy (e.g. eating large quantities of ready-made meals while watching movies by myself) began to lose their appeal. When we're fully convinced of the surpassing greatness of the new creation, we become patient and restless for it at the same time.
There's a second ground for generating the restlessness and patience to which the Bible calls us: strong confidence that we're actually going to receive what we're waiting for. In the months after Emma accepted my marriage proposal, seeing her wearing the engagement ring afforded me strong confidence that on our wedding day she would say "I do" rather than "I don't." That confidence had two simultaneous effects on me. First, it increased my restlessness with the single life. My habits began to reflect less the life of a bachelor and more the life of a married man. I was leaning toward marriage because I was confident the wedding would occur.
Second, because I was certain I was going to be married, I was able to wait patiently for my wedding day. If I hadn't been sure, I would have been phoning Emma every few hours and asking, "Are we still on?" Perhaps I would have tried to move the wedding to an earlier date before she changed her mind. But in reality I didn't feel that way at all. My confident expectation that Emma would marry me created a sense of security that produced patience. It also undergirded my resolve to be sexually pure before marriage. I didn't feel the need to rush things, because I knew God was preparing to give me a wonderful gift in his perfect time.
Source of Confidence
So where do Christians gain solid confidence that God will bring them to the new heavens and new earth? This is where inaugurated eschatology is so intensely practical and hope-giving. Inaugurated eschatology is a term that describes the New Testament's proclamation that Jesus Christ has already brought the kingdom of God and won the victory through his cross and resurrection. His victory is accomplished and requires only full implementation in the future. This truth is the ground of Christian confidence in God's good future; therefore, it sustains both a restless and patient "leaning forward."
Suppose you're in a world championship tic-tac-toe tournament. You're up against last year's world champion, and you know he's very good. Are you confident you'll win? Not at all. You have honed your competitive skills with long hours of practice. Your favorite Number 2 pencil is sharpened and ready for action. But you have no assurance you'll win.
The match begins. You place an X in the upper right hand corner of the board. And then, bizarrely, your opponent places his O right under your X. Pouncing on his unexpected blunder, you place an X in the upper left hand corner of the board. Now you sit back in your chair, waiting for your opponent to take his turn and surveying the board.
Are you confident now? You'd be crazy not to be! You've won the game! It's over!
Let me qualify: You have not yet won the game, because it still has to be played out for your victory to be implemented. But so long as you play out your last moves correctly, there is no possible way for your former-world-champion opponent to win this game. Your victory has been achieved, though not yet fully implemented. At this moment you are already the new world champion . . . but not yet fully so. It would be a mistake to get so caught up in celebrating your victory that you dance away from the game and fail to complete it. But it would also be a mistake to fail to recognize that a crucial turning point has occurred. You now have a sure ground of confidence.
Christian confidence is grounded in the remarkable, pivotal fact that Jesus Christ has already brought the kingdom of God we're waiting for and already won the victory over God's enemies we're longing for. Christians can be confident in this life as we wait for the life to come, because Jesus' victory has been secured.
In a season of sorrow? This FREE eBook will guide you in biblical lament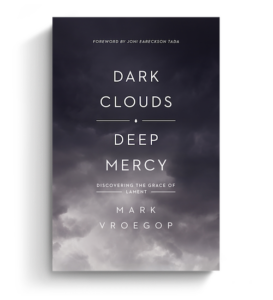 Lament is how we bring our sorrow to God—but it is a neglected dimension of the Christian life for many Christians today. We need to recover the practice of honest spiritual struggle that gives us permission to vocalize our pain and wrestle with our sorrow.
In Dark Clouds, Deep Mercy, pastor and TGC Council member Mark Vroegop explores how the Bible—through the psalms of lament and the book of Lamentations—gives voice to our pain. He invites readers to grieve, struggle, and tap into the rich reservoir of grace and mercy God offers in the darkest moments of our lives.
Click on the link below to get instant access to your FREE Dark Clouds, Deep Mercy eBook now!