Editors' note: Watch this brief video to see how God is restoring hope through the church and non-profit partnership in a forgotten Southern city.
---
What do you do in a city where hope has gone to die? Where is hope to be found once it's moved out of your neighborhood and despair has taken residence? Ministry to the poor and marginalized is often accompanied by the visceral reality of hopelessness. Not only is there a need for the gospel of Jesus Christ to penetrate hearts, but there's also the urgent need for economic growth. Where unemployment and crime rates far exceed the national average, and schools fall well below state and national standards, the church must rise to action. On occasion, the church has to meet basic human necessities before a spiritual remedy can be received. The church must bring a plan to care for the poor that includes both gospel witness in word through preaching and gospel fruit in deed through financial investment.
Fairfield, Alabama, was once a predominately white city many of Birmingham's steel workers called home. After racial integration in the 1960s and 1970s, Fairfield became home to more ethnic minorities. White flight soon followed. Not only did white citizens leave for other parts of the city, but so did businesses, jobs, and opportunity. Most alarming were the churches who closed their doors and left for different parts of the city.
In the wake of this turmoil, a city lies forgotten on the west side of Birmingham. Given high rates of crime and poverty, hopelessness renders Fairfield—for many political, business, and even religious leaders—untenable and unworthy of long-term investment.
Within the last two years the situation in Fairfield has worsened considerably, but without the attention belatedly afforded to places like Flint, Michigan. Last year, Fairfield released prisoners from city jails because it couldn't afford to feed them. Earlier this year, Walmart—Fairfield's only grocery store—closed its doors and took $125,000 of monthly tax revenue for the city with it. Public transit was terminated in early 2016 due to a half-million-dollar debt to neighboring Birmingham. At one point Fairfield refused to pay to fill the gasoline tanks of city officials, including police officers, due to mistrust and employee misappropriation.
Despite these bleak conditions, the church of Jesus Christ has invested in Fairfield. One partnership in particular labors to marry gospel witness with economic stimulation so that hope may be found on the streets of Fairfield once again. Urban Hope Community Church (PCA) is partnering with the non-profit organization Clerestory to rehab and transform a building that has fallen into disrepair. Alton Hardy, Urban Hope's pastor, and Greg Mixon, Clerestory's founder, plan to use the building as a meeting space for the church but also as a coffee shop, wedding venue, and general beacon of hope in the delapitated neighborhood. Their partnership exemplifies how faith and work integrate. Hardy's preaching and discipleship reinforce the inherent dignity of Fairfield's residents as made in the image of God. Mixon's financial investment offers a redeeming path out of poverty. Together they seek to transform Fairfield spiritually and economically. James Weldon Johnson's "Lift Every Voice and Sing" (1899) encapsulates the work being done in Fairfield:
Stony the road we trod, bitter the chastening rod,
Felt in the days when hope unborn had died
Yet with a steady beat, have not our weary feet
Come to the place for which our fathers sighed?
We have come over a way that with tears has been watered.
We have come, treading our path through the blood of the slaughtered.
Out from the gloomy past, till now we stand at last
Where the white gleam of our bright star is cast.
In a season of sorrow? This FREE eBook will guide you in biblical lament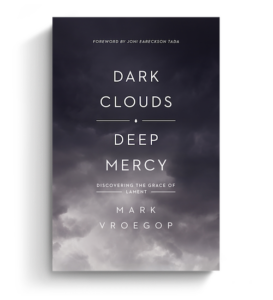 Lament is how we bring our sorrow to God—but it is a neglected dimension of the Christian life for many Christians today. We need to recover the practice of honest spiritual struggle that gives us permission to vocalize our pain and wrestle with our sorrow.
In Dark Clouds, Deep Mercy, pastor and TGC Council member Mark Vroegop explores how the Bible—through the psalms of lament and the book of Lamentations—gives voice to our pain. He invites readers to grieve, struggle, and tap into the rich reservoir of grace and mercy God offers in the darkest moments of our lives.
Click on the link below to get instant access to your FREE Dark Clouds, Deep Mercy eBook now!