We've written often about the pastor-theologian or the pastor-scholar, but what of the pastor-historian? What benefits accrue to a congregation whose undershepherd is also a trained researcher of and writer about history? And how crucial is it that those who populate our churches know something of the story of Christ's church as it has unfolded over the past 2,000 years? How can a pastor help the 21st-century church overcome its penchant for chronological snobbery?
Nick Needham wants his church—and others like it—to be keenly aware of Christ's work in building his church these past two millennia. Toward this end, Needham—pastor of Inverness Reformed Baptist Church and church history lecturer at Highland Theological College in Scotland—has spent the past two decades authoring a unique multi-volume survey of church history that combines lucid prose with rigorous research and historiography.
The fourth volume of his series, 2,000 Years of Christ's Power: The Age of Religious Conflict (16th to 18th Centuries), was recently released from Christian Focus, and all are now available in hardcover editions. I asked Needham about the above questions and more.
---
How important is it for ordinary Christians to know church history? Additionally, how do you achieve a balance between readability (for a broader audience) and sound scholarship (with trusted content)?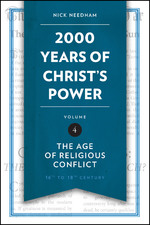 Someone said that a nation without a history is like a man without a memory, and I think this is true for us as Christians. If we don't know the history of our nation—the holy nation and royal priesthood, the church (1 Pet. 2:9)—we'll be like people with spiritual amnesia. That's an unnatural and harmful state. What Christian would not want to know what Christ has been doing in the world these past 2,000 years? Once we get beyond mere self-love, and start loving Christ's works and Christ's people, I think a concern for church history naturally follows.
As to how I strike the balance between accessibility and scholarly care, I just try to know my subject and then express it as clearly and engagingly as I can. No doubt I sometimes fail. One thing I've especially tried to do is get people from other traditions (Lutheran, Eastern Orthodox, and so on) to read through my drafts to ensure they recognize their history in the way I've told it. Their suggestions have been priceless.
In addition to working in academia, you serve as a pastor. How important is it for pastors to know something of the Christian tradition? In what practical ways can preachers use church history and historical theology?
It's important for us pastors to get out of our religious boxes and expose ourselves to the various forms the faith has taken and still takes. Otherwise we can too easily become, in an impoverishing way, narrow-minded and unimaginative—prone both to grossly misrepresenting folk outside our own sub-tradition, and also to embracing our sub-tradition lazily and patronizingly without letting it be tried and tested against what Christian history in all its richness has to say. We'll be better, humbler, wiser, and more seasoned spiritual leaders for immersing ourselves in history and in the great "catholic" tradition.
Even where we ultimately disagree with various voices in that tradition, we can still often echo the verdict of Photius the Great, eighth-century century patriarch of Constantinople: "We must not accept as doctrine those areas in which they strayed, but we embrace the men themselves." And historical theology can provide excellent guidance in gauging our own thinking. Have I really got ahold of what Scripture is saying, or am I just reproducing one of the long-condemned heresies of the patristic era?
How does being a historian help you as a pastor and vice-versa?
Church history has opened up a wealth of aids for Bible study and preaching that I might not have known existed. For example, John Chrysostom's commentary on Galatians was invaluable when I worked my way through that epistle on Sunday mornings. Thomas Aquinas's sermons on the Ten Commandments were helpful during a series on that topic. And I've been made aware of spiritually enriching devotional material I'd otherwise never have known: The Evergetinos, Anselm's prayers and meditations, Julian of Norwich, William Law's The Enchiridion of Erasmus, A Serious Call to a Devout and Holy Life, and John Henry Newman's Parochial and Plain Sermons.
Reading church history with a pastor's eye, I look for things worth quoting in sermons, and that will help stimulate and elevate my public prayers. Historic liturgies can be extremely helpful here. So can the prayers of the great 17th-century Anglican divine Jeremy Taylor, whose command of English has earned him the nickname "a spiritual Shakespeare." I've found that if I make use of such prayers privately, they give tone to my public praying.
How might we use church history as sermon illustrations? Are there things we should avoid?
I sometimes relate incidents from church history in sermons if I think they help to make the point: illustrating a right or wrong attitude, fleshing out a virtue or sin, warnings and encouragements from God's dealings with his people. It's a treasure trove. Things to avoid? Well, historical illustrations have to be relatively brief, and they have to illustrate your point in a fairly obvious way, so that you don't end up having to explain the illustration. And of course you should illustrate with history because you honestly think it's helpful, rather than to show off and parade your knowledge.
What are your favorite biographies? Any "must reads" for pastors or laypeople?
Here are my five favorite Christian biographies:
I'd recommend all five to every believer—pastors and laypeople. No doubt my choices reflect my prejudice for the patristic period.
We're celebrating 500 years of the Reformation this year. Do you think we underemphasize the effect of Reformers on pastoral ministry?
The Reformation was certainly far more than a narrowly theological affair concerning justification by faith or the sole infallible authority of canonical Scripture. It profoundly affected what happened on Sundays at a grassroots level. Pastors were once again encouraged and trained to be biblical preachers (and therefore to be biblical interpreters), to practice sacramental celebration in a more frequent and God-glorifying way, and to engender holiness in their congregations. The ideal of "godliness and good learning" going hand-in-hand became normative for Protestant ministry. I think this is all still remarkably valid and relevant for us today.