…you ransomed people for God from every tribe and language and people and nation…Revelation 5:9
There's quite a distance between America's northwest and Asia's southeast. A cultural gulf exists also, from bold worldliness to apprehensive detachment. But here's another stretch: A young man grows up Roman Catholic in northern California and heads for the mission field, to a poor country with a horrific past—Cambodia.
When B.J. Lopez came to Christ he soaked up the influence of men with passion for God's word and missions. He met with the pastor of West Hills Community Church and others for weekly discipleship meetings. The group took monthly mission outings, like talking to Bay Area street people. They received some prodding from John Piper's book, Desiring God, and its message: lay your life down.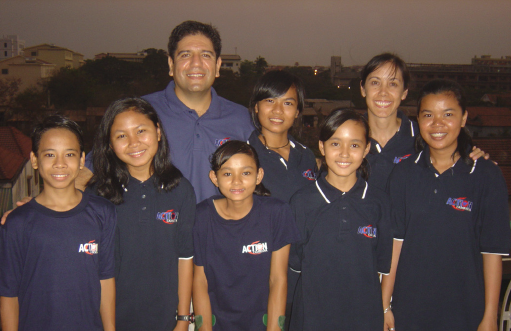 Lopez worked with his father's business, while his wife, Andrea, worked as an R.N. at a Stanford hospital. They had no children. The idea of missions caused them to consider how they might be used for God.
Lopez took a short-term mission trip to Cambodia in 2000, along with West Hills Associate Pastor, Daren Beck. They met Cambodian Christians, but otherwise found the country to be very spiritually dark.
The Kingdom of Cambodia, a ceremonial-only monarchy now, opened to democracy in 1993. The Khmer people retain psychological wounds from atrocities that worsened in their country after the Vietnam War. Pol Pot's Khmer Rouge army purged Cambodia of its military personnel, wealthy, religious, and educated—nearly two million people died.
He Will Build His Church
"I knew God was calling me," says Lopez. But his church hadn't planted long-term missionaries before. And he needed Bible training.
Meeting seasoned missionaries from Action International Ministries provided Lopez with helpful advice. He enrolled in a Bible program at The Master's College. Andrea took a job as a public health nurse to gain experience useful for missions. Their church paid his tuition and offered future mission support.
The couple considered the mission-friendly Philippines to gain experience. But when Daren Beck asked Lopez to consider Cambodia first, Lopez gave an unexpected answer. "Yes," he replied, "if we had teammates." Beck surprised him in return; he desired to go. They had their team.
In 2003, linked with Action International, the men rented two homes in Phnom Penh, Cambodia and brought their families over. Daren Beck serves as director of Action Cambodia, while Lopez works to develop biblical resources. They work with established churches, submitting themselves to serve while learning the culture and language.
"Cambodians have a hard time trusting," says Lopez. "They survived the past by being quiet. They watch foreigners. We have to establish relationships." His team is doing that through pastoral training. "With amazing effect," he says.
A God-Ordained Way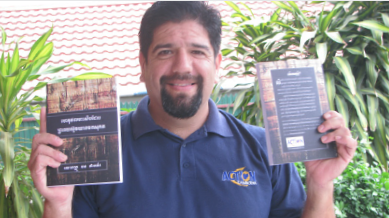 TGC International Outreach (IO) resources "just fit the missions work in Cambodia," says Lopez. "They exude the sovereignty of God. John Piper's books were instrumental in getting us here in the first place." IO connected with the Action Cambodia team four years ago about the possibility of a Khmer language resource. Lopez says that Piper's 50 Reasons Why Jesus Came to Die was the best choice, with "deep, but bite-size teaching." With a grant from DG, a translation of that book came together over a two-year period of painstaking work employing Cambodian English-major students.
The 2009 first printing of 1,000 copies of 50 Reasons… has been fruitful. Far East Broadcasting Company used the translation for FM radio readings each night leading up to Easter, also providing copies to callers. One charismatic missionary couple, realizing the book provided solid doctrine they needed, purchased 200 copies for their affiliates.
Jim Harrison, an International Outreach volunteer long involved in Cambodia outreach, says that B.J. Lopez provides them with the Khmer books whenever needed for other groups' mission and pastoral training efforts in Cambodia. IO also connects travelers willing to serve as couriers to deliver resources to and from Lopez. "It works both ways," says Harrison. "Networking is a God-ordained way of doing business, his unlimited scheme that we could never think of or arrange."
The Action Cambodia ministry is growing. They now have a worship service for English-speaking Cambodians and youth camps and special ministry for school-age orphans.
The Lopez family has grown too, by taking in seven children over the years. It looks like they're continuing to find out how to be used for God.