The building that housed St. Mary's Episcopal Church in Athens, Georgia, was built in 1869. All that's left of the building today is the steeple, which sits neglected in a condominium parking lot. I see the steeple every Sunday morning on my drive into downtown Athens where our church gathers for worship. I don't know the history of the church—I do know that R.E.M played its first gig in that building in 1980. But I have taken that weekly reminder as an opportunity to pray for a movement of God in our city and beyond that reverberates 150 years from now.
That's why I'm so excited about Engage the South, a conversation for church leaders across the American South. Hosted by Samford University in Birmingham, Alabama, we'll meet on Tuesday, September 24. This is a collaborative effort of the Acts 29 Network, Beeson Divinity School, and The Gospel Coalition to inspire and encourage leaders to develop churches faithful to the message and mission of God in our particular context.
The question bringing hundreds together is this: what kind of churches do we need in the American South? Engage the South seeks to answer that question as we discuss:
Our need for churches that are marked by humility and holiness.
Marginalization is a new experience for most of us living in the American South. The freedom we have in Christ trips up moralists and makes us look foolish to people who make up the rules as they go. We need communities of faith across our cities and counties (and parishes . . . don't wanna rile up the Cajuns!) who are known for laying down their rights in the cause of love as we pursue our deepest satisfaction in the God who shows us the way of life.
Our need for churches that are serious about evangelism and conversions.
Evangelism becomes an optional sideshow when we assume that everyone in the South knows Jesus and forget that the gospel is needed by Christian and non-Christian alike. When repentance and faith become the rhythm of life inside the church as we tell people that Jesus saves us from rebellion and unbelief, our churches stand out even as they embed in the fabric of our communities.
Our need for churches that are committed to diversity.
The blight of racism casts a long shadow down in Dixie. The divide between rich and poor, black and white (not to mention Asian and Latino), conservative and liberal continues to be tragically demonstrated in far too many of our churches. But we see a profound gift of divine grace in our day. We see a developing transcultural ethos in a growing number of churches that I believe is the firstfruits of renewal that shakes the foundations of our cultural assumptions. We seek to chart a new course as we help each other follow Jesus together as a family.
Our need for churches that embrace theological clarity.
Doctrinal reductionism has failed as a tool for bringing clarity to our discipleship. But the difficult challenge of loving God and neighbor has birthed renewed interest in theological development. Churches with theological vision lay out a feast of godward hope and joy that challenges our assumptions about life and oils the creaking hinges of our soul. We need churches that do not divorce precision and practicality in our discipleship but embrace the life of the mind even outside the academy.
Our need for churches that plant churches.
It is no accident that we are sounding this call in Birmingham, a city marked by historic and influential churches. As a son of the city, I am grateful for the advance of the kingdom through these churches. Yet I also lament the overwhelming number of friends and family who don't recognize themselves or hear their story in existing churches. Not only do we need renewed churches in the American South, we also need brand new churches that give themselves to the burned over, half-baked, and hopeless corners of our communities.
Get a FREE eBook to strengthen your family discipleship!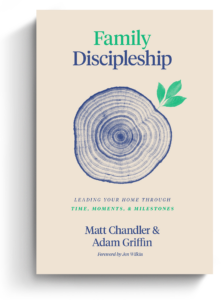 The back-to-school season is stressful for moms and dads. New rhythms of school, sports, and other extracurricular activities can quickly fill up a family's already busy calendar. Where do busy parents look for resources on discipling their family well? Aside from prioritizing church, what else can Christian parents do to instill healthy spiritual habits in their household?
Matt Chandler and Adam Griffin cover these questions and more in Family Discipleship: Leading Your Home through Time, Moments, and Milestones. And we're excited to offer this book to you for FREE as an eBook today.
Click on the link below to get instant access to your FREE Family Discipleship eBook now!