In the early hours of February 18, 1546, Martin Luther confessed to his close companions around him that he was ready to die, trusting the Lord Jesus Christ and thanked God for revealing his Son in whom he had believed. A few hours later he suffered an epileptic stroke that first took his speech and, within a few hours later, his life.
At the time of his death he left a world turned upside down. There were lifetimes of work left to be done, but Luther would have to leave it to be finished by those who would follow after him and carry on what he had started. Today, 466 years after that stroke, the voice of Luther still rings through the church.
Most Christians are familiar with the fiery turning points in Luther's life—-the fearful vow to become a monk, the Diet of Worms, the burning of Pope Leo's papal bull. But few know the profound influence Luther would have on marriage, hymns, and the German language.
Have You Ever Had Feelings for a Nun?
In 1524, Luther wrote to George Spalatin, "I shall never take a wife, as I feel at present. Not that I am insensible to my flesh or sex (for I am neither wood nor stone); but my mind is averse to wedlock because I daily expect the death of a heretic." That conviction only lasted about a year, before  Luther married Katherine Von Bora, one of 12 nuns he had helped escape from the Nimbschen Cistercian convent in April 1523, whom he affectionately called "Katie."
Luther had long condemned vows of celibacy, but his decision to marry surprised even the closest of his friends. Philip Melanchton thought it was reckless, but Luther and Katie had what many would call a successful marriage. They bore six children together. The loss of their daughter Magdalene at age 13 would cause some serious reflection on God's providence for Luther.
A Mighty Fortress and Other Top Hits
Part of the success of the Reformation was due in part to the use of hymns. Luther combined both high art and folk music in his hymns so as to make the theology of the Reformation part of the every day culture of the people. The result was that songs about justification by faith alone and the authority of God's Word were sung in homes by housewives over dirty dishes and in pubs by farmers and mill workers over pints of ale.
Hymns were both pedagogical and doxalogical, used to teach people the truths of the Bible and the good news of the gospel and to displace the idols of our hearts with Christ, our Creator and Redeemer.
During his life, Luther wrote nearly a hundred hymns. Although his output did not match other great hymnmakers, such as the prolific Charles Wesley, Luther's hymns had an extensive theological and national effect. Several of Johann Sebastian Bach cantatas were based on the musical work of Luther. While there would be more famous hymn writers, few would had such as deeply felt influence as the former monk.
A Translation for the People
As with his hymns, Luther was convinced that God's Word was for the people and should be in the language of every-day folk rather than the language of the educated and wealthy. This  hugely controversial opinion combined with his translation efforts would probably have cost him his life were it not for the protection of powerful individuals like Prince Frederick the Wise.
In fact, Luther's translation would be so influential and widespread that German humanist Johann Cochlaeus pretentiously complained that,
Luther's New Testament was so much multiplied and spread by printers that even tailors and shoemakers, yea, even women and ignorant persons who had accepted this new Lutheran gospel, and could read a little German, studied it with the greatest avidity as the fountain of all truth. Some committed it to memory, and carried it about in their bosom. In a few months such people deemed themselves so learned that they were not ashamed to dispute about faith and the gospel not only with Catholic laymen, but even with priests and monks and doctors of divinity.
Praise God!
The spread of Luther's translation also had a tremendous influence on the German language. Previously, the German language had been divided into several dialects, so that some parts of the country could barely understand the other regions. Luther's translation helped create a common, literary language and, due to the pervasiveness of his Bible, would soon develop a common German language.
If You Want to Learn More
With the prodigious output on his life and work, you don't have to search far for material on Luther. To help winnow out the chaff, here are some suggestions on where to start:
Roland Bainton's Here I Stand is not only one of the best biographies of Luther, it is one of my favorite books of all time. Bainton is such a captivating storyteller that it's hard justifying taking the time to read another biography on Luther when you can just read Bainton again (I've read this biography at least three times).
After reading his biography, I would recommend reading the works of Luther himself. A good place to start is Three Treatises, which includes "The Babylonian Captivity of the Church" and "The Freedom of a Christian," all classic works. From there, you'll want to read The Bondage of the Will.
If you want to be edified, entertained, and occasionally offended, then you should read Table Talk, a collection of serendipitous discussions recorded by Luther's companions.
Get a FREE eBook to strengthen your family discipleship!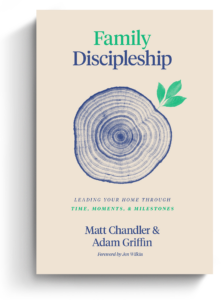 The back-to-school season is stressful for moms and dads. New rhythms of school, sports, and other extracurricular activities can quickly fill up a family's already busy calendar. Where do busy parents look for resources on discipling their family well? Aside from prioritizing church, what else can Christian parents do to instill healthy spiritual habits in their household?
Matt Chandler and Adam Griffin cover these questions and more in Family Discipleship: Leading Your Home through Time, Moments, and Milestones. And we're excited to offer this book to you for FREE as an eBook today.
Click on the link below to get instant access to your FREE Family Discipleship eBook now!