What's the story?
The manager of the Gaza branch of World Vision has been arrested by Israeli law enforcement and charged with funneling about $43 million to the Islamist militant group Hamas. The manager, Mohammad El Halabi, is also accused of having specifically infiltrated World Vision for the purpose of reaching an influential position from which he could provide funds and resources for Hamas militants.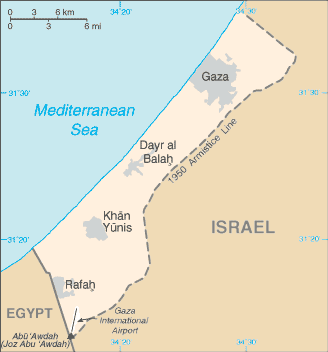 What are the charges against Halabi?
In 2005, Halabi was hired by World Vision, and was appointed head of the Gaza branch in 2010. This past June he was arrested while headed back to Gaza from a meeting in Israel. The Israeli security agency Shin Bet claims Halabi joined Hamas's armed wing Izzedin al-Qassam in 2004 and was asked a year later to infiltrate a humanitarian organization so as "to be close to decision makers in a foreign organization, to be involved in the group and operate secretly to advance al-Qassam's interests."
The agency contends that about 60 percent of the funds from World Vision's Gaza operations were diverted to Hamas and that Halabi confessed to providing "thousands of parcels of food, basic essentials and medical equipment to members of the military wing of Hamas and their families, on a monthly basis."
What has been the response by Halabi?
According to his lawyer, Halabi has told Shin Bet that the entire Gaza Strip is under absolute Hamas rule and armed members of the organization take whatever they want form the organization's storage depots.
"Israel can link anyone living in the Gaza Strip to Hamas. [Halabi] does not belong to the organization nor is he affiliated with Hamas," said his lawyer, who added that his client has "said explicitly under questioning that armed Hamas members came in two commercial vehicles with a machine gun mounted on it and under threat they took what they wanted."
"We will study the file and its evidence some more," Halabi's lawyer says, "but I think this file started off very inflated and the balloon has since been deflated."
What has been the response by World Vision?
On August 8, World Vision International CEO Kevin Jenkins issued a statement saying the organization is "seeking to understand the truth behind the allegations laid against Mohammad El Halabi" and that they condemn "any diversion of funds from any humanitarian organisation and strongly condemns any act of terrorism or support for those activities."
The statement says World Vision has suspended operations in Gaza while they conduct a full review and forensic audit. "We will examine all the evidence behind the charges, and from those who independently examine our accountability standards," Jenkins says. "If any of these allegations are proven to be true, we will take swift and decisive action. Unfortunately, we still have not seen any of the evidence. We look forward to an ongoing dialogue to be able to clarify discrepancies, and we call for a fair and transparent legal process."
He also notes that World Vision's cumulative operating budget in Gaza for the past 10 years was approximately $22.5 million, which "makes the alleged amount of up to $50 million being diverted hard to reconcile." Mohammad El Halabi was the manager of our Gaza operations only since October 2014, the statement notes, and before that time he managed only portions of the Gaza budget. World Vision's accountability processes cap the amount individuals in management positions at his level to a signing authority of $15,000.
How is Australia involved?
Australia's Department of Foreign Affairs and Trade has suspended funding of World Vision programs in Palestine, saying, "Australia's aid to the Palestinian territories is intended for vital humanitarian and development assistance to the Palestinian community. Any diversion of the generous support of the Australian and international community for military or terrorist purposes by Hamas is to be deplored and can only harm the Palestinian people."
In 2012, World Vision Australia and AusAID were similarly accused by an Israeli civil rights group of providing financial aid to a Gaza-based terrorist group, the Palestine Liberation Organization (PLO). An investigation by World Vision Australia and AusAID found the allegations to be without merit.
Where is Gaza?
Gaza (sometimes called the Gaza strip) is a 141-square mile area of the Palestinian territory. The land is bordered by Egypt to the south, the Mediterranean Sea to the west, and by the state of Israel on the north and east. Gaza and the West Bank—which are separated by the territory of Israel—compose the Palestinian territories.
The land is home to almost 2 million Arabs, and is governed by Hamas. The religion is 98 percent Islam, 1 percent Christian, and 1 percent other.
What is Hamas?
Hamas is a militant nationalist-Islamist movement founded in 1987 as a spinoff of Egypt's Muslim Brotherhood. The slogan of Hamas is "Allah is its goal, the Prophet its model, the Qur'an its Constitution, Jihad its path, and death for the case of Allah its most sublime belief." The ultimate military goal of Hamas is genocide of the Jewish people. As stated in their charter: "Hamas has been looking forward to implement Allah's promise whatever time it might take. The prophet, prayer and peace be upon him, said: The time will not come until Muslims will fight the Jews (and kill them); until the Jews hide behind rocks and trees, which will cry: O Muslim! there is a Jew hiding behind me, come on and kill him!"
Along with Fatah, it is one of the two major political parties in the occupied territories. Hamas candidates won Palestinian elections in 2006, but their government was dismissed in 2007, resulting in the political bifurcation of the West Bank and Gaza. While Fatah reasserted its authority in the West Bank, Hamas has continued to rule over the Gaza Strip.
Hamas has been officially designated as a terrorist organization by several nations, including the United States and Israel.
What is World Vision?
World Vision International is an evangelical Christian humanitarian organization dedicated to "working with children, families, and their communities worldwide to reach their full potential by tackling the causes of poverty and injustice." According to its website, World Vision provides "emergency assistance to children and families affected by disasters and conflict, partner with communities for long-term solutions to alleviate poverty, and advocate for justice on behalf of the poor."
World Vision began serving in Jerusalem, the West Bank, and Gaza in 1975. They currently have 150 staff in the region that directly benefit more than 92,000 children, nearly 40,000 of whom are in Gaza.
The organization operates in 97 countries and has total annual revenue of more than $1 billion. World Vision ranks #11 on Forbes list of largest U.S. charities.
What is Shin Bet?
Shin Bet is a two-letter Hebrew abbreviation of the name of the Israel Security Agency. The organization—the Israeli equivalent to the U.S.'s FBI—is also known as by the acronym Shabak.