Layers of time bury pain deep inside our hearts.
The pain will never dissolve. But it can be removed.
Leaders who treated us with contempt, friends and family who pushed us out of their lives, bosses who lied to us about job openings, or respected business people who told us one thing and told our friends another—similar types of people have hurt us all.
After years of subsiding anger, the free-flowing pain slows its sloshing, and turns to concrete: It is bitterness.
We often discover bitterness with the help of an inconvenient friend.  We make a quip, they tell us, "You seem bitter." End of conversation.
Of course, we know what to do! Confront and forgive the wrongdoer (Matthew 18). The gospel tells us that God loves us so much he sent his Son Jesus to pay for all our sin. This includes the sin with which someone hurt you badly in your past. For Christians the sin is forgiven; have you forgiven that person, even if they do not know they did something to hurt you?
Knowing what to do—and doing it—are good and evil twin brothers. In many cultures, candor is a social sin, only because comfort is the greater idol. We therefore deal with any pain rather than "speaking the truth in love . . . growing up in every way into him . . . " (Eph. 4:15).
My own bitterness story came from a friend. I was injured, and he was oblivious to his own infliction of it. Salt overflowed my wound.
Years later it took a vision from my friend—the Holy Spirit—to rush me to the heavenly Emergency Room to give me a strong, immediate healing during a worship service in Nashville. It was a life-changing experience, to watch and feel the bitterness leave me. Revelation from God always changes us.
The point is that during that time of loneliness, where I knew I was treated wrongly, I even grew out of talking about it. I couldn't address it without anger or a spirit of pride. I was "better" than that man. I knew "more" than he did. I would "never" do to anyone else what he did to me. The most bitter people are the ones who don't know they're bitter! We think we are immune to it.
Is our tree bitter? Examine the roots. The law gave us not just "rules" but rather a peek into the holiness of God, given by grace into people's own language. Hear these words from Deuteronomy 29:
Beware lest there be among you a root bearing poisonous and bitter fruit . . . saying, "I shall be safe, though I walk in the stubbornness of my heart." This will lead to the sweeping away of moist and dry alike . . . nothing growing . . . no plant can sprout . . .
We should be quick to examine our own lives for dry, aching souls: evidence the tree is bitter.
Another way to find these roots are to find our favorites: our favorite people, for example. We follow them, and we brag to our friends about meeting them. "He shook my hand!" Like a big fish story, it is more glorious with each proclamation. And then, out of the blue, something happens to us or our idol, and it's all over. In a best-case scenario, the Spirit wrecks us with new vision of his grace in Christ, overshadowing what we see now as vain worship of sinful men.
We are angry when we first exit the man-worship roller coaster ride. It is unfair, unjust. At least, those are our rational calculations. Walk off the nauseating feeling. Sit down and rest for a moment, and see the fruit of his labor will be a robust humility.
If no one accuses you of bitterness, is it at all possible you have some? Find out: trace any "dead" feeling toward someone or some church back to an event or a conversation. Ruminate in that time or place. Ask yourself why you hang onto it. Ask God to show you exactly—specifically—why have you not been able to have peace?
Then grab the only known medicine proven to heal this type of pain. It is the good news of Christ Jesus, a prescription that allows us prayer access to God in ways that seem roughshod, unplanned, and steeped in dark emotion. Take this, for example, from Romans 8:26-30:
Likewise the Spirit helps us in our weakness . . . the Spirit himself intercedes for us with groanings too deep for words. . . . We know that for those who love God all things work together for good, for those who are called according to his purpose . . .
What he is saying is that the ever-popular Christian coffee mug verse,  "All things work together for good," is tied to the concept of God's sovereign mediation medicine in prayer. What we want is not what we always get. Yes, the "all things" part is always what he allows to happen, and not what we desire. The best part: He interprets the prayers for us, in ways that fall in line with the gospel of Christ.
Finally, engage yourself in bitterness prevention. The pain in your life is proof that you are human, and the bitterness you may have discovered today is a good opportunity to thank God right now for pointing out your need for Jesus' atonement.
With enough time, any unseated pain will become bitterness. But the strongest seed does not grow roots of bitterness; it blossoms in salvation. It is the seed of faith, given by God for you to believe his power to heal our pain. Instead of a root of bitterness, we can thrive from the roots of future spiritual fruit, a branch of which is a newfound joy in the face of pain and trial.
Get a FREE eBook to strengthen your family discipleship!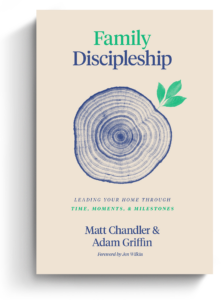 The back-to-school season is stressful for moms and dads. New rhythms of school, sports, and other extracurricular activities can quickly fill up a family's already busy calendar. Where do busy parents look for resources on discipling their family well? Aside from prioritizing church, what else can Christian parents do to instill healthy spiritual habits in their household?
Matt Chandler and Adam Griffin cover these questions and more in Family Discipleship: Leading Your Home through Time, Moments, and Milestones. And we're excited to offer this book to you for FREE as an eBook today.
Click on the link below to get instant access to your FREE Family Discipleship eBook now!