Earlier this month we gathered in Orlando, Florida, for The Gospel Coalition 2015 National Conference, titled "Coming Home: New Heaven and New Earth." More than 6,000 from 50 states and 50 countries came together to consider the theme of our eternal home. In addition to our conference attendees, more than 26,000 joined us through livestream from all 50 states and 137 different countries. Four live translations conveyed the conference message in Spanish, Portuguese, French, and Mandarin. Now all TGC15 media—9 main plenary sessions and more than 50 workshops—are available online. All of this content is free, and we encourage you to share it.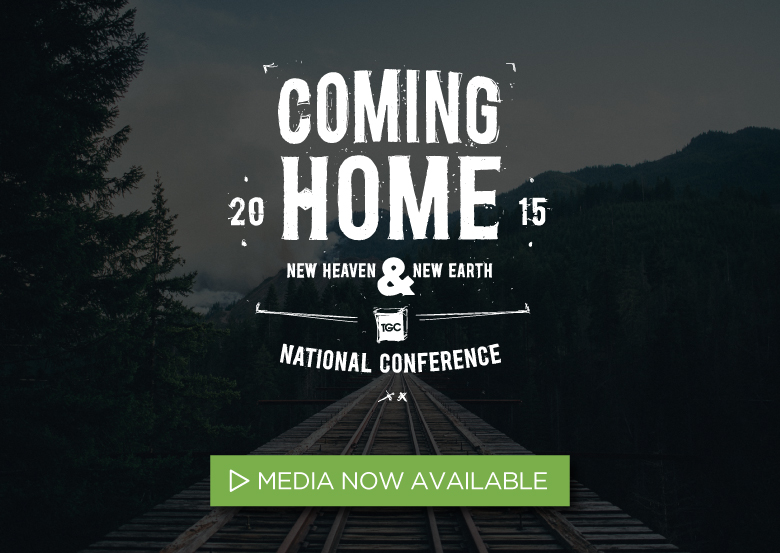 Among several reasons given for the conference theme, TGC president Don Carson reminded us that eschatology "is a doctrine we are in danger of downplaying too much." He continued,
If in other decades many Christians fought ferociously for the particulars of specific eschatological interpretations, we find ourselves in the opposite danger: for the sake of peace, we ignore passages and themes that show us how to live with eternity's values in view. The result is that many Christians live their lives with only the vaguest notions of "the blessed hope."
As TGC's confessional statement affirms, we believe in the restoration of all things when Christ returns:
On that day the church will be presented faultless before God by the obedience, suffering and triumph of Christ, all sin purged and its wretched effects forever banished. God will be all in all and his people will be enthralled by the immediacy of his ineffable holiness, and everything will be to the praise of his glorious grace.
We eagerly long for that day to arrive and hope that our brief time together kindled even more of that desire. Through times of worship, prayer, fellowship, and instruction, we sought to reaffirm the Bible's teaching on eschatology and declare in word and song with joyful hope that Jesus is returning soon. As Sandra McCracken reminded us in our TGC15 anthem, we look forward to the day when "we will feast in the house of Zion / we will sing with our hearts restored / he has done great things, we will say together / we will feast and weep no more." Whether you listen or watch these sessions again or for the first time, we pray that the Lord would multiply these resources into blessing—that many would have a renewed commitment to holy living by which we hasten the day of the Lord (2 Pet. 3:11–12) even as we pray, "Come, Lord Jesus!" (Rev. 22:20).
Spanish Pre-Conference
Before the national conference, TGC also held its first ever Spanish pre-conference. With more than 700 in attendance and more than 8,000 more joining via livestream from all over Latin America and elsewhere, we were gladly surprised and thankful for such interest among Spanish speakers.
Those of us in the English-speaking world at times take for granted the spread of gospel-centered theology, particularly in North America, and the wealth of theological resources readily available online and in print. But such is not the case in the Latin American context heavily steeped in prosperity theology and Roman Catholicism. We pray this conference may be used by the Lord to stir revival in the Spanish-speaking church.
For those interested, media for the Spanish preconference is available here, and make sure to visit TGC Spanish site, Coalición por el Evangelio.