Around the Web
Terrorist Attack on Satirical Magazine in Paris
On Wednesday morning, two gunmen wearing black hoods and carrying Kalashnikovs killed twelve people, including two police officers, and seriously wounded several others in an apparent terrorist attack on the offices of a French satirical news magazine that had published cartoons of Muhammad, the founder of Islam.
The two gunmen and a getaway driver escaped after killing  a police officer. The driver turned himself in but the killers are currently on the loose and being hunted by French police.
Here are a few answers to questions about the attack:
Why is it assumed to be a terrorist attacks by Muslims?
In an eyewitness video of the attack, the gunmen are heard shouting "Allahu Akbar" ("God is great") while the shootings took place.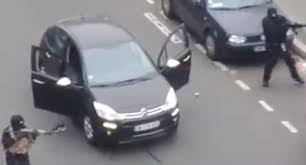 According to a video shot from a nearby building and broadcast on French TV, one of the men shouted in French, "Hey! We avenged the Prophet Muhammad! We killed Charlie Hebdo."
The attack is believed to be in response to a recent tweet by the publication of a cartoon of Abu Bakr al-Baghdadi, the leader of ISIS, with the caption (in French): "Best wishes, by the way."
France has raised its terror threat level following the shooting.
What is Charlie Hebdo?
Charlie Hebdo (French for Charlie Weekly) is a French satirical weekly newspaper that is left-wing and antireligious; the publication has a history of mocking Judaism, Christianity, and Islam.
The magazine published the Danish cartoons of Muhammad that sparked Middle East riots in 2005, renamed an edition "Shariah Hebdo" (listing Islam's prophet as its supposed editor-in-chief), and repeatedly caricatures Muslims and their beliefs.
The magazine's office was firebombed in 2011 after its "Shariah Hebdo" edition, and France was forced to close its embassies and schools in 20 countries in 2012 after the magazine published cartoons of Muhammad.
A cartoon released in this week's issue and titled "Still No Attacks in France," had a caricature of a jihadi fighter saying "Just wait — we have until the end of January to present our New Year's wishes."
How did the terrorists escape?
After shooting a police officer, the gunmen escaped by hijacking a carto use as a getaway vehicle. They later abandoned that vehicle and hijacked another car at gunpoint.
Who are the terrorists?
Police in France are searching for two French nationals, brothers Said Kouachi, age 34, and Chérif Kouachi, age 32. Hamyd Mourad, age 18, turned himself in to police in northeastern France, an official at theParis prosecutor's office said.
The brothers were known to France's intelligence services because Chérif was convicted of terrorism in 2008 for ties to network that sends radical fighters to Iraq. His lawyer confirmed Thursday that police tracked down the identities of the brothers because one left his ID behind in a getaway car.
The French newspaper Libération described Chérif as an orphan whose parents were Algerian immigrants. He was raised in foster care in western France and trained as a fitness instructor before moving to Paris, where he lived with his brother Said in the home of a convert to Islam. He held menial jobs, working at times as a pizza delivery man, shop assistant and fishmonger.
When Chérif was brought to trial in 2008 his lawyer portrayed him as an "occasional Muslim" who smoked marijuana and listened to rap music when not attending classes on jihad.
What has been the response by the U.S. government?
Secretary of State John Kerry released a videotaped statement in which he said:
They may wield weapons, but we in France and the United States share a commitment to those who wield something that is far more powerful — not just a pen, but a pen that represents an instrument of freedom, not fear. Free expression and a free press are core values. They are universal values. Principles that can be attacked but never eradicated because brave and decent people around the world will never give in to the intimidation and terror that those seeking to destroy those values employ.
Quick Takes
• Doubt, in Scripture, can be either a virtue or a vice, says J.D. Greear. Zechariah and Mary are excellent examples of the two kinds of doubt—proud doubt and humble doubt.
• Free counseling, a theologian on call, and 8 other great things about having a pastor dad.
• Jesus may have been tried here: Archaeologists uncover Herod's palace
• If God is good—and can do only good—but Satan is evil, then who created Satan?
(For even more links, see the "Remainder Bin" at the end of this post.)
Featured TGC Articles
New Year's Resolutions: Aim For Godliness and God's Glory | Christina Fox
If you are making resolutions for yourself this year, consider reading those of Jonathan Edwards.
Must All Regulative Principle Churches Look The Same? | Trip Lee
Trip Lee considers whether the regulative principle flattens diversity among churches.
To Quit or Not To Quit When Kingdom and Corporate Goals Conflict | Dan Doriani
Disciples need to know how to act with integrity, to remain holy in unholy places. The story of redemption includes instructive stories.
The Most Important Neglected Prayer | Drew Hunter
One of the most well-known prayers in the Bible is the first line of the Lord's Prayer. But what does it actually mean to pray for God's name to be hallowed?
4 Ways to Win the Battle Against Busyness | J.D. Greear
Busyness is potentially soul-destroying. The Bible points us to a more soul-satisfying way.
Featured TGC Contributor Articles
The Law of Moses and the Christian: A Compromise | Justin Taylor
A Q&A summary with David Dorsey's essay, "The Law of Moses and the Christian: A Compromise," JETS 34 (1991): 321-34.
7 Reasons Not to Worry | Kevin DeYoung
Is there a sin nice, middle-class Christians commit more than the sin of worry?
Would You Skip Church for Football? | Trevin Wax
I know pastors who are discouraged by diminishing attendance at worship services. As Thom Rainer recently pointed out, an active church member 15 years ago attended church three times a week. Now it's three times a month.
Letters to a Young Protestor, 5: The Conscience and Racism | Thabiti Anyabwile
How are things since we've last written? Are you doing well in class? How are your friendships? Catch me up on your life outside the protests. I assume you have one! You've heard it say, "All work and no play makes Jack a dull boy." Well, "All protest and no play makes Niecie a bitter girl"! Don't forget it.
Church membership | Ray Ortlund
"We have in our day started by getting the whole picture upside down. Starting with the doctrine that every individual is 'of infinite value,' we then picture God as a kind of employment committee whose business it is to find suitable careers for souls, square holes for square pegs."
A Prayer for Turning from Self-reliance to Dependence on God | Scotty Smith
We do not want you to be uninformed, brothers and sisters, about the troubles we experienced in the province of Asia. We were under great pressure, far beyond our ability to endure, so that we despaired of life itself.
Congregations Have Wish-Dreams Too | Jared C. Wilson
I think Bonhoeffer's words are quite sobering and every pastor ought to consider them well. Idolatry is never far from us. From any of us.
Coming Next Week at TGC
How to Break Up to the Glory of God | Deepak Reju
Deepak Reju provides counsel on how to break up with someone in a God-honoring way.
Love the Church More Than Its Health | Jonathan Leeman
Jonathan Leeman explains the danger of loving the idea of a healthy church more than the church God has placed us in.
Not All Vocational Pursuits Are Equal | Amy L. Sherman
Amy L. Sherman calls us beyond the sacred-secular divide, challenging church leaders to encourage their congregants to pursue vocations that really matter, that really meet the needs of this broken world.
Upcoming Events
Albuquerque Regional Conference (March 20-22, 2015)
Assembled Under the Word: Preaching and Christ. Speakers include Alistair Begg, D.A. Carson, and David Helm.
2015 National Conference (April 1-15, 2015)
Heading Home: A New Heaven and a New Earth. Speakers include Tim Keller, D.A. Carson, John Piper, Mark Dever, Voddie Baucham, Philip G. Ryken, Ligon Duncan, and many others.
Remainder Bin
Violent Criminals Believe Their Actions are Morally Necessary
Natalie Shoemaker, Big Think
Some people commit heinous acts of violence against one another. We're led to believe that these wife beaters, murderers, and gang bangers all lack a moral compass to guide them through life, which is why they do what they do. But two anthropologists from UCLA and Northwestern University say this assumption is wrong. In fact, these people think that what their actions are virtuous and morally necessary.
Cluster of Concerns Vie for Top U.S. Problem in 2014
Lydia Saad, Gallup
In 2014, four issues generated enough public concern over enough months for at least 10% of Americans, on average, to identify each of them as the nation's most important problem. Complaints about government leadership — including President Barack Obama, the Republicans in Congress and general political conflict — led the list, at 18%. This was closely followed by mentions of the economy in general (17%), unemployment or jobs (15%) and healthcare (10%).
Does CNN really have a video ready for the apocalypse?
BBC
"CNN, once ever so thorough in its fact-checking, knew that the last employee alive couldn't be trusted to make a call as consequential as one from the Book of Revelation," Ballaban writes. "The end of the world must be confirmed."
Bioethics
Utah's Abortion Rate Drops to Lowest Level Ever Recorded
Associated Press
Utah's abortion rate has dropped to the lowest level ever recorded, and there are differing opinions as to why. The rate fell to 4.6 abortions per 1,000 women in 2013, down from a high of 11.1 in 1980 and 7.2 in 1975, when the state began keeping statistics, according to the Utah Department of Health.
Doctors Killed His Mom Because She Was Depressed. Now He Speaks Out Against Euthanasia.
Kelsey Harkness, The Daily Signal
Just weeks ago, the world watched as Brittany Maynard, a 29-year-old woman with terminal brain cancer, followed through on her vow to take her own life. After receiving a prognosis of six months to live, Maynard and her husband moved from San Francisco to Portland, Ore., where it was legal to obtain a prescription that would allow her to die when she chose.
Flirting with Death
Richard M. Doerflinger, Public Discourse
Did New Jersey's Assembly approve an assisted suicide bill without understanding it? The bill is bad public policy, shot through with dangerous loopholes and contradictions that threaten to push many vulnerable citizens of New Jersey toward death.
The High-Tech Future of the Uterus
Katherine Don, The Atlantic
Following the recent success of the world's first uterus transplant, scientists are pursuing the new frontier of the bioengineered womb.
Texas Abortion Clinic Rules Tested in Appeals Court
Erik Eckholm, New York Times
Lawyers for abortion clinics squared off with Texas state attorneys in a federal appeals court here on Wednesday, arguing over the constitutionality of stringent abortion clinic rules that would force more than half the remaining abortion providers in Texas to close.
Christianity and Culture
Study suggests faith influences one's opinion about space exploration
Dennis Sadowski, Catholic News Service
How people value space exploration may just depend on someone's particular faith. An analysis of the results of several national surveys by a University of Dayton political science professor found that Catholics are more supportive of the United States maintaining a leading role in probing the depths of space and the search for extraterrestrial intelligence than people of other faiths.
Alice Cooper, Christian: 'The World Belongs to Satan'
Michael W. Chapman, CNS News
Alice Cooper, the shock-rock megastar who makes Marilyn Manson look like a choir boy, stopped his hard-partying ways and returned to his Bible Christian roots in the late 1980s and today, still hugely popular and touring, says he isn't shy about discussing his faith, says his early songs always warned against choosing evil, and contends that the world we live in "doesn't belong to us, it belongs to Satan.
Gay Marriage Prompts Call for Clergy to Shun Civil Ceremonies
Mark Oppenheimer, New York Times
In its December issue, the conservative Christian magazine First Things published "The Marriage Pledge," by Christopher Seitz and Ephraim Radner, both Episcopal priests and theologians who teach at Wycliffe College in Toronto. The pledge commits clergy members not to sign "government-provided marriage certificates." Its online version has attracted 370 signers.
Congress is still really religious and really Christian
Domenico Montanaro, PBS Newshour
Despite a growing number of Americans who say they are religiously unaffiliated, Congress is dominated by those who identify with a religion.
Crime
Jury Selection Begins in Boston Marathon Bombing Trial
Katharine Q. Seelye, New York Times
"The name of the case is the United States vs. Dzhokhar Tsarnaev." With those words, Judge George A. O'Toole Jr. of Federal District Court here set in motion the trial of Dzhokhar Tsarnaev, who is accused of planting bombs at the 2013 Boston Marathon that killed three people and wounded more than 260.
Judge to weigh releasing grand jury record in NYC chokehold death
Jonathan Allen, Reuters
A New York judge is due to hear arguments on Monday whether to make public records of a grand jury hearing into the case of an unarmed black man killed after a policeman put him in a chokehold while arresting him for peddling loose cigarettes.
Drugs and Alcohol
Alcohol Poisoning Kills 6 Americans a Day, a Federal Report Finds
Sabrina Tavernise, New York Times
Six Americans die from alcohol poisoning daily on average, and mortality rates are highest among middle-aged men, federal health authorities reported on Tuesday.
Education
Why Religious Colleges Should Worry About This New Ruling 
Mark Bauerlein, First Things
Last month, the National Labor Relations Board issued an important ruling that promises to land in the courts. The ensuing decision may be as momentous as the Yeshiva case of 1980, which determined that tenured and tenure-track faculty members have managerial status and cannot unionize. The new ruling opens the way for more professors in post-secondary institutions to unionize, including religious schools.
Home Schooling: More Pupils, Less Regulation
Motoko Rich, New York Times
Until recently, Pennsylvania had one of the strictest home-school laws in the nation.
Study Finds Reading to Children of All Ages Grooms Them to Read More on Their Own
Motoko Rich, New York Times
Cue the hand-wringing about digital distraction: Fewer children are reading books frequently for fun, according to a new report released Thursday by Scholastic, the children's book publisher.
Family Issues
Children in Single-Parent Families Are More Likely to Witness Domestic Violence
Nicholas Zill, Family Studies
Family structure better predicts whether a child will witness family violence than parental education or income.
#YesWomenAndChildren Are Safer Within Intact Marriages
W. Bradford Wilcox, The Federalist
New evidence continues to indicate that the best shelter against domestic violence is a healthy marriage.
Health Issues
10 Things You Should Never (Ever) Say to Someone with Cancer
Margaret Feinberg, OnFaith
Here are some ill-advised things people have said to me as I've been battling cancer.
International Issues
Happiness on the rise globally, survey finds
BBC
The market research and polling organisation WIN/Gallup found that 70% of respondents were content with their life – a 10% increase from last year.
Libya violence: Militants kidnap Coptic Christians in Sirte
BBC
Masked gunmen in northern Libya have kidnapped 13 Coptic Christian workers from Egypt, just a week after seven others were abducted.
What Christianity Contributes To China's Economic Rise 
Brian J. Grim, First Things
What has fueled China's remarkable economic growth that has lifted more than 500 million people out of abject poverty and positioned it to become the world's largest economy?
Europe's Empty Churches Go on Sale
Naftali Bendavid, Wall Street Journal
Hundreds of Churches Have Closed or Are Threatened by Plunging Membership, Posing Question: What to Do With Unused Buildings?
Marriage Issues
Improving the Case for Marriage
Ahsley McGuire, Family Studies
How can we advocate for marriage without condemning those who have had children outside of it?
Sexuality Issues
How The Transgender Lobby Is Using A Teen's Death 
Carl R. Trueman, First Things
The suicide of the transgender teen, Leelah Alcorn (I use the child's name preference), has proved a source of much internet anger and outrage over the last week. Alcorn had apparently identified as a girl from age fourteen. The parents were Christians and both refused to recognize their child as a girl and sent him to some form of therapy. The result was heartbreak all round: In despair, the child killed himself and the parents are now bereaved.