Later this month at our 2014 women's conference (#TGCW14) about 4,000 women will learn from excellent Bible teachers on our theme "God's Word, Our Story: Hearing from Nehemiah." But we don't want the learning to stay in Orlando. We hope women will return home excited to teach other women. To help them and anyone else who wants to join in, we've published a new eight-week Bible study curriculum on Nehemiah. Authored by TGC's director of women's initiatives, Kathleen Nielson, along with co-founder and president D. A. Carson, this study is designed to take small groups deep into this significant Old Testament book. Our publishing partner, LifeWay, says of the study: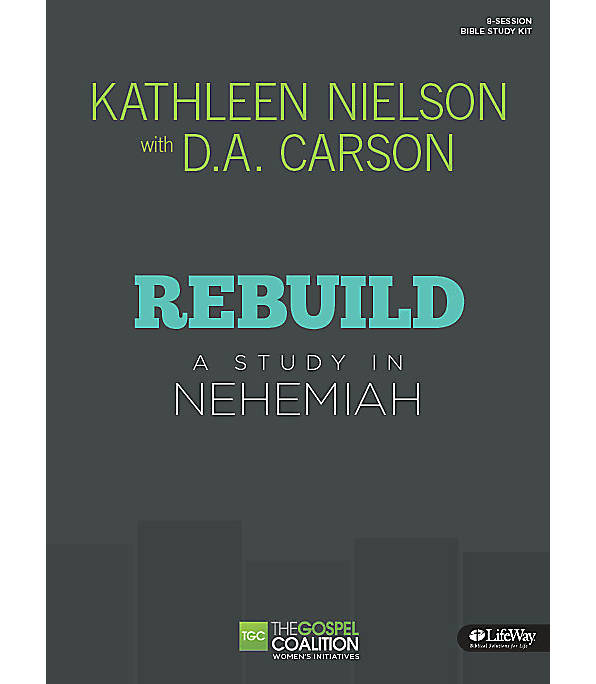 Rebuild: A Study in Nehemiah takes us into a compelling story. The Book of Nehemiah tells of God's people returned from exile and rebuilding the broken-down city of Jerusalem. More than that, it tells of God's people being rebuilt according to his Word. As we watch the leader Nehemiah direct the rebuilding, we're watching the Lord God direct history according to his promises—all of which were fulfilled in the promised Christ who came from this people's seed. This study of Nehemiah helps us understand our history as believers in Jesus Christ. It helps us learn to walk in faith according to God's Word, even in times of weakness and rebuilding. Eight lessons draw us into the text, giving background and asking questions that lead us to make fruitful and personal observations. This product features:
Small-group experience for eight sessions
Teaching segments from Kathleen Nielson, Nancy Guthrie, and D. A. Carson
Personal study segments
Leader kit includes one member book and two DVDs
Watch Carson preview the project below. You can also view sample teaching segments and purchase Rebuild here.
Carson Previews New Bible Study on Nehemiah from The Gospel Coalition on Vimeo.