So neither he who plants nor he who waters is anything, but only God who gives the growth. He who plants and he who waters are one, and each will receive his wages according to his labor. For we are God's fellow workers. You are God's field, God's building. (1 Cor. 3:7–9 ESV)
This passage from Corinthians has always spoken deeply to me, and it describes so well the kind of grassroots effort and partnership it takes to do theological famine relief for the global church. As I look back on what God has done this past year, I'm overwhelmed with gratitude for open doors of ministry, but mostly for the wonderful people he enables us to work alongside—hundreds from all around the world. What a privilege!
We hope you will consider joining with us in this effort in 2015 through Packing Hope, through supporting Relief Projects, and through Friends of TGC.
Relief Resource Development
In 2014, $165,765 was raised to fund 19 relief resources in 6 languages, totaling 43,558 resources.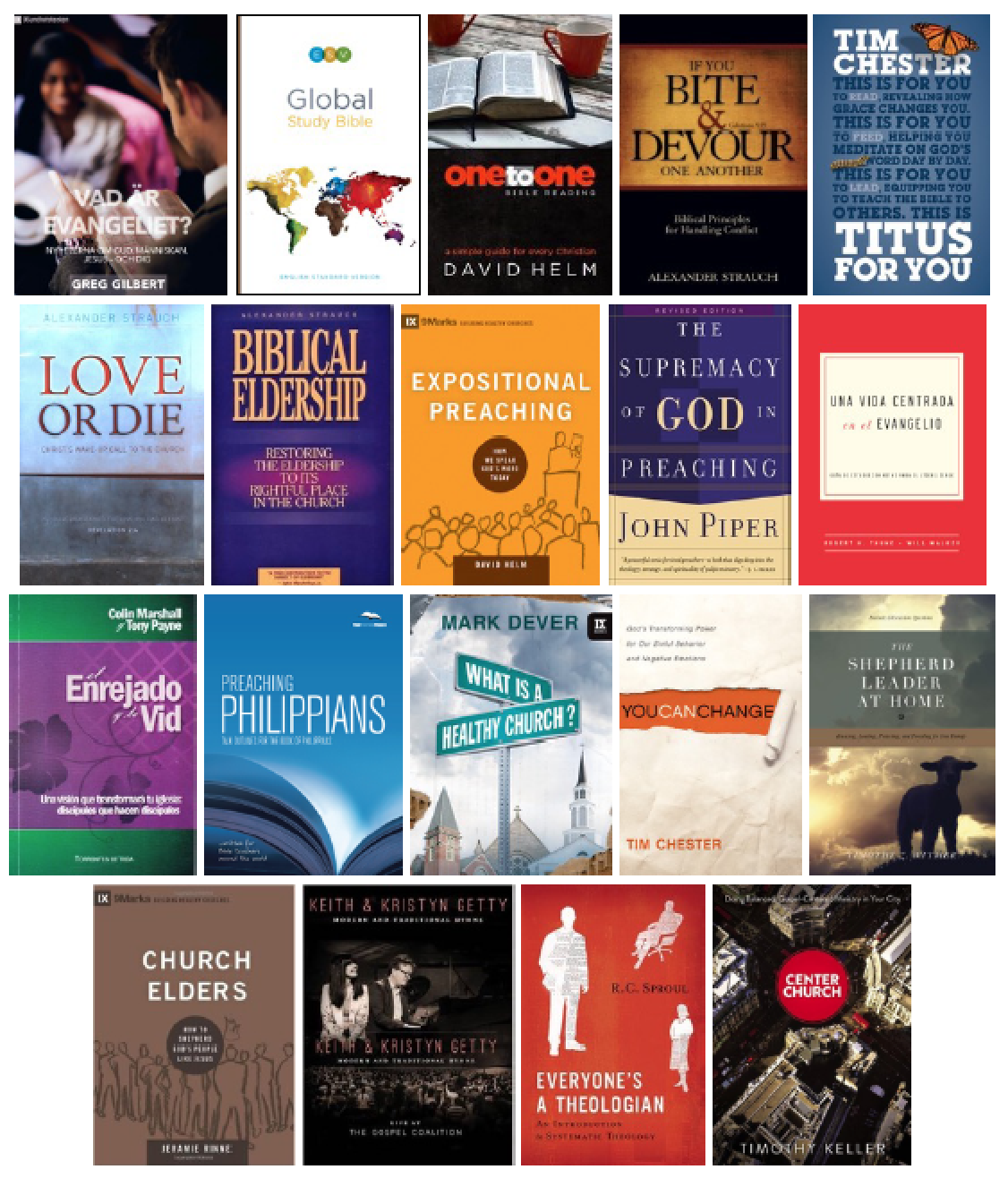 Relief Resource Donations and Distribution
In 2014, 385 partners distributed 92,308 resources to 79 countries.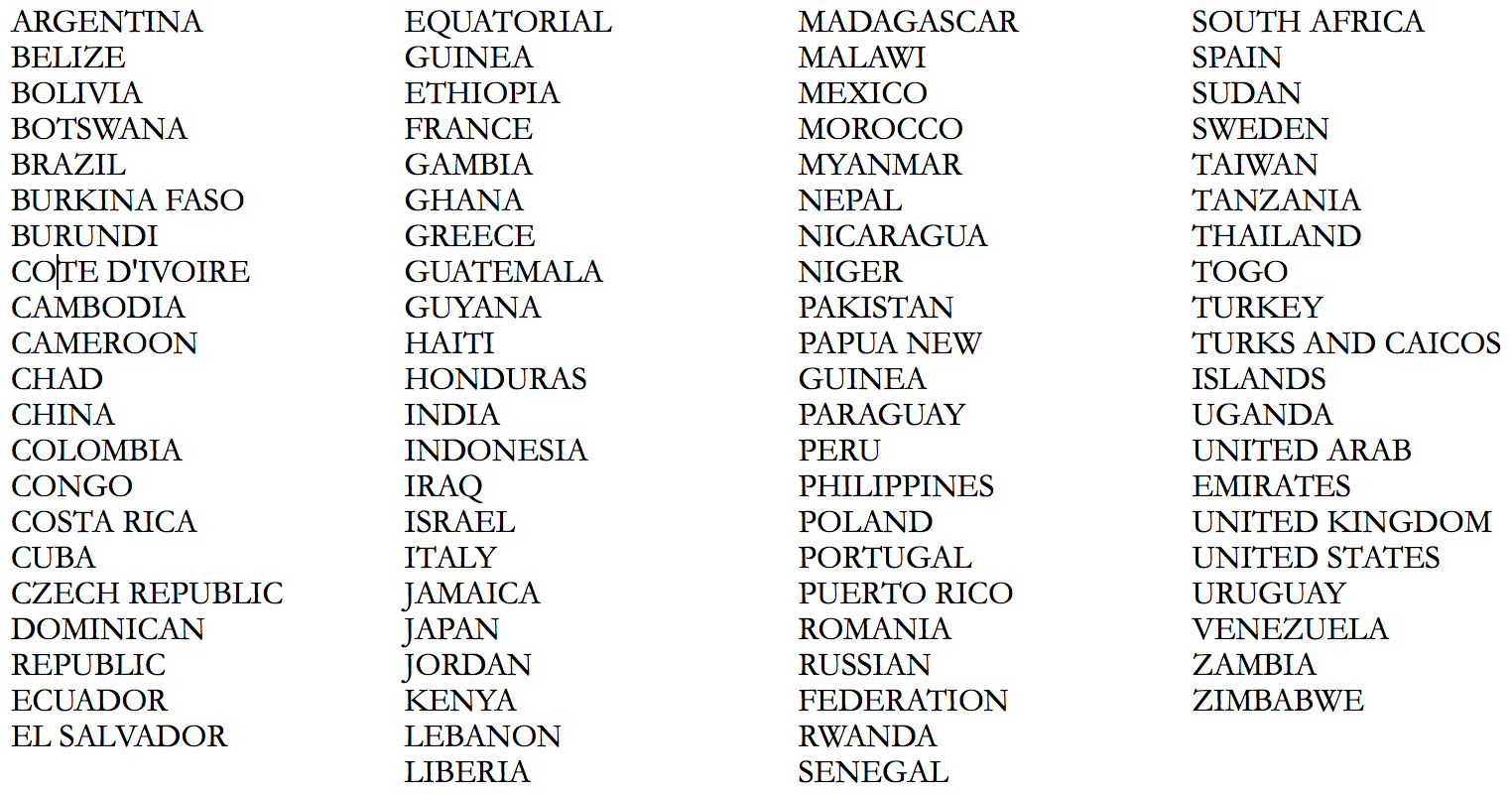 Quotes and Photos from 2014 Packing Hope Partners
Cambodia:
"I am attending a Southeast Asia region church planting conference to meet with, interview, and encourage ministry leaders from all over Southeast Asia who work in church planting in their countries. I hope this resource . . . will help the gospel of grace come alive for these church planters and church planting leaders. I long to see a rich understanding and appreciation of God's Word and his gospel inform all their church planting efforts in Southeast Asia."
Cameroon:
"I am a Wycliffe Translator coordinating a 10-village cluster project. I will personally distribute these Bibles through our pastors and colleagues. We will target pastors in the villages as well as lay pastors, often young men with high school education who can not afford to go outside the village. These Bibles will help very much in the absence of biblical/theological training and as they begin to read and use their own mother-tongue Scriptures."
China:
"We are looking for ways to help the educated Chinese have a deeper and fuller understanding of the good news. Discipleship is probably the chief missing link among the Chinese. Many mature believers aren't sure what it means to make disciples. We pray this will be used to help give them a platform to do this from."

Cuba:
"A missions team will receive and distribute the books to the local missionaries who are leading the home churches. These home churches have literally no material. So if the leaders of each group gets a copy, he or she will use it to teach their members."
Ecuador:
"We are working hard on grounding people in solid theological resources. Ecuador is attacked by poor doctrine that affects the lives of real people. We hope these books will be of help as we continue to disciple and mentor."
France:
"We will distribute these books among networks of believers in the region whose ministry focus is North Africans from a Muslim background. We hope to encourage leaders, congregation members, and new believers in that area."

Gambia:
"I will be in Gambia teaching a course on the book of Acts to local pastors and other Christian workers. I will personally give these resources to the pastors I'm teaching. There are not enough good theology books available to these men in Gambia. In a country where less than 1% of Christians are evangelical, it's imperative that they get solid resources into their hands."
Guyana:
"Guyana is the third poorest country in South America, and the acquiring of good Christian material is hard to come by—especially for ministries not externally funded. These resources will aid local pastors and other leaders to be better teachers and preachers of the gospel."
Honduras:
"I will give this resource to the missionaries here to give to the other church planting pastors to use in the communities they're working in. The theology here in Honduras is very legalistic and/or Pentecostal, so my great hope is that people would come to grasp the gospel of grace through this resource and begin to become church communities who live out that gospel together."

Iraq:
"We will hand to leaders and distribute to lay leaders throughout the local Myanmar church body that remains in northern Iraq. We want them to have a better understanding of the finished work of Christ and why he came to sacrifice himself on our behalf for the glory of God."
Japan:
"The evangelical Christian population in Japan is 0.25%. Our ministry focuses on finding and reaching out to the younger generation since, once the current generation of believers passes away, there will be no church. I hope the distribution of the ESV Global Study Bible will spark a passion for the global exaltation of Christ and fellowship with churches from all nations."
Jordan:
"We are long-term field missionaries working with the local church in evangelizing and discipling Muslim-background believers in Christ. We will give these resources to students in Bible studies, to the interested church members, and to the young guys we disciple from Muslim backgrounds. We long to see the guys in our church have good, edifying materials for study and growth."

Kenya:
"Though the majority of people in Nairobi call themselves Christians, the majority don't know what the true gospel is. Most churches aren't solid and are simply preaching a prosperity gospel. These books will help explain that true salvation that comes through understanding the true gospel. We will use these to disciple the students we meet with."
Madagascar:
"Mercy Ships will be serving in Madagascar for the next eight months. I've reached out to missionaries associated with the Africa Inland Mission (AIM) based in Madagascar for help with distribution. I hope AIM will be able to use these in their ministry to train and develop theologically sound Christian leaders across the country."
Morocco:
I am a missionary serving in Morocco, North Africa. We work with a group of house churches of new converts from a Muslim background. I would like the men I'm discipling in ministry to read and use this book. I also hope to see the believers in the local house churches able to answer those who doubt Christ died on the cross."
Nicaragua:
"We are working in pastoral support, earthquake relief, and church planting. These resources will go to local pastors for use in their own theological growth and to lead congregations in spiritual growth. Each year we've brought theology books for the local churches, and when we go back to them a few months later the earmarked, highlighted copies have been passed on to other pastors."

Pakistan:
"The books will be distributed by local pastors in Baluchistan. We are attempting to reach the Baloch people with the gospel. The people are Muslim and we hope to see converts, church plants, and large numbers eventually converted to Christ."
Poland:
"We are conducting pastor training in Poland in the cities of Warsaw and Katowice. English is commonly spoken and written throughout Europe but the availability of conservative theological books is very limited. Pastors and church planters need these materials for ongoing education. The impact will be felt in the churches by better trained, more thoughtful leadership."
Rwanda:
"We want to equip local pastors with biblical resources and facilitate a pastors' conference focusing on the gospel in all of Scripture. We are going to a very underresourced region of Rwanda where access to theology and books is virtually impossible. These will provide a great start to a developing library for local pastors. We will distribute them to local pastors of churches who will then use them as discipleship tools for their flock."
South Africa:
"Pastors in Zululand do not have libraries, Internet, or even electricity to help them with ministry and teaching in their churches. Books are still their primary resource, and we take books and training materials to them and teach them God's Word and good ministry practices."