TGC Canada is pleased to announce the launch of our website. For a number of months, we've been working to line up contributors and gather content specific to the Canadian experience.
It seems fitting that we've realized this goal just before Canada's 150th birthday. We're excited to share a bit about the history behind TGC Canada's website and why we're so excited to have reached this milestone in our growth.
History
Over the years, Canadians have benefited greatly from the gospel-centered resources our friends from the south have provided through articles, audio, conferences, and books on The Gospel Coalition website. Those resources influenced pastors and leaders throughout Canada, some of whom desired to see the same thing happen here. Following this desire, in March 2016, a number of pastors met together in our nation's capital, Ottawa, to discuss forming a national Gospel Coalition.
The founding pastors of TGC Canada wanted to form a distinctively Canadian coalition to meet the needs of our context. They felt starting a Canadian website would be an important step in promoting this Canadian coalition.
Work soon began on the website. A team of volunteer editors started joining TGC Canada in late 2016. For about seven months, this growing team of volunteers has met regularly to discuss article ideas and find authors to produce fresh content.
Our goal is to provide Christians with gospel-centered material. Through our publications, we hope to spiritually encourage Christian leaders and laypeople and speak peace into controversy.
Why a Canadian Site?
Canadians benefit from the material being published from the States, but we're also aware of the need to publish for Canadians. Our two countries are both close allies and a world apart in many ways.
The challenges the U.S. church faces aren't always the same challenges the Canadian church faces. We want to provide a Canadian voice that will speak to Canadian issues and resonate with residents of our country.
We're also a bilingual nation, which means articles only in English are insufficient to meet the needs of many Canadians. To meet those needs, we hope to provide some of our material in French.
Overview
The main TGC Canada page will gather articles from many different Canadians touching on a wide range of topics with, of course, a gospel focus. In addition to publishing articles from our main page, we'll host a number of blogs.
SOLA's blog will house many of our French-language articles. A group of volunteers led by Jean-Cristophe Jasmin has been working to produce gospel-saturated material in the French language for a French-Canadian context.
We also have three blogs hosted by TGC Canada Council members:
Paul Carter's blog is called Ad Fontes, and his goal is to "facilitate conversations about the Scriptures in an effort to stir up renewal and reformation in the church."
Clint Humfrey's blog is called Cowboyology. Clint is a pastor from Calgary, Alberta, and as the blog title suggests, Clint brings a western flavour to TGC Canada's website.
Michael Haykin will run a blog called Bede's Wall, which will focus primarily on church history, including Canadian church history.
We'll also host two podcasts. The first is a daily Bible podcast called Into the Word, where we will go chapter by chapter through the Bible so that you can hear and learn about Scripture on your commute or whenever you want to listen in. The second is a TGC Canada podcast, where we hope to draw from the voices of Christian leaders across our country.
How to Get Involved
There are a number of ways you might consider responding to this announcement.
1. Follow us
We need all the help we can get to spread the word about the launch of TGC Canada's website. We hope you'll visit us at canada.thegospelcoalition.org and follow us on Twitter and Facebook.
2. Write for us.
If you're a Canadian or simply want to write for a Canadian context, please reach out to us at tgccanada [at] gmail.com. I would love to speak with you.
3. Connect with us.
If you're a pastor or church leader and want your church to be connected with TGC Canada, please email me at tgccanada [at] gmail.com.
4. Support us.
TGC Canada is funded by churches and individuals. If you feel led to support us financially, please follow this link to learn more.
5. Pray for us.
Without prayer, we don't have a hope. Please join with us as we pray for Canada. We want to see the gospel of Jesus Christ proclaimed from coast to coast to coast. Pray for TGC Canada as we labor to help foster gospel renewal in our nation.
My last words are words of thanks to our friends at TGC USA who have shouldered the financial burden of developing our website (and a special thanks to the developers too!). We appreciate all you do, and we look forward to partnering with you and the various international Gospel Coalitions in even more ways in the future.
If you have any other questions or comments, please reach out to me, Wyatt Graham, at tgccanada [at] gmail.com.
Get a FREE eBook to strengthen your family discipleship!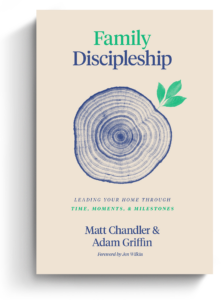 The back-to-school season is stressful for moms and dads. New rhythms of school, sports, and other extracurricular activities can quickly fill up a family's already busy calendar. Where do busy parents look for resources on discipling their family well? Aside from prioritizing church, what else can Christian parents do to instill healthy spiritual habits in their household?
Matt Chandler and Adam Griffin cover these questions and more in Family Discipleship: Leading Your Home through Time, Moments, and Milestones. And we're excited to offer this book to you for FREE as an eBook today.
Click on the link below to get instant access to your FREE Family Discipleship eBook now!