Editors' note:
Issues such as poverty, HIV/AIDS, consumerism, and child sex trafficking that are crying for justice in a broken world affect evangelistic efforts. TGC turned to four leaders and asked: How do Christians work for justice in the world and not undermine the centrality of evangelism? Mike Wittmer responds today. He was preceded on Monday by Don Carson, on Tuesday by Ray Ortlund, and on Wednesday by Russell Moore.
Everything hinges on how we answer the question, "Why justice?" or "Who is justice for?"
We fight for justice in part because we want to stop the perpetrators of evil and violence. This is why the most satisfying part of a Chuck Norris movie is the last ten minutes, when the smirking gangster takes a boot to the face.
A better answer, especially for pacifists, is that we seek justice to help the victims of oppression. We care about the widow being scammed by a conniving contractor and we grieve for children who are forced into prostitution or maimed to enhance their begging.
But the best—and only Christian—answer is that we seek justice not only to pay back the perpetrators and to rescue the oppressed but because we love Jesus Christ. No one weeps over injustice like Jesus (nor has anyone been treated so unjustly), and he has been taking names for a very long time. Unlike Chuck Norris, who returned each week to battle new bad guys, Jesus will return to settle things once and for all. He will "set the world to rights" (see N.T. Wright), for his words will become swords that "strike down" evildoers and he "will wipe every tear" from the eyes of his suffering children (Rev. 19:15; 21:4).
We are committed to justice because it matters to Jesus. But if we fight for justice for Jesus' sake, we will never be satisfied with justice alone. We will not rest until every perpetrator and victim bows before his name, the returning King who gave his life so every unjust person who repents and believes in him may live forever.
This requires evangelism, and it flows naturally from the Christian passion for justice. If justice is primarily about Jesus, we will eagerly tell others about their need for him. If we forget Jesus, it won't be long until we also lose our passion for justice. For without the promise of his glorious return, really, what's the point?
Get a FREE eBook to strengthen your family discipleship!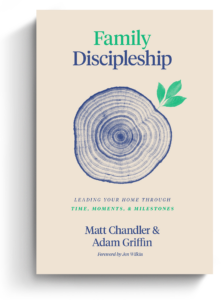 The back-to-school season is stressful for moms and dads. New rhythms of school, sports, and other extracurricular activities can quickly fill up a family's already busy calendar. Where do busy parents look for resources on discipling their family well? Aside from prioritizing church, what else can Christian parents do to instill healthy spiritual habits in their household?
Matt Chandler and Adam Griffin cover these questions and more in Family Discipleship: Leading Your Home through Time, Moments, and Milestones. And we're excited to offer this book to you for FREE as an eBook today.
Click on the link below to get instant access to your FREE Family Discipleship eBook now!