More than 200 years ago, English pastor and hymnwriter John Rippon penned these words: "How firm a foundation, ye saints of the Lord / Is laid for your faith in his excellent Word."
Christians are people of the Book. The Scriptures are our supreme authority for faith and practice—determining what we should believe and how we should live. As TGC's foundation documents confess:
God is a speaking God who by his Spirit has graciously disclosed himself in human words. . . . [Scripture] is complete in its revelation of his will for salvation, sufficient for all that God requires us to believe and do, and final in its authority over every domain of knowledge to which it speaks. . . . The Bible is to be believed, as God's instruction, in all that it teaches; obeyed, as God's command, in all that it requires; and trusted, as God's pledge, in all that it promises.
Any resource, then, that equips Christians to better understand and apply God's Word is worth considering. Especially if it offers striking efficiency.
Logos Bible Software is a treasure trove of linguistic, exegetical, historical, and theological resources that enables you to do hundreds of hours of research in minutes. With easy-to-use tools and a massive theological library, it provides an ideal opportunity to "work smarter" in the study of God's bottomless Word.
I corresponded with Kent Sanner, a specialist at Faithlife, about the unique advantages of the software, how it works, what's new about Logos 6, and more.
---
What advantages do Logos books offer over print books? Other eBook formats?
Print books stand alone and are independent of the rest of your library. With Logos, all your books are interconnected—citations and references link to sources, and you have immediate access to advanced research tools within the text. In a matter of seconds, you could move from a devotional reading into a word study, discover contextual meaning from an original language translation, and prepare to present your discoveries using one of many pre-made sermon slides.
All of these connections and inter-textual interactions happen behind the scenes. Here's what makes Logos editions powerful:
A main emphasis in this latest release of Logos was "centralizing" information— allowing broad topics of interest to be a starting point for highly focused study. "Everything Search" is the new default search. It calls up every possible result in your Logos library (even titles like "NIV"), along with online images and resources. For many people, this is going to be their first stop. Factbook parallels Everything Search in some ways but introduces new data like Cultural Concepts, media, and new datasets on Notable People and Books of the Bible.
The Psalms Explorer is a visual approach to this centralization. You'll be able to browse the Psalms, organize them in helpful ways, and see the structure of the Hebrew poetry.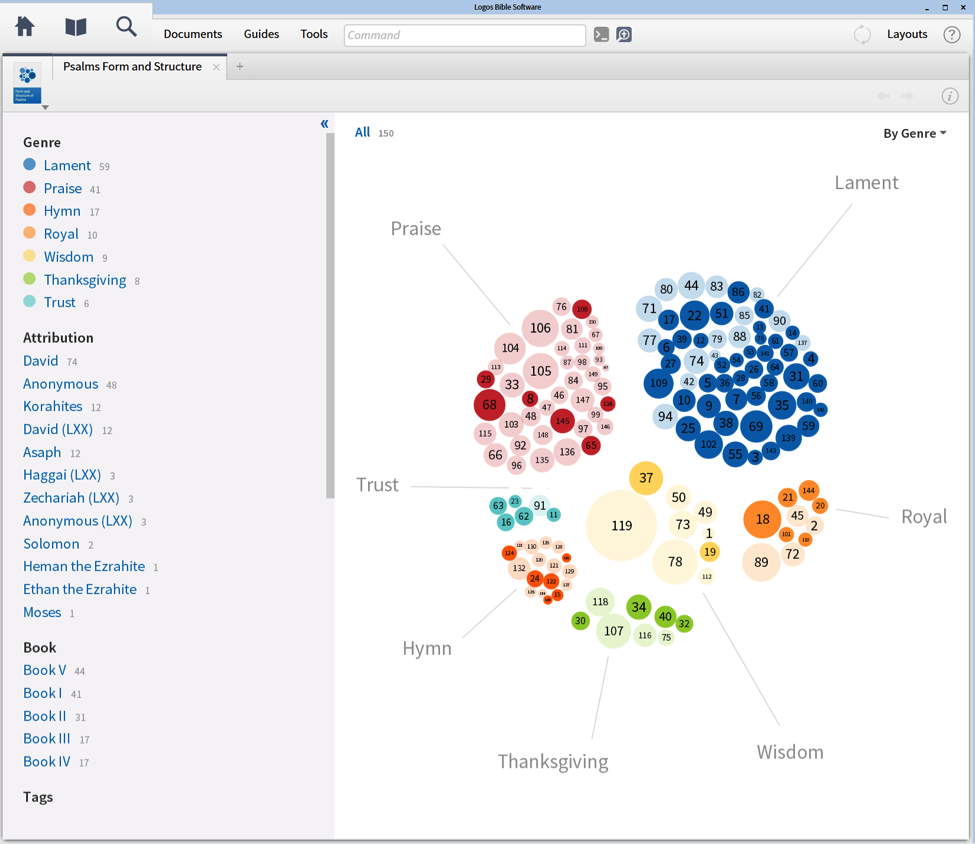 There's a whole host of interactive media new to Logos 6, including Interactive Infographics, Before and After artwork, and Language and Textual Analysis tools. Here, Mike Heiser, director of content innovation, walks you through the new architecture of Logos 6:
---
What's the most distinct feature of the Logos biblical language tools? 
Logos offers a wide range of language tools that meet the needs of the motivated layperson, Greek and Hebrew scholar, and anyone in between. The Textual Variant tool gives you instant access to your textual commentaries, apparatuses, modern editions, ancient versions, manuscripts, and transcriptions, allowing you to do all of your text critical research in one place. With the Word Sense tool, you can expose the semantic range for any Greek or Hebrew lemma then see where a particular meaning occurs. It's both a lexicon and concordance rolled into one. The Bible Word Study Guide tracks down occurrences of a lemma in the Bible then shows you where it appears in early Jewish and Christian source material. With Morph charts you can discover every form of a Greek or Hebrew lemma, how many times that form occurs, and where it appears in the biblical text.
---
How can I use Logos for historical and theological study?
The Ancient Literature tool (new to Logos 6) lets you study the Bible against its cultural and linguistic background by making connections between the Bible and ancient texts. You'll be able to quickly find associations between individual Bible verses and ancient source material.
The Timeline tool puts biblical and historical events side by side, giving you further perspective of how biblical events fit in with secular history. When studying a particular theology you can bounce between church fathers and modern scholarship, or read them side by side to trace its formation and roots.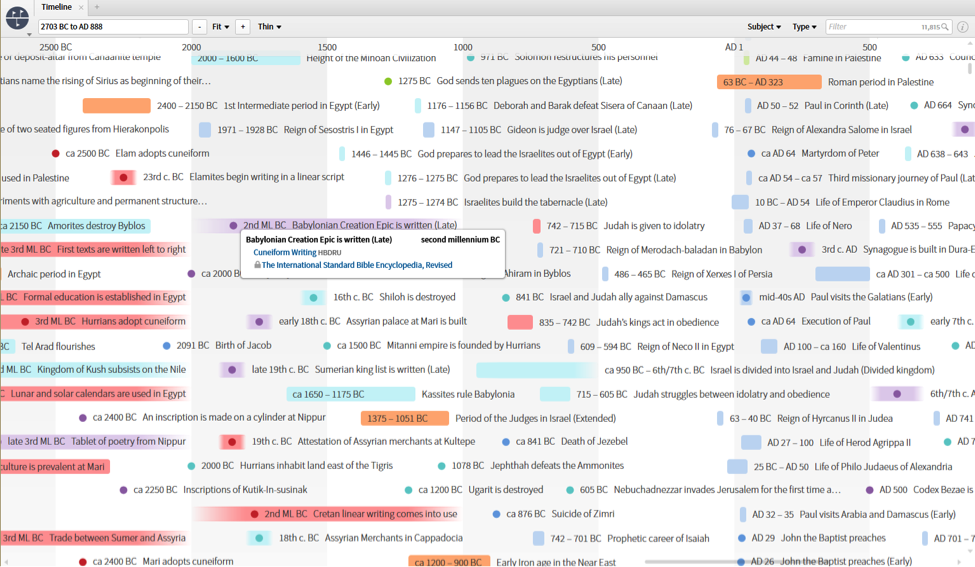 ---
How does Logos work for the user on the go? Are any features lost on mobile devices (smartphones, tablets, and so on)?
Before the launch of Logos 6 we rebuilt a huge portion of our mobile app, vastly improving performance and usability. Not every part of Logos 6 is available on your phone or tablet, but you can still do heavy lifting with Passage Guide, Exegetical Guide, Topic Guide, Bible Word Study, and Text Comparison. Any work you do from mobile will sync back to your desktop and visa versa.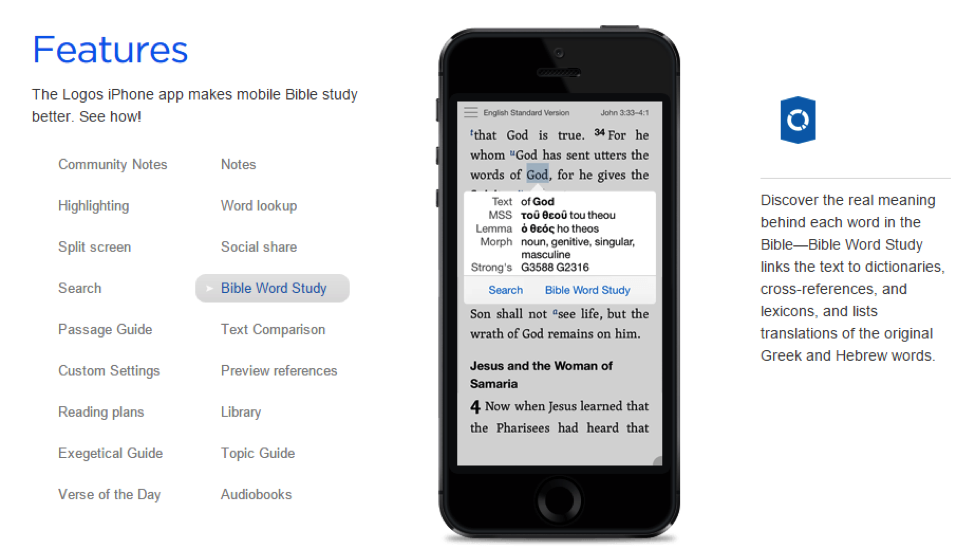 Logos does not take up gigabytes of space on your mobile device. By default, your books are stored in the cloud and accessible through any WiFi connection. You choose which resources are downloaded to your devices and made available offline (think air travel, road trips, missions work away from internet, and so on).
---
Many pastors struggle to find adequate time for sermon preparation. How can Logos help streamline the process in a more efficient manner?
There's no more searching for a book on your shelf or flipping through pages to find a reference. A quick search will populate all the most relevant information in your library. 
Perhaps one of the most difficult parts of communicating what the Bible says is understanding what the Bible means. Word choice, imagery, and concepts can all have completely different meanings in the context of ancient Judaism and early Christianity. Logos 6's new Cultural Concepts tool sheds light on more than 1,000 concepts like music, food, burial practices, traditions, and titles you find throughout the Bible. You can see what they refer to in the Bible, other verses where they appear, and how they were used in other ancient literature.
---
What makes Logos appealing for those who aren't preparing sermons each week?
Logos was designed to make better Bible study accessible. Seminary students have access to word study tools that save hours of library time, as well as a place to organize their gobs of notes (and access them from anywhere). Writers and bloggers love the auto-citation tool and shareable visuals. Logos makes original language study possible for people who have little or no background in original languages. You'll better understand the culture and context Scripture was written in, so you have a better idea of what was being communicated then, and what it means for you today.
Get a FREE eBook to strengthen your family discipleship!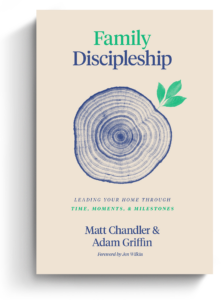 The back-to-school season is stressful for moms and dads. New rhythms of school, sports, and other extracurricular activities can quickly fill up a family's already busy calendar. Where do busy parents look for resources on discipling their family well? Aside from prioritizing church, what else can Christian parents do to instill healthy spiritual habits in their household?
Matt Chandler and Adam Griffin cover these questions and more in Family Discipleship: Leading Your Home through Time, Moments, and Milestones. And we're excited to offer this book to you for FREE as an eBook today.
Click on the link below to get instant access to your FREE Family Discipleship eBook now!