At a Christian conference center in the mountains of northern Slovakia, staff members recently shifted from hosting local families for weeklong retreats to providing emergency shelter for refugees fleeing Ukraine for the foreseeable future.
Pavel Sinko is an elder at a Baptist church in the Slovak city of Lucenec and a coordinator for the conference center in Rackova Dolina through his work with the Christian organization International Needs.
Lately, the needs have been great.
Small Nation, Sudden Shelter
A month after Russia invaded Ukraine, more than 3.6 million people have fled the war-torn country. Another 6.5 million are internally displaced inside Ukraine. Even as Ukrainians defy Russian attempts to capture their capital, Russian forces have inflicted relentless attacks. In the southeastern city of Mariupol, officials said a brutal bombardment killed at least 2,000 civilians and destroyed 80 percent of homes.
Most refugees fleeing Ukraine have crossed into Poland, though many have also fled into neighboring Romania and Moldova. More than 260,000 refugees have crossed into Slovakia, a nation of 5.4 million people suddenly finding itself on an international stage. For example, when U.S. Secretary of Defense Lloyd Austin visited Slovakia in mid-March, it was the first time an American defense secretary had visited the country in 20 years.
In early March, an 11-year-old boy drew worldwide attention after he reached Slovakia alone: The boy had traveled more than 600 miles from his home in Ukraine, sent by his widowed mother who stayed behind to care for an aging parent. He arrived at the border with a plastic bag, a passport, and a phone number written on his hand. "My hope carried me on my way," he said.
As refugees began flowing into the country, Pavel Sinko and others at his church thought about how to help. A month later, the Slovak conference center is at capacity, serving around 65 refugees—including refugees serving each other.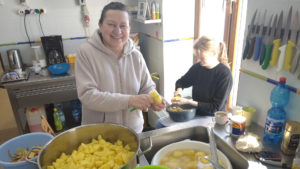 In the initial phase, many refugees passed through Slovakia to other countries, but Sinko said the next wave has been different. Some of the families he's encountered recently have nowhere else to go, and they need more than an overnight stay.
The Slovakian government has offered temporary asylum to anyone entering the country from Ukraine, and officials are working to coordinate housing arrangements for recent arrivals. But Sinko says the process can be slow, and the needs also transcend material concerns.
Grieving Loss and Giving Thanks
Some refugees need time to rest and process their escape. Others battle guilt over taking a hot shower and sleeping in a warm bed in Slovakia while many Ukrainians are still sheltering in cold basements and subway stations back home. But gratitude mingles with the grief.
During an evening prayer meeting, Sinko said a married couple described escaping the city of Bucha just before Russian forces struck. Without a basement, they had nowhere to take shelter. They feared for their disabled 13-year-old daughter, so they decided to flee. Two days later, Russians attacked the city. "Our daughter saved our lives," they said.
Another couple described themselves as "double refugees" and said they first fled home in 2014 when Russians seized portions of eastern Ukraine. They built a new home in Irpin—a city now besieged by Russian forces. A recent strike destroyed their house, but Sinko said the couple expressed peace: "The fact that they have a home in heaven has a strong and deeper meaning for them."
Most refugees fleeing Ukraine are women and children (Ukrainian officials have barred men ages 18 to 60 from leaving the country), but some of the guests at the conference center illustrate exceptions the law allows: A widower recently arrived with his two daughters. An adoptive father came with his wife and their nine children. A newlywed husband confined to a wheelchair arrived with his wife days after their wedding.
As they adjust to sudden displacement and uncertainty about the future, Sinko said the refugees have been eager to serve each other. A trained nurse helps with medical supplies, while others peel potatoes, set tables, and wash dishes. Two sisters from Kyiv help organize the refugees at the center and translate when language barriers make communication difficult.
'Government or individuals can provide housing, but refugees will need help—fellowship.'
Sinko hopes the pattern will continue. Since the conference center is isolated, Sinko and a Ukrainian contact are working on longer-term plans to settle refugees in nearby towns with access to jobs, schools, and transportation. He hopes some refugees will become coordinators for Ukrainians in the local communities where they settle: "Government or individuals can provide housing, but they will need help—fellowship."
Slovakian church members also have offered to open their homes, and Sinko expects at least 250 Baptist families from around the country to be available to assist. It's the kind of help Ukrainians may need for the longer term, and Sinko describes local Christians as eager to welcome them.
"I tell them to just be ready," he said. "We are just in the beginning."
Editors' note:
Here are some ways you can help Ukraine now.