I cringed a little when I read these words from Tim Keller's book on prayer because I understood them so well: "In the second half of my adult life, I discovered prayer. I had to." Keller lists his own reasons for what drove him there. I had my own struggles: one daughter with an illness that had ravaged her too-thin body with no specific diagnosis in sight, much less a cure. There were college bills for that same daughter, and her older sister was making plans to return to a war-torn country she loves and longs to help. There is yet another girl who is ours, but only in our hearts as we head into a third year of trying to adopt her.
Wars, illnesses, and adoptions are just a few of the things that push us beyond our limits. There we reach up to pray more often because we can't reach out to do anything else. And there I faced once more a part of praying about which God has taught me much.
I know what I want for those I love, for those situations that are causing so much pain, so I dream high and pray hard. And in the middle of pleading with the Father, I can feel my spirit rise. I can see tissues knitting together and systems responding in health before the Creator of them all. I can see the God of peace and the ruler of nations bring evil leaders to an end and peace to streets. I see the Father of all fathers who called his people to defend the cause of the oppressed bring light to a little girl in a faraway land. But inevitably, I reach the end of my dreams and my pleadings die down. And oh, how I long to stop there and say, "In Jesus's name, Amen."
But even as my words slow, I see that scene in the night, in a place made darker for the shadow of the trees as Jesus knelt before the Father and reached high for what he wanted. He went there because like us, he had to. There was no one else for him, no place else he could find hope and help. Matthew and Luke tell us he prayed the words we long to say: "Father, if it be possible . . . if you are willing . . . let this cup pass from me . . . remove this cup from me" (Matt. 26:39; Luke 22:42). That I understand. I've prayed these words again and again only to begin to dread the word that came next from our Savior: nevertheless. "Nevertheless, not my will but yours be done." I'm hardly alone in finding Jesus's words as a model of prayer.
Paul Prayed 'Nevertheless' 
When Paul prayed for the church at Ephesus, he didn't just reach up high. He reached past our understanding. He prayed they would be strengthened with power through Christ's own Spirit, that they would be able to comprehend the love of Christ that surpasses knowledge, and that they would be filled with what is incomprehensible . . . all the fullness of God. Paul ended his prayer with his own "nevertheless" in 3:20: "Now to him who is able to do far more abundantly than all that we ask or think, according to the power at work within us to him be glory in the church and in Christ Jesus throughout all generations, forever and ever. Amen."
For Paul, "nevertheless" meant acknowledging God's right and power over us and led him to the mountaintop high of far more. Paul knew that whatever God did in us, to us, through us, and for us, would be not only far more right, but also far more beautiful, would affect far more generations, than anything we could ask or even think.
Father Knows Best
So often, I can only see what I think would be best for those I love. I can picture this daughter well and strong. I can see our loved ones living in peace with their new government and the promise of stable jobs and the opportunities we take for granted. I can see my newest little girl tucked in bed at night after "one more song." In fact, I can see these so clearly that my sight of my Father dims.
I forget his power that suspends and upholds every star. I scorn the common grace in each daughter's life that shouldn't even be possible given where they are and what they're going through. I turn my eyes away from the wonder of the cross that canceled the record of debt against me, where Jesus showed his love as he bore the wrath headed toward me. I act as if I don't believe his resurrection, which gave me right of entry to even have him listen to me and which brought me into his family.
In those moments of reaching for what I can see so clearly in my mind for those daughters I love, I forget that I am an orphan no more. I am adopted. I have a Father. I have died, and my life is hidden with Christ in God. I am on his mind and in his heart. Make no mistake; it's not all "about me." It's not all "for me." I am not the end of him. He is the chief end of me and the highest joy I could give all those I love. And he has chosen amazingly that we would not only glorify him, but even enjoy him forever.
Every Work Is for Our Joy 
His working in my life and in the lives of those I love is intended to bring us the thing I tend to think he doesn't care about: happiness. He sealed in the cross the promise of Jeremiah 32:41: "I will rejoice in doing them good, and I will plant them in this land in faithfulness, with all my heart and all my soul." It makes him happy to make us happy. His every working is for our joy. These light and momentary troubles are working in us a weight of glory beyond all compare. But my vision dims and must be focused again beyond what I can see. We have to look at what is unseen by so many, what can't be seen by those who don't know him. We have to see the character and nature of the one who loved us enough to send his only Son that his joy might be in us and our joy might be full.
It matters to him that my girls are struggling. It matters to him that their mama struggles too. He's a good Father who loves his children, who cares about how they're doing, who plans and works far more for them than they can ask or even imagine. I can be sure because of the first "nevertheless," the one Christ uttered and then rose to bring to pass. He stood to take what had to be so that we could stand before our God with him, to bring one more "please, Lord" to the throne. When his Spirit gives me clear sight of the Father, nevertheless becomes one of the sweetest words I know and gives me strength to rise to face what comes with him, through him, and for him.
In a season of sorrow? This FREE eBook will guide you in biblical lament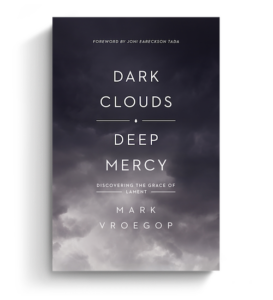 Lament is how we bring our sorrow to God—but it is a neglected dimension of the Christian life for many Christians today. We need to recover the practice of honest spiritual struggle that gives us permission to vocalize our pain and wrestle with our sorrow.
In Dark Clouds, Deep Mercy, pastor and TGC Council member Mark Vroegop explores how the Bible—through the psalms of lament and the book of Lamentations—gives voice to our pain. He invites readers to grieve, struggle, and tap into the rich reservoir of grace and mercy God offers in the darkest moments of our lives.
Click on the link below to get instant access to your FREE Dark Clouds, Deep Mercy eBook now!