Around a year ago it dawned on me that while I've put extensive effort into preparing legal documents for my wife and kids in the event of my death, I've done virtually nothing to prepare my church family for that contingency.
I've had the privilege of serving the same church for 22 years, and it represents my best efforts during the most vibrant years of my life. I've also had friends die unexpectedly—and there's always the possibility that this would be God's will for me.
What would happen if I was suddenly unable to pastor because of health or death? Are church leaders obligated to anything I'd write in a will? Not at all. Yet am I a responsible pastor if I don't provide some care and guidance for what could be a confusing and difficult transition in our church?
Biblical Precedent
I see the great leaders and shepherds of the Bible exhorting their flocks concerning the next chapter without them. Think of the great speeches in Scripture, such as Moses on the edge of the promised land or Joshua after the conquests.
A clear New Testament example is Acts 20, where Paul tells the Ephesian elders they won't ever see him again. He addresses spiritual concerns that will arise after he's gone, and he exhorts them to remain pure and vigilant. Should God allow, I would treasure the opportunity to give a final address to my people. But while I can't foresee how my ministry will end, I can begin planning now for the unexpected and inevitable.
So I decided to prepare a document for our elders—my recommendations should I die unexpectedly. I presented it tearfully. If you have prepared a will or trust for your children, you know how sobering such documents can be. Be ready for strong emotions.
My encouragement is simple: Pastors and leaders, write a living will for your church or organization. Write it when you're healthy, and when the culture of your leadership team is healthy as well. Don't write it amid crisis or division. You don't want your elders or board of directors quietly looking forward to enacting your last testament. Ask yourself before you present this, Will others be crying too? If so, now's the time.
What should your pastoral will include? At least three things.
1. Your Family
Everyone's immediate concern will rightly be care and provision for your family. A little guidance here is helpful, as there can be deep emotions and financial uncertainty. Hopefully you've raised up wise and fair-minded leaders who can navigate the challenges prudently. The mere mention of the matter might be enough for good men to do good.
2. Your Successor
If you're like me, you want your church to prosper long after you're gone. If you're long-tenured, then without realizing it—out of loyalty to your memory—people will canonize what you did and how you did it. This will ensure the fossilization of your church, making it nearly impossible for your successor to effectively lead and pastor.
We want our legacy to be a thriving gospel ministry, not a memorial to our way of doing things.
Serving with a strong group of elders is a helpful safeguard. Still, unless your successor is your clone, he won't last long. We want our legacy to be a thriving gospel ministry, not a memorial to our way of doing things. We all know churches whose fixed gaze on yesterday kept them from effective ministry today. Here's how I said it in my will:
I want the next pastor to be empowered to lead and pastor as I have for these 20-plus years. Please let the church know that my desire is, like Moses of old, to be buried so that Joshua can take over and lead.
For our successors to succeed, they'll need every bit of freedom to lead that we ourselves used and enjoyed. Set your congregation free to love and follow the new guy and all of his new (and possibly better) approaches.
3. Your Love
With our legal documents for our daughters, my wife and I included a long love letter to them. It is the hardest and easiest thing I've ever written. Hard to write, but easy to know what to say. We want them to know Christ and be with him and us forever.
A living will allows you to say what death might not give you the privilege to.
A leadership living will allows you to say what death might not give you the privilege to. This can and should include practical suggestions unique to your context. I included suggestions for interim leadership structure, weekly preaching, and a process to identify a new leader. I also gave names of godly leaders outside our church who I think could provide support and wise counsel.
Most importantly, reinforce the core gospel truths and passions they've likely heard you repeat over and over. Tell them the highest privilege of your life was shepherding them toward Jesus. Perhaps mention a few special moments in your ministry that you will treasure forever.
This is not the time to be negative about anything or to settle any scores. Trust me, from heaven you will regret that move. Lavish them with encouragement and end the sentence of your pastoral ministry with an exclamation point of love. This love more than anything else will keep their faith from petrifying over you and tenderize their hearts for the future.
End the sentence of your pastoral ministry with an exclamation point of love.
There's a file in my church building that has an envelope in it. It reads: In case Steve dies. Make sure there is something somewhere in your organization to assist people in their loss. In this way, we wisely end our chapter of ministry and help our people turn the page to the next one, which we sincerely hope is their best chapter yet.
In a season of sorrow? This FREE eBook will guide you in biblical lament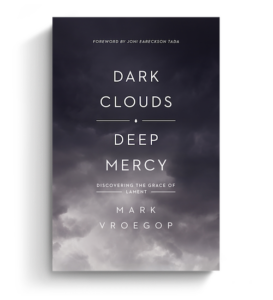 Lament is how we bring our sorrow to God—but it is a neglected dimension of the Christian life for many Christians today. We need to recover the practice of honest spiritual struggle that gives us permission to vocalize our pain and wrestle with our sorrow.
In Dark Clouds, Deep Mercy, pastor and TGC Council member Mark Vroegop explores how the Bible—through the psalms of lament and the book of Lamentations—gives voice to our pain. He invites readers to grieve, struggle, and tap into the rich reservoir of grace and mercy God offers in the darkest moments of our lives.
Click on the link below to get instant access to your FREE Dark Clouds, Deep Mercy eBook now!