I discipline you because I love you. I discipline you because you are mine.
I heard these words years ago when my husband disciplined our oldest son for the first time. I wept in the next room. It was a day of tremendous pain—and growth—for us as young parents. In training our child to obey, we were learning to obey our heavenly Father. But it was hard.
No book, song, or curriculum can bring children nearer to God than parents seeking to be conformed to Christ's image. We are God's witnesses to our children, the visible faces of our invisible God.
And parents are given the rod—the disciplining of children—as a peculiar means to bear witness to God's love for them. The Lord disciplines his children whom he loves, "as a father the son in whom he delights" (Prov. 3:12).
Likewise, we are commanded to love our children by disciplining them: "Whoever spares the rod hates his son, but he who loves him is diligent to discipline him" (Prov. 23:24). And we are commanded to discipline because in that "there is hope" (Prov. 19:18).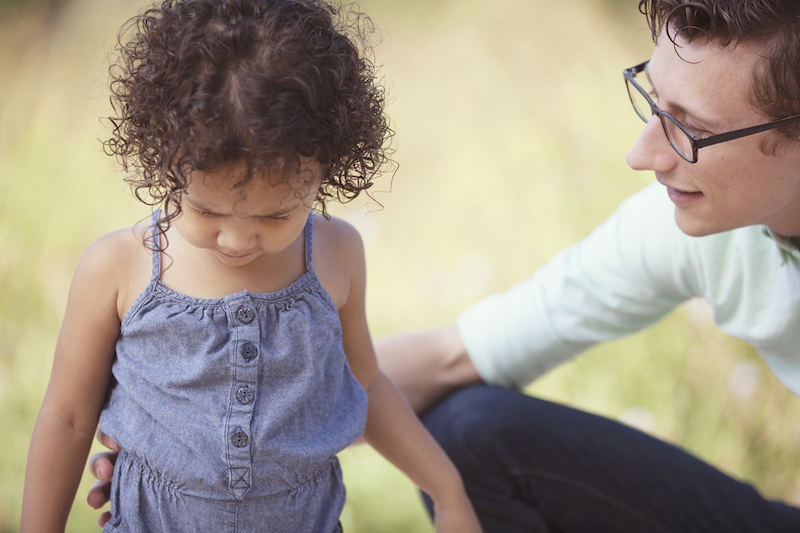 Rod of Comfort
The book of Proverbs instructs me to discipline my child, but Psalm 23 strengthens me to do so. I go to this famous psalm for the power to do this difficult thing.
David begins Psalm 23 by describing Yahweh, his shepherd, who provides, leads, restores, and guides the sheep. David, the sheep, walks through "the valley of the shadow of death" (v. 4). Valleys are usually interpreted as the hard places in life. What makes this valley so difficult?
The "shadow of death" is one word in Hebrew, and in the prophets and Job it's translated "deep darkness" (ESV). "Deep darkness" is an image of death. Four times in the Psalms the word depicts lifeless places. Twice in Psalm 107, the "shadow of death" is the dwelling of those who have rebelled against God and rejected his Word (vv. 10, 14). The deep darkness is a stark contrast to places of light, life, and liberty.
The concept of "walking" in Scripture points to a way of life. The book of Psalms opens with a person walking: "Blessed is the man who walks not in the counsel of the wicked" (1:1).
In Psalm 23, the shepherd leads his sheep to places of life and safety—green pasture, still waters, paths of righteousness. And then, David says "I walk." In contrast to the shepherd, the first act of the sheep is to walk through "the valley of the shadow of death."
Yet even there, in deep darkness, David rests assured. "I will fear no evil, for you are with me." By the shepherd's rod and staff, the sheep knows the shepherd's nearness. David is confident that God's rod of discipline will restore him and bring him back to safety: "Your rod and your staff, they comfort me."
The purpose of God's discipline is to save us from the eternal shadow of death. The motive of God's discipline is love. Indeed, discipline is a mark of being a child of God (Heb. 12:7–8). He disciplines us to deliver us from condemnation "that we may share in his holiness" (1 Cor. 11:32; Heb. 12:10). The Father's purpose for his children is to conform us into the image of his Son (Rom. 8:28–29).
God chastened David in two ways: through pain and loss. He disciplined him by giving him bodily pain, and by consuming what was dear to him (Pss. 38:1–6; 39:10–11). Love says no to the desires of our flesh, the lust of our eyes, our pride in possessions (1 John 2:16).
The rod is a comfort to God's people because it reveals his faithfulness. When he corrects us, his instruction reassures us that we are his sheep. We are not alone.
'Behold,' Not 'Behave'
We bear witness to the love of the Great Shepherd when we discipline our kids. Again, we are the visible faces of our invisible God. We are saying "Behold!" not merely "Behave!" Behold, this is love. Because I love you, I will not leave you in your disobedience.
I attended public schools in Malaysia where teachers freely punished students. Some of their methods were cruel. Their goal was simply to provoke fear and shame. This is not love.
Godly discipline is without contempt: "The LORD reproves him whom he loves, as a father the son in whom he delights" (Prov. 3:12). Do we communicate to our children that we delight in them—even as we are disciplining them?
Discipline and the assurance of love must always come together. So, we speak in a firm and gentle voice. We respect our children by bringing them to a quiet place, away from the gaze of others. We discipline and delight in them all at once—because this is love. Who brought you to the playground today? Who picked you up when you fell? I really enjoyed baking cookies with you. I am so proud of you when you share. It hurts Mommy so much when you disobey God.
Love seeks to restore, never to destroy. Love puts the interests of the child before our own. Love sacrifices. Love is patient and kind. Love grieves over sin. Godly discipline "yields the peaceful fruit of righteousness" (Heb. 12:11). Indeed, godly discipline is not about retribution at all; it is about repentance and restoration.
Wounded Hand
Love requires self-denial and self-discipline. As the Good Shepherd lay down his life for his sheep, we must lay down our lives for our children (John 10:11; 1 John 3:16). The training of kids requires the readiness to surrender our plans, and accept with courage what we perceive as "interruptions." It is much easier to turn a blind eye, especially when we have company or when we are at church. But love requires sacrifices and faithfulness.
No doubt the charge to discipline with diligence (Prov. 13:24) is difficult. The training of our children reveals our inadequacy, weakness, and helplessness. I see my own failures, selfishness, and bad judgment in living color. I do not desire holiness as I ought. Parental discouragement can at times be a deep darkness.
Even here, though, the shepherd is with me. His rod and his staff, they comfort me. He gives me pain and crushes my pride not for my harm, but for my holiness. The Lord disciplines me even as I am disciplining my own children.
Sometimes, in the throes of God's discipline, we forget the wound on the shepherd's hand because we see only the rod. We forget his tender care. When we were sinners, the shepherd "bore our sins in his body on the tree . . . By his wounds you have been healed" (1 Pet. 2:24). Behold, this is love.
We are powerless to change hearts, but our confidence rests in God's faithfulness. His love for our children far exceeds our own. He charges us to discipline, so we trust in his command and obey in faith. We cry out to the Great Shepherd:
We are thine, do thou befriend us,
Be the guardian of our way;
Keep thy flock, from sin defend us,
Seek us when we go astray.