Ray Ortlund Jr., lead pastor of Immanuel Church in Nashville, longs to see revival break out in that city. And you can expect that any awakening will feature Christians who reject efforts at self-justification and rejoice that God has justified them in Christ. I corresponded with Ortlund to learn more about his experience and thinking behind the topic.
You say, "Self-justification is the deepest impulse in the fallen human heart." Can you elaborate?
Let's consider our position. We were created to image God, but now we are distortions of God. We were located in a glorious universe, but now we experience it as an environment of accusation. And we will never change. Not even a little. We are the way we are, our wills are unfree, and facing ourselves honestly is unendurable.
That existence is impossible to bear. What do we do with it? We shift the blame, in order to justify ourselves and relieve our anxiety. The whole world is a mess, and it's always someone else's fault. When was the last time somebody started a war by saying, "Hey everybody, I just want to admit I'm picking this fight"? No, every war is defense. This is the human heart.
What are some of the social pathologies of self-justification? And how does Paul begin to offer a gospel antidote in his letter to the Galatians?
For starters, Galatians 5:15 says, "But if you bite and devour one another, watch out that you are not consumed by one another." How do we "bite and devour"? With our mouths. Our words, our narratives, cut others down, to build ourselves up. The worse they look, the better we look. But whenever we need negative things to be true about others, it's self-justification. And because it's about being right, it never feels wicked; it feels right, justified. One faultfinding bite leads to another, and the feeding frenzy ends up consuming everyone involved, even the "winners." John Calvin wrote, "How unhappy, how mad it is, that we who are members of the same body should voluntarily conspire together for mutual destruction!"
Healthy churches feed on the doctrine of justification by grace alone through faith alone in Christ alone apart from all our works. That good news is what healthy churches bite and devour and consume continually. The gospel of justification, applied to our hearts and relationships, creates peace and joy for everyone involved. Paul's letter to the Galatians leads us into those green pastures and beside those still waters.
Where are other key places we can turn to in Scripture to hear from God and fight our tendency toward self-justification?
It all began in Genesis 3, with sinful Adam blaming Eve—and God. The rest of the Bible is the story of God rescuing us from our self-justifying rage. In the cross of Christ he said, "Need a scapegoat? I offer myself. Will you have me?" We are stunned into humility. William Romaine wrote, "Consider thy state. Thou art a pardoned sinner, not under the law but under grace, freely, fully saved from the guilt of all thy sins. There is none to condemn, God having justified thee. He sees thee in his Son, washed thee in his blood, clothed thee in his righteousness, and he embraces him and thee, the head and the members, with the same affection." This is the message of the Bible.  It is the only power in the universe that can create new relationships that work.
Get a FREE eBook to strengthen your family discipleship!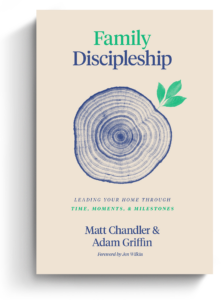 The back-to-school season is stressful for moms and dads. New rhythms of school, sports, and other extracurricular activities can quickly fill up a family's already busy calendar. Where do busy parents look for resources on discipling their family well? Aside from prioritizing church, what else can Christian parents do to instill healthy spiritual habits in their household?
Matt Chandler and Adam Griffin cover these questions and more in Family Discipleship: Leading Your Home through Time, Moments, and Milestones. And we're excited to offer this book to you for FREE as an eBook today.
Click on the link below to get instant access to your FREE Family Discipleship eBook now!