We want to give readers help in understanding some of the changes that have gone on at The Gospel Coalition of late. One minister, Tullian Tchividjian, was asked to move his blog off our website. Two members of the Council, Joshua Harris and C. J. Mahaney, resigned from the Council (Tullian was not a member of the Council). Each move had significantly different reasons behind it.
In Tullian's case, it was obvious to observers that for some time there has been an increasingly strident debate going on around the issue of sanctification. The differences were doctrinal and probably even more matters of pastoral practice and wisdom. Recently it became clear that the dispute was becoming increasingly sharp and divisive rather than moving toward greater unity. Earlier in the year our executive director spent two days with Tullian in Florida. Coming out of that meeting, it was decided that Tullian would move his blog. Finally the Council at its meeting last week decided that Tullian should move his blog immediately, and we communicated this conclusion to Tullian.
Both Joshua Harris and C. J. Mahaney were Council members who resigned their position, but though they came at the same time, it would be mistaken to think the reasons and processes for these decisions were the same. C. J. had been considering stepping out for a good while—both a year ago and a month ago he offered to do so for a variety of reasons, including a major move and change in his role, the responsibilities of a new church plant, and other issues. Joshua has spoken publicly about his reasons for resigning. In light of the ongoing civil suit against his church he felt it best for TGC if he stepped down.
Holding together a fellowship of evangelical ministers and ministries has never been easy. In the 1960s there was a falling out between D. M. Lloyd-Jones and his followers and the evangelical Anglican leaders John Stott and J. I. Packer. The division was based on what each side felt to be significant doctrinal principles. And yet, while many of their followers were subsequently hostile to one another, the men themselves never vilified the other—not in public nor, as far as the historical evidence shows, in private. They maintained great respect for each other as Christian men and ministers of the gospel and never tried to undermine the reputations of the others, even when they came to believe they could no longer work closely together, and even when the differences were significant ones.
As the years go by, we may face other situations in which similar hard decisions will have to be made. We commit ourselves to not recount the parting of the ways in such a fashion that it makes us look good and the departing persons look bad. That is one reason to keep a statement like this brief. We feel it is especially important to do so in this case, since, after all, the doctrine of sanctification is only a means to an end. It is supposed to produce in us the humility and kindness (yet courage) that enables us to speak the truth in love and builds up our brothers even as we give reasons for stepping away. John Newton's famous letter "On Controversy" should guide us all at such times. When warning that the "leaven" of self-righteousness exists in the best of Christians, Newton wrote: "Controversies, for the most part, are so managed as to indulge rather than to suppress this wrong disposition." Pray for us that moves and changes like these will be marked on all sides by the startling, visible graciousness that should be present in all saved by grace.
In a season of sorrow? This FREE eBook will guide you in biblical lament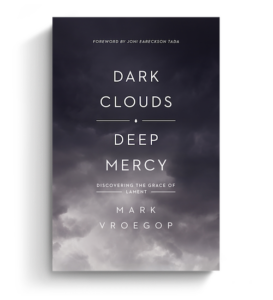 Lament is how we bring our sorrow to God—but it is a neglected dimension of the Christian life for many Christians today. We need to recover the practice of honest spiritual struggle that gives us permission to vocalize our pain and wrestle with our sorrow.
In Dark Clouds, Deep Mercy, pastor and TGC Council member Mark Vroegop explores how the Bible—through the psalms of lament and the book of Lamentations—gives voice to our pain. He invites readers to grieve, struggle, and tap into the rich reservoir of grace and mercy God offers in the darkest moments of our lives.
Click on the link below to get instant access to your FREE Dark Clouds, Deep Mercy eBook now!