On My Shelf helps you get to know various writers through a behind-the-scenes glimpse into their lives as readers.
I asked Steve Timmis—CEO of Acts 29 and the author of many books, including I Wish Jesus Hadn't Said That and Multiplying Churches: Exploring God's Mission Strategy—about what's on his nightstand, the biographies that have most influenced him, and more.
---
What​'s ​​​on your nightstand right now?
Two books currently: The Whistler by John Grisham and Every Season Prayers by Scotty Smith.
What are your favorite fiction books?
I fear this may be a tad clichéd, but it has to be The Lord of the Rings trilogy. I read The Hobbit as a child, but I was in my late teens before I moved onto the full set. I love the way Tolkien writes, with his vivid style and attention to detail. It's totally captivating. I was reluctant to watch the films because I feared they would undermine how I imagined the characters and scenes from the books. In the end I enjoyed the films, but I'm relieved that my imagination has prevailed over Peter Jackson's!
What biographies or autobiographies have most influenced you and why?
There are three.
Jonathan Edwards: A New Biography by Iain Murray is a riveting read and deeply moving. My affections for Christ were stirred. It also directly affected my prayer life. Allow me a short quote: "Prayer was not a compartment of his daily routine . . . he sought to make his study itself a sanctuary, and whether wrestling with Scripture, preparing sermons or writing in his notebooks, he worked as a worshipper. Thought, prayer and writing were all woven together." I'm utterly persuaded that my sermon preparation is devotional, first and foremost; it must be as I take the Word to heart.
Martyn Lloyd Jones: The First Forty Years 1899–1939 by Iain Murray affected me far beyond gaining insight into the details of someone's life. My own discipleship was shaped by it, particularly the focus Murray gives to the Doctor's time in Sandfields and the fruit of his ministry there.
Blood and Fire: William and Catherine Booth and Their Salvation Army by Roy Hattersley, who was a Labour MP and served as Deputy Leader of the Labour Party from 1983–1992. As far as I know, he isn't a Christian, but he writes with real insight, empathy, and respect. He brings out the radical passion of the Booths and their desire to see the marginalized and forgotten won for Christ. Deeply convicting.
​What book might people be surprised to find on your shelf? 
This is a difficult question to answer. Might people be surprised to find The Openness of God by Clark Pinnock and others? As a self-identified "happy Calvinist," it's hardly a book I read for edification. But there's a problem if someone only owns books he agrees with. Maybe it's Hitler and Stalin: Parallel Lives by Alan Bullock? Or Politically Correct Bedtime Stories by James Finn Garner?
I think the most surprising thing might be how few books I have, given how long I've been in ministry. But I recently culled thousands of books. I was unlikely to read them, so I went for a minimalist and functional library. I'd recommend it. It's also a great act of wealth redistribution!
What​'s the last great book you read?
Temptation and Sin by John Owen. Immense! I last read it in 1985, so it might be a surprise choice. However, like "awesome," "great" is an adjective that resists flippant usage.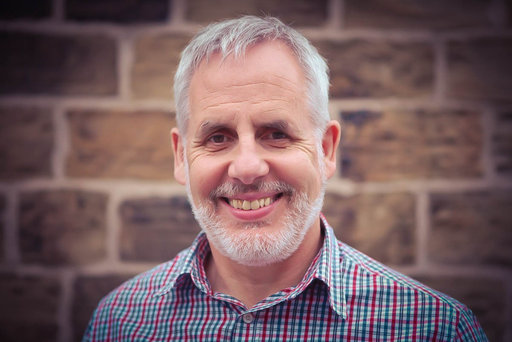 What​'s one book you'd encourage every church leader to read and why?
Martyrs Mirror by Thieleman J. van Braght is a book of stories about persecution and suffering for Christ. These men and women are true heroes of the faith and gave everything for their Savior. Humbling and sobering. It helps keep my life and ministry in perspective. So much talk about church planting tells a story of hardship. I'm a church planter, and I know it isn't easy. But compared to what brothers and sisters have endured in the past, and continue to endure in the present, I have nothing to complain about.
What are you learning about life and following Jesus?
I don't think Westerners cope very well with the notion of God's inscrutability—not of his character, but of his ways. I often say that I don't know why God does what he does in the way he does it, but I do know he's good. The older I get, the more I see the need to find satisfaction in Christ and to hold on by tenacious faith to the certainty of all that is ours in him. But the troubles of this life often distract and absorb us, and we lose confidence and hope. Job 14:1 says, "Man who is born of a woman is few of days and full of trouble. He comes out like a flower and withers; he flees like a shadow and continues not." Our present life isn't all there is, so we need to believe in the promises of God in Christ concerning the coming of the new creation.
---
Also in the On My Shelf series: David Mathis • Michael Lindsay • Nathan Finn • Jennifer Marshall • Todd Billings • Greg Thornbury • Greg Forster • Jen Pollock Michel • Sam Storms • Barton Swaim • John Stonestreet • George Marsden • Andrew Wilson • Sally Lloyd-Jones • Darryl Williamson • D. A. Horton • Carl Ellis • Owen Strachan • Thomas Kidd • David Murray • Jarvis Williams • Gracy Olmstead • Matthew Hall • Drew Dyck • Louis Markos • Ray Ortlund • Brett McCracken • Mez McConnell • Erik Raymond • Sandra McCracken • Tim Challies • Sammy Rhodes • Karen Ellis • Alastair Roberts • Scott Sauls • Karen Swallow Prior • Jackie Hill Perry • Bruce Ashford • Jonathan Leeman • Megan Hill • Marvin Olasky • David Wells • John Frame • Rod Dreher • James K. A. Smith • Randy Alcorn • Tom Schreiner • Trillia Newbell • Jen Wilkin • Joe Carter • Timothy George • Tim Keller • Bryan Chapell • Lauren Chandler • Mike Cosper • Russell Moore • Jared Wilson • Kathy Keller • J. D. Greear • Kevin DeYoung • Kathleen Nielson • Thabiti Anyabwile • Elyse Fitzpatrick • Collin Hansen • Fred Sanders • Rosaria Butterfield • Nancy Guthrie • Matt Chandler
Browse dozens of book recommendations from The Gospel Coalition's leaders and sign up your church at Hubworthy.