On My Shelf helps you get to know various writers through a behind-the-scenes glimpse into their lives as readers.
I asked Gracy Olmstead—associate managing editor at The Federalist—about what's on her nightstand, books that have shaped her approach to journalism, her favorite fiction, why she's only reading and listening to old things in 2017, and more.
---
What's on your nightstand?
The Revenge of the Analog by David Sax. It's a fascinating consideration of our nostalgic return to "real things"—be they board games, Polaroid cameras, vintage records, or books.
1984 by George Orwell. It's the book everyone's been recently talking about, so I decided to dust off my copy.
Brave New World by Aldous Huxley. Re-reading this as a juxtaposition to the former.
The Seven Storey Mountain by Thomas Merton. I've been told—time and again—that I should read Merton's work. This year, I'm determined to. I'm hoping to read this book alongside my re-reading of St. Augustine's Confessions, which is also on my nightstand.
Phantastes by George MacDonald. I read this as a young person, and wasn't immediately struck by it. Since then, I've learned that C. S. Lewis considered it one of his favorite books—indeed, as he notes in Surprised by Joy, this was the book that began his journey to the faith. So I'm revisiting it, and hoping to glean more from the experience this time around.
What are your favorite fiction books?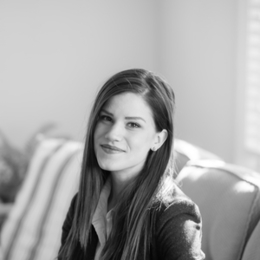 It's almost impossible to choose. But here are the first books that come to mind:
They're listed in no particular order. Close seconds would be Wendell Berry's Remembering, Marilynne Robinson's Gilead, and Gene Stratton Porter's Laddie. And now I'm thinking of Till We Have Faces, by C. S. Lewis. I should probably just stop there because the list could go on and on.
What biographies or autobiographies have most influenced you and why?
Eric Metaxas's Amazing Grace, which chronicles the life of William Wilberforce, first guided me into the world of writing. I was (and am) a great admirer of Wilberforce, and began researching modern slavery and human trafficking at age 16, largely because of the effect Amazing Grace had on me. It's still something I'm deeply passionate about.
C. S. Lewis's Surprised by Joy described a yearning that resided in my heart from a young age. The book is full of thoughtfulness and wisdom, and continues to be a favorite.
Whitaker Chambers's Witness is a powerful and gripping story about standing for truth—even amid the hardest of circumstances. Chambers's preface, written as a letter to his children, is one of the most powerful pieces of writing I've read.
Sheldon Vanauken's A Severe Mercy is a beautiful love story, an insightful look at the Christian life, and a poignant story of loss. But in its picture of Christian welcome and hospitality, I found something truly unique and inspiring.
St. Augustine's Confessions. Its deep insights challenge me. Its passion and zeal move me. It fills me with yearning to go "further up and further in." I don't think I've come close to plumbing the depths of this book.
What are some books you regularly re-read and why?
T.S. Eliot's Four Quartets. I just spent several months writing a piece about Wendell Berry's Remembering and Eliot's "Little Gidding." The more time I spend poring over the poem, the more I love it. It captures both our yearning for rebirth, and the promise of redemption.
J. R. R. Tolkien's Lord of the Rings and The Hobbit. I believe we all need a good dose of fantasy in our lives—the good sorts of fairy tales that reawaken our imagination, and remind us what it is to dream. Few authors do this as powerfully as Tolkien does.
Leon Kass's The Hungry Soul and Edith Schaeffer's The Hidden Art of Homemaking. Both describe the beauty and art of living (and eating), and tie them to Christian faith. These works have truly inspired my efforts at hospitality and homemaking.
What books have most shaped how you view your role in journalism?
The Essential Russell Kirk. Russell Kirk encapsulates, for me, much of what it means to be a "conservative." His essays are always insightful, and have helped challenge my writing and my philosophy.
Wilhelm Röpke's The Humane Economy. Whenever and wherever my writing touches on issues of capitalism and commerce, this book has served as a guiding light and resource.
Whitaker Chambers's Witness describes a writer's journey into truth—and allegiance to it—no matter the cost. I think it's a book every journalist should read.
Laura Hillenbrand's Unbroken is one of the most powerful works of narrative nonfiction I've read. I'm astounded by the breadth and depth of her research, as well as by her captivating style.
As a more recent example, J. D. Vance's Hillbilly Elegy was a powerful bipartisan work, and inspired my writing in many ways. Vance managed to tell a story that transcended partisanship and prejudice. He was vulnerable, yet truthful—and because of that, his story has spoken to a variety of Americans (including me). That's what I hope to achieve in my writing, if I can.
Why are you only listening to and reading old things in 2017? And what do you suspect you'll learn (or hope to learn) about yourself and our culture in the process?
Our society is endlessly pursuing the new: the latest iPhone, the newest sports car, the most exciting Netflix series, the most popular bestseller. As a journalist, I'm rather tied to reading the new every day. And frankly, absorbing the endless onslaught of information has gotten exhausting. I enjoy new things—and am even breaking my "rule" to review a couple new books out this year, like Emily Esfahani Smith's The Power of Meaning. But in general, I want to take this year to turn away from the mad rush of newness, and enjoy (indulge, even) in the best of the past. Because there is so much to enjoy.
Already, I'm learning how short my attention span has grown. Older books are often harder to read. And as someone constantly skimming headlines and checking Twitter, I'm ashamed how distracted my mind has become. (My 1-year-old, admittedly, doesn't help much with that, either.) Hopefully this year will offer opportunity to refocus.
I also know our culture is missing something: something deep, something poignant. Something a bit romantic, even. Often, when I read new books, I'm struck by their dimness. The leanness of their meaning, their lack of magic, nuance, and enchantment. As Richard Beck has written in the past, we live in a disenchanted era. And nowhere does that show up more obviously, perhaps, than in our fiction. It seems altogether uninspired and dismal.
So a return to the beautiful works of the past is, in many ways, a chance to rekindle the fire of enchantment in my own heart. I've been re-reading Brave New World, and was struck anew at the "Savage": his imagination, his passion, his fire for living. His society tries to quench this enchantment—and tragically, succeeds. Perhaps for all of us, the challenge is to stay "savage" in a world that wants to tame our passions and poetry.
What are you learning about life and following Jesus?
I'm challenged, daily, to put faith before politics and personal comfort. My allegiance is to my Savior before anything else. My guiding light is the Word of God, not the agenda of any political party or personal preference. In a society and media world that are often dismal, I'm daily challenged to return to the Bible—for guidance, for comfort, and for conviction. The voices of the world are deeply confusing, even (perhaps especially) for a journalist trying to parse and analyze things rightly. I find great comfort in the realization that, when nothing else makes sense, the Word of God always does.
Perhaps alongside that, I'm learning to open my home—and heart—to people who might be disillusioned, depressed, and frightened by our world. These people reside on both sides of the political aisle; they're from all walks of life, all income levels, every neighborhood. I feel challenged to open my door, and offer them safe haven. I want my home to be a "sanctuary city," if you will: a place where people from all walks of life are welcome and loved.
Of course, the flesh always strains at this desire: some days, I'd much rather put my slippers on and watch Netflix. But I'm seeking to put introversion and laziness aside, because I believe God's Word calls us to love and to welcome, no matter the inconvenience or exhaustion it might involve.
---
Also in the On My Shelf series: Joel Beeke, Matthew Hall, Drew Dyck, Louis Markos, Ray Ortlund, Brett McCracken, Mez McConnell, Erik Raymond, Sandra McCracken, Tim Challies, Anthony Moore, Sammy Rhodes, Karen Ellis, Alastair Roberts, Scott Sauls, Karen Swallow Prior, Jackie Hill Perry, Bruce Ashford, Jonathan Leeman, Megan Hill, Marvin Olasky, David Wells, John Frame, Rod Dreher, James K. A. Smith, Randy Alcorn, Tom Schreiner, Trillia Newbell, Jen Wilkin, Joe Carter, Timothy George, Tim Keller, Bryan Chapell, Lauren Chandler, Mike Cosper, Russell Moore, Jared Wilson, Kathy Keller, J. D. Greear, Kevin DeYoung, Kathleen Nielson, Thabiti Anyabwile, Elyse Fitzpatrick, Collin Hansen, Fred Sanders, Rosaria Butterfield, Nancy Guthrie, and Matt Chandler.
Browse dozens of book recommendations from The Gospel Coalition's leaders and sign up your church at Hubworthy.