Editors' note:
Also in the On My Shelf series: Joe Carter, Timothy George, Tim Keller, Bryan Chapell, Lauren Chandler, Mike Cosper, Russell Moore, Jared Wilson, Kathy Keller, J. D. Greear, Kevin DeYoung, Kathleen Nielson, Thabiti Anyabwile, Elyse Fitzpatrick, Collin Hansen, Fred Sanders, Rosaria Butterfield, Nancy Guthrie, and Matt Chandler.
On My Shelf helps you get to know various writers through a behind-the-scences glimpse into their lives as readers. I corresponded with Gloria Furman, author of the new book The Pastor's Wife: Strengthened by Grace for a Life of Love (Crossway, 2015), about what's on her nightstand, books she re-reads, and what she's learning about life and following Jesus.
What's on your nightstand right now?
Since I don't have a nightstand, I'll tell you about the books that are currently migrating from my bookshelf to my desk, to the couch, and back again.
What are some books you regularly re-read and why?
What are your favorite fiction books?
The Screwtape Letters by C. S. Lewis is the first title that comes to mind. My used copy came from the purple-painted recycled books store in Denton, Texas. A few years later in seminary I was assigned to write a Screwtape letter about myself (talk about unnerving), which turned out to be a creative discipleship tool that really affected me.
What are you learning about life and following Jesus?
If I had to pick a word to summarize what I'm learning about following Jesus I would say peace—not like a momentary iced coffee, but like an ancient stone fortress. This past month (and year) has seen stressful, frightening circumstances in our region. When I talk with the people around me—in the grocery store, on the school playground, at the gym—they are uncertain about the future, whether theirs or their relatives' back home.
I'm learning more about the multi-dimensional, utterly unique peace of Jesus that surpasses understanding. "Peace I leave with you; my peace I give to you. Not as the world gives do I give to you. Let not your hearts be troubled, neither let them be afraid" (John 14:27). The peace that Jesus gives us is eternal because he is making all things new. Based on what Jesus accomplished on the cross, "God can wrench the world and humanity out of the grip of sin and expand his kingdom" (Herman Bavinck, Reformed Dogmatics, 3:455). Christ is our peace.
Get your FREE 7-day devotional!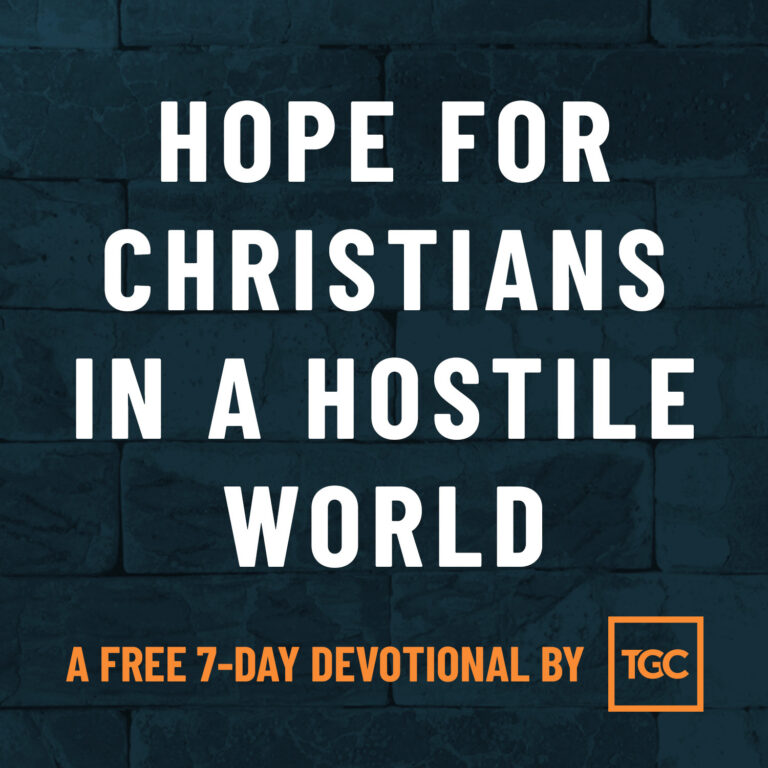 God's people have always been strangers and sojourners in this world. Do you feel that way, too?
You're not alone. Since the church's beginnings, Christians have often felt ostracized. And the Bible offers great encouragement for how to live with hope.
If you're feeling the weight of cultural exile today, our new 7-day devotional, Hope for Christians in a Hostile World, will encourage you.
If you sign up for this FREE resource, we'll send you an email each day for a week with a daily devotional featuring Bible readings and reflections written by TGC staff and friends.