One of the brilliant byproducts of globalization is the increasing ease of communication. With a few clicks, a mother in Bangladesh can video-chat with her daughter in Paris, a pastor in Boise can email a seminary student in Kampala, and two friends can text across New York City. I believe God has strategically designed the comings and goings—and available technologies—of every people group under the sun. And he has done this for the spread of his glorious gospel.
The residents of Colossae were beneficiaries of ease of communication. Ancient Colossae was a small city near a meandering river in the Lycus Valley, but its proximity to the port city of Ephesus allowed opportunities for the exchange of information. Epaphras was a local man who went on a journey to Ephesus and came back with good news for his people—the good news of the gospel. This, of course, was no surprise to the sovereign God, who planned it all before the foundation of the world.
Encouraging News
Paul says something astonishing about the gospel Epaphras brought. He specifically describes it as that "which has come to you, as indeed in the whole world it is bearing fruit and increasing" (Col. 1:5–6). The whole world! Bearing fruit and increasing! Now, when we read news sites, we're not likely to read encouraging words; we're more likely to encounter horrific headlines. This news, however—that the gospel is bearing fruit and increasing in the whole world—is exceptionally encouraging and increases our faith.
We ought not be surprised, though. This is what God planned from before time. In Genesis 12 he reveals more specifically his promise to bless the whole world. We read about the covenant God made with Abram (who would become Abraham) in Genesis 17:7, that God would bless the nations of the earth through the "offspring" ("seed," KJV) of Abraham. Through Abraham's son Isaac came the nation of Israel. Isaac and Israel typologically fulfilled God's promise, and they pointed ahead to Jesus, who is the ultimate fulfillment of God's promise to bless every nation.
Universal News
Paul hadn't carried the gospel to Colossae and delivered it in person, but Epaphras heard the good news in Ephesus and brought it back to his friends, family, and neighbors in Colossae. Paul isn't bragging about his ministry when he says the gospel is bearing fruit and increasing in the whole world. His words describe a hallmark of the gospel—its universality.
The word of truth is universally applicable to every man, woman, and child everywhere, and it's the power of God to save any and all who call on him in faith. The gospel is never adjusted for any people group, as this adjusted news would actually become a totally different false gospel. False gospels (heresies) take on the nuances from the cultures in which they originate, but the true gospel belongs to God (Rom. 1:1–3) and is universal truth.
Spread the News
And so, the word of truth, the gospel, has also come to you. As the beautiful feet of messengers run throughout the world with the good news, God is keeping his covenant with Abraham to bless the world through his offspring—through Christ. Isaiah prophesied: "The people who walked in darkness have seen a great light; those who dwelt in a land of deep darkness, on them has light shone" (Isa. 9:2).
This is the news headline we need to recall as we go about our days and nights. If you're discouraged right now, and having a hard time believing God isn't slow to fulfill his promises (2 Pet. 3:9), ask your friends at church about what God is doing in their lives to get a taste of the increasing, fruit-bearing work of the gospel. Read books and watch films about the spread of the gospel in other lands.
Can you see your own role in this wonderful tapestry of God blessing the whole world? Isn't it marvelous that he sent us his Son? I'm amazed afresh at the great patience of God to fulfill his promise to Abraham (even as he continues to be faithful to his covenant). Do you know the "Epaphras" who brought you the word of truth? Who are the people in your life to whom God is sending you with the good news? He could be sending you down a river like Epaphras, across the kitchen to a family member, across the office to a coworker, or any place where you can showcase his glory.
In a season of sorrow? This FREE eBook will guide you in biblical lament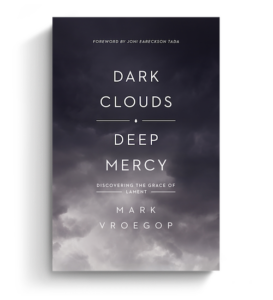 Lament is how we bring our sorrow to God—but it is a neglected dimension of the Christian life for many Christians today. We need to recover the practice of honest spiritual struggle that gives us permission to vocalize our pain and wrestle with our sorrow.
In Dark Clouds, Deep Mercy, pastor and TGC Council member Mark Vroegop explores how the Bible—through the psalms of lament and the book of Lamentations—gives voice to our pain. He invites readers to grieve, struggle, and tap into the rich reservoir of grace and mercy God offers in the darkest moments of our lives.
Click on the link below to get instant access to your FREE Dark Clouds, Deep Mercy eBook now!